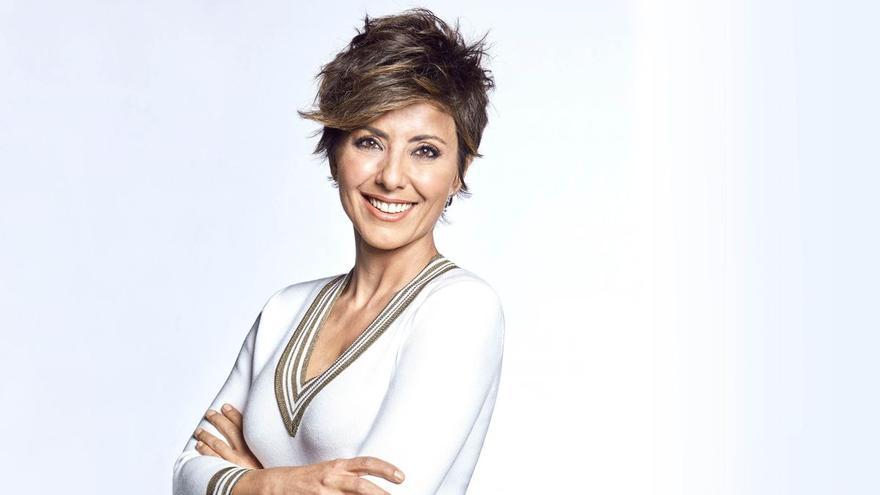 On the 15th the program was three years old from Tele 5 'It's already noon'and as a gift he took some audience data to be more than happy: in May beat its all-time record with a 15% share and 1.3 million viewers. Sonsoles Ónega (Madrid, 1977), the journalist who has presented it since its inception, assures that it is. And a lot. By the program and for his network, Tele 5, to which he is faithful since in 2008 he landed in the news from Cuatro, when it did not yet belong to Mediaset. In these 13 years it has been parliamentary chronicler to presenter of 'realities'. And he claims to have learned from everything.
-Three years at the helm of a daily program should not be easy.
-The good thing is that it allows you to correct when you make a mistake or there is a betting error. But you have a higher risk of being wrong, of course.
-Although you can not complain: it has just celebrated its third anniversary with great audiences.
-Yes, it would be ungrateful if I complained, because we still do not believe that we have doubled the audience of that strip in three seasons. It has not been a show that took off in 2018 all of a sudden. No. It has been a slow sowing, but there has been fruit and we have been able to continue growing. The whole team really enjoyed the data.
-Have you found the formula? Is this the show you wanted to do?
-We are always thinking what else to do. Even when we are doing super well. I think the program has found the format, although it can always be improved. But the ingredients in the formula work. It is a mix of current affairs of all kinds: political, social, events and entertainment. The program has a very solid structure that can be broken at any time, because the present is king. And we have seen this in the pandemic. But the viewer already knows that from 13:30 to 14:30 he will find news.
-And then something different.
-Yes. From 14:30 to 15:00 you will relax and laugh with us. In that sense, I do believe that we have come up with the formula. One of the great things about this team is that it has been modulating it without complexes and correcting it almost live. This is what happens when you load a whole block live because the news, or the image, is there. That happens to us a lot. And I love it.
-Don't tell me you like to blow everything up!
-Love it. I confess it. What's more, there are days when the rundown is bland and I entrust myself to the last hour thinking: something will happen. It doesn't always happen, but sometimes it does, and the show saves you.
-That gives life to the program, of course.
-It gives life and justifies it. The intention that Mediaset had three years ago was to ensure that everything was live in that slot. And when things happen, you justify your place in the world. Charging everything to keep a live signal all the time, that's what makes sense to us. Sometimes you look bad, because you leave a guest lying down, but, of course, current affairs rule.
-Does it take pressure off to be in a strip in which you do not compete with the queens of the morning?
-No, that goes. It is a strip in which there is no identified rival. From 1:00 p.m. to 1:30 p.m. we fought for a while with Ferreras, a while with Arguiñano, a while with 'La roulette de la luck', a while with what was on TVE and a long time with the regional ones, which have a lot of predicament in their territories.
-Too many fronts.
-We compete with a lot of different formats and this is the complexity of the strip. But we have managed to combine all this in a single format.
-They have incorporated content from the heart and from 'realities'. Is it impossible to do without them?
-That final half hour calls for entertainment. We are the opening act for David Cantero and Isabel Gimeno and it's like: let's relax before going back to today's hard drug. In addition, the citizen at home is either cooking or resting on the sofa. And we have seen that decompressing the tension of the last hour a bit works. Although whenever the present demands it, we raise it. If necessary, the 'Fresh' is not done. But the viewer knows that this half hour is going to be entertaining and it is working for us. There will be no changes.
-In addition, Tele 5 has a lot of content: it has a lot of 'reality'. In fact, you worked on 'About Survivors' and 'The Strong House'. Now that's a huge registry change. Did you feel comfortable?
-I felt comfortable, because I'm a bit like that. I'm not talking to my friends in politics all the time. As for the prejudice of doing a 'reality', I'm going to do the best I can and know. I had no springs or experience and, without a dress rehearsal, I threw myself into leading the debates of 'The strong house' with all the emotion to see what that was. And now that a year has passed I have a very constructive experience from a professional point of view. I already know what it is: very hard, very difficult and you have to have a lot of talent to endure like Jorge Javier (Vázquez), Sandra (Barneda), Jordi (González) and (Carlos) Sobera that tension for so many hours live.
-And dealing with a very determined type of collaborator.
-You don't know them much, nor their stories. Perhaps that was the most complicated thing: handling collaborators who have been trained to intervene, interrupt, be on a set … But I learned a lot from each of them.
-Speak in the past tense.
-I speak in the past because at the moment there is no present for something else like it.
-But would it make you illusion or not?
-When the bosses propose something to me, I have not yet learned to say no. But I don't think about it, because it was hard. I look back and think that 2020 was brutal. In all aspects. Because of the pandemic, but also because my new novel came out in July, the 'reality', the program … But we have survived.
-I used to say as a parliamentary chronicler to 'reality', but politics sometimes seem like it.
-Totally. And I guess at first with politics I also felt like an octopus in a garage. But you are learning to deal with politicians and to separate the wheat from the chaff. You know when he says something important or filling, when he is in full pose … I have the tools to understand and value.
-The star program of this year, or this century, if you hurry me, has been Rocío Carrasco's 'docuserie'. But you have been critical.
-I have defended the explicit message of Rocío Carrasco with absolute conviction and without any buts. However, 'It's already noon' has given voice to all parties involved, because there are different sensitivities to the product. And that has been transferred to the set and, consequently, to the screen. Until Ana Rosa signed Rocío Flores, we were the only program on the chain that had a relative: Rosa Benito, the aunt, who also has her truth. And Alba Carrillo and Isabel Rábago, who are her friends and know the story from another perspective. Any matter should be treated with all possible gazes and it has been.
-Without surrendering completely because it is a product of the house.
-We are totally independent of all structures. We owe ourselves, of course, to the chain and the production company, but we have never received a call to say: this is a question or otherwise. Neither in politics nor in events nor with the 'docuserie'.
-Has it ever crossed your mind to change the chain?
-Not. Never! Tele 5 is such a fun, entertaining, creative and talented network that I can't think of another place where I can work better. With the specials '15 -M ¿Generación perdida? ', Which was a heat stroke that gave me, I found receptivity. It is a place where you can do a lot of things and almost anything is possible. It is a pleasure.
-Heatstroke?
-Yes. I wanted to do something that would review the last decade and it coincided that it was 10 years since 15-M and it was seen that a window of opportunity was opening. We did it in a relatively short time – in a couple of months. It's nice that they listen to you, that heat strokes satisfy you (laughs).
-And he really enjoyed it, I see.
-They are those specific and circumstantial pieces that allow you to have a moment of reflection, thought, a long interview … Because in my time as a chronicler I had not done any with the politicians either, since I had been with the microphone running after them. I had never sat down with President Rajoy, with Zapatero, with Íñigo Errejón, and that's how it has been. And it is in Mitele for those who want to get into a vein for 10 years (laughs).

www.informacion.es
Eddie is an Australian news reporter with over 9 years in the industry and has published on Forbes and tech crunch.