Note to readers: EL PAÍS offers the Future Planet section for its daily and global information contribution on the 2030 Agenda. If you want to support our journalism, subscribe here.
"Has God forgotten about us?"
Joyce Tabang looked around as if trying to find an answer in the corners of the makeshift pediatric hospital in the middle of a refugee settlement. The woman was waiting in a waiting room, surrounded by thin babies, sick with malnutrition. The mothers who accompanied these children waited their turn in silence. Nobody spoke. Not even the little ones were crying: they had no energy left to moan.
Tabang, a 32-year-old South Sudanese peasant woman, left her home in 2016. At that time, a new war had brought South Sudan to the brink. In a matter of months, hundreds of thousands of people fled to Uganda, where they became refugees. Like her. Neither humanitarian organizations nor local authorities were prepared for such a rapid exodus. The fugitives settled in camps that, although they had exceeded their maximum capacity, multiplied their population every day.
"The health of my children has worsened," lamented this mother from the settlement pediatrics, built by the United Nations Children's Fund (Unicef). "Before we had a comfortable house and a garden. If the war had not hit our town, my children would not be sick. Now we have some food because humanitarian organizations help us. But what will become of our future? He then pointed to one of his sons, who was napping on his lap. His name was James. He was two years old and had scales on his ankles, a sign of severe malnutrition. "Has God forgotten about us?" He repeated.
"The situation is dramatic"
The horror that Tabang escaped from is not over yet. The latest Unicef ​​report, posted last tuesday, leaves no room for doubt: at this time, two out of three children – 4.5 million minors – urgently need humanitarian assistance. The iniquity of the war has been compounded by a series of extreme weather events, probably favored by climate change. Several episodes of droughts and floods have destroyed the crops of millions of homes, preventing those families from being able to feed themselves. South Sudan continues to crumble.
The director of the protection programs for children during emergencies of this UN agency, Amanda Martín, warns that the country "is on the verge of its worst humanitarian crisis since its independence. The situation is dramatic ".
The study puts numbers on the hunger pandemic that is now spreading across a good part of the territory: around 1.4 million children may suffer from acute malnutrition this year, the highest number since 2013. In addition, more than 300,000 will suffer the worst forms of malnutrition and is at risk of dying if treatment is not provided. Oxfam Intermón, for its part, also refers to the situation in its report The hunger virus multiplies, published this week. The organization denounces that more than 100,000 people live in conditions close to famine. "Chronic violence and floods disrupted agricultural activity and forced 4.2 million people to flee their homes. At the moment, not even 20% of the 1.68 billion dollars of the humanitarian appeal of the United Nations has been mobilized ".
"Our programs have only received a third of the financial resources they need despite the crisis," laments Martín from Juba, the capital. "However, we want to think that this situation will awaken international donors to continue their cooperation. Children need the constant commitment of the international community as a whole. Right now, his absence will result in the loss of many lives ".
Furthermore, the South Sudan Education Cluster report estimates that 3.4 million girls and boys between the ages of three and 17 need education and that more than 66,000 teachers are needed. And violence is also a serious matter, as warned by the Report of the Secretary General of the UN General Assembly on South Sudan, published on June 21, 2021, which included 165 serious violations verified against 154 children, June 28. them girls, and 11 more rapes later verified in 2019. These actions include recruitment into armed groups, murder and mutilation, rape and other forms of sexual violence.
The flag represented a new beginning for a people that had resisted more than four decades of wars, an opportunity to bury their pain.
Stability continues to elude the peoples of the youngest country in Africa. The peace accords that the political elites of this country signed in early 2020 have become dead paper. The war continues to advance, especially in rural areas and around several small towns, where armed militias are multiplying. In fact, experts from the United Nations Security Council detected an increase in the number of incidents during the first months of 2021. That is why around 3.8 million South Sudanese have now left their homes.
Oil and blood
The happiest day in Tabang happened just 10 years ago. His village erupted in jubilation at midnight. It was July 9, 2011; South Sudan had just gained its independence, and the woman danced nonstop. The celebrations lasted until dawn. The flag represented a new beginning for a people that had endured more than four decades of wars, an opportunity to bury their pain. However, from refugee settlements in northern Uganda, the refugee remembered that moment looking at the ground and a sad smile: the hope of those days quickly turned to frustration.
While proclaiming their independence, South Sudanese had many reasons to be happy: its subsoil hid the third most important oil reserve in Africa, with at least 3,500 million barrels. After fighting the Government of Sudan almost tirelessly since 1955, which they accused of deliberately marginalizing them, the peoples of the south had earned the right to benefit from these natural resources.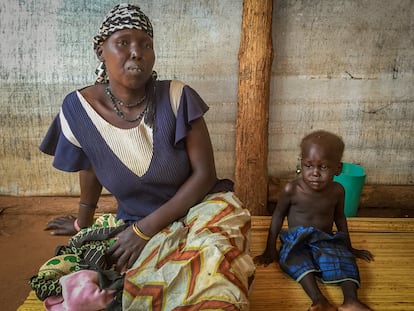 But, without mechanisms to limit the power of the political elites, the wealth of the subsoil was a poisoned apple. In 2013, the battles of President Salva Kiir's armed fighters against those of Vice President Riek Machar shattered the illusions of millions of people: both leaders knew that controlling power also meant having unlimited access to oil money. That rivalry quickly plunged the rest of the country into a dirty war that, although halted for several months from mid-2015 to 2016, continues to this day.
Tabang had the feeling that history was continually repeating itself. It was not the first time that she had to flee, as she already had a similar experience when she was a teenager. In the nineties, at the hands of his parents, he escaped a chaos of massacres like the one that is now repeated in his hometown. "I grew up in a refugee camp in northern Uganda. I remember it was very hard. And now my children are suffering the same situation ".
The camps you speak of have been transformed into makeshift cities teeming with soulful people in South Sudan waiting to return home, to resume their lives interrupted by violence. According to the United Nations High Commissioner for Refugees (UNHCR), more than 971,400 refugees of this nationality remain from northern Uganda.
In the Bidi Bidi settlement, Rostabo often meets with her friends to listen to and comment on the news from South Sudan on a radio. This 42-year-old peasant girl misses her home: a humble house surrounded by trees, green orchards and fertile fields. However, that nostalgia does not prevent him from being realistic:
"South Sudan is still a dangerous country, and I don't want my children to suffer there," Rostabo decides with a scowl of indignation. "It is impossible to understand that war."
You can follow PLANETA FUTURO in Twitter, Facebook e Instagram, and subscribe here a nuestra 'newsletter'.



elpais.com
Eddie is an Australian news reporter with over 9 years in the industry and has published on Forbes and tech crunch.