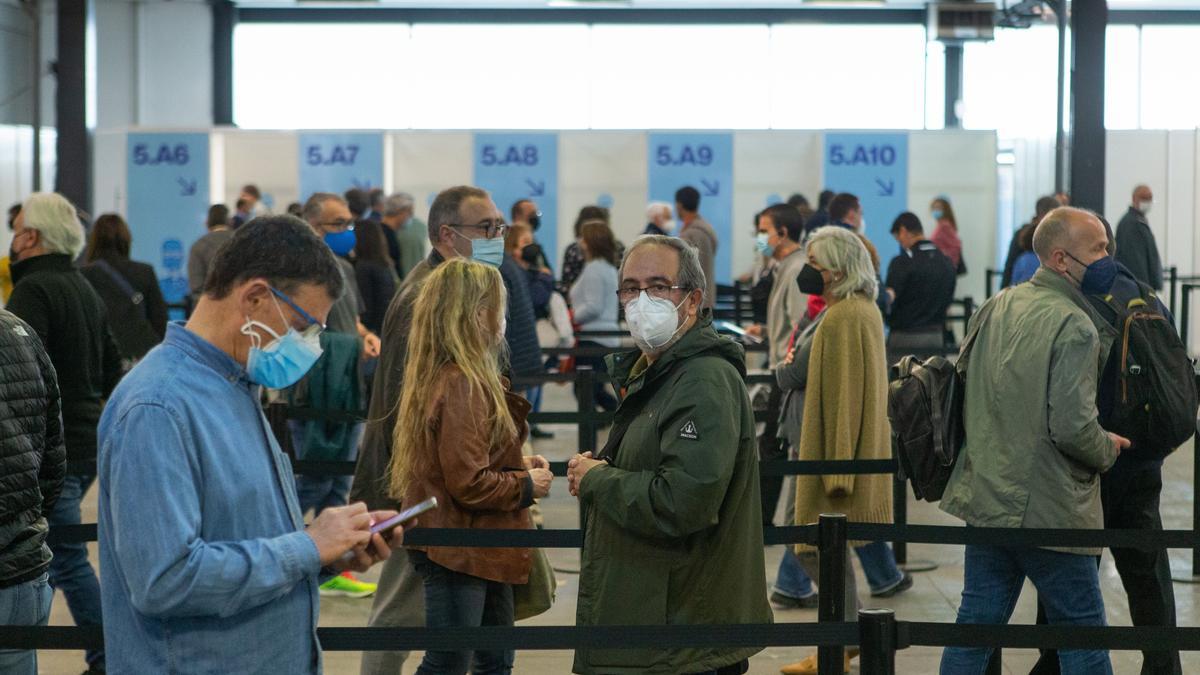 The autonomous communities have notified this Wednesday to the Ministry of Health 6,080 new cases of COVID-19, 3,054 of them diagnosed in the last 24 hours. These figures are lower than those of the same day last week, when 6,418 positives were reported.
The total figure of contagions in Spain now rises to 3,625,928 since the start of the pandemic, according to official statistics. The cumulative incidence in the last 14 days per 100,000 inhabitants stands at 144.56, compared to 147.54 yesterday. In the past two weeks, a total of 68,594 positives have been registered.
In this Wednesday's report 66 new deaths have been added, compared to 108 last Wednesday. Up to 79,568 people with a positive diagnostic test have died since the virus arrived in Spain, according to data collected by the Ministry.
Currently there 6,267 patients admitted for COVID-19 throughout Spain (6,568 yesterday) and 1,740 in the ICU (1,774 yesterday). In the last 24 hours, there have been 610 admissions (621 yesterday) and 856 discharges (944 yesterday). The occupancy rate of beds occupied by coronavirus stands at 5.00 percent (5.24% yesterday) and in ICUs at 17.70 percent (18.03% yesterday).
Between May 9 and 15, the autonomous communities have carried out 767,304 diagnostic tests, of which 507,102 have been PCR and 260,202 antigen tests, with an overall rate per 100,000 inhabitants of 1,631.65. The overall positivity rate stands at 5.14 percent, up from 5.23 percent yesterday.
Almost 7.5 million immunized people
The autonomous communities have administered until this Wednesday a total of 22,973,955 doses of vaccines against COVID-19 of Pfizer-BioNTech, Moderna, AstraZeneca and Janssen, 386,612 of them in the last 24 hours. This represents 89.8 percent of those distributed, which amount to 25,572,945 units.
In addition, a total of 7,469,173 people have already received the second dose from which immunity begins to be generated, 145,747 more than yesterday. This represents 15.7 percent of the Spanish population. A total of 15,741,247 people have received at least one dose, 33.2 percent of the Spanish.
The data indicate that in that period, 17,052,945 doses of Pfizer have been delivered to the autonomous communities, with 15,978,580 administered; 2,395,800 corresponding to Moderna, with 1,879,235 already inoculated; 5,713,800 from AstraZeneca, with which 4,879,675 people have been vaccinated; and 410,400 from Janssen, with 236,465 already injected.
The Ministry of Health has provided this information in the activity report of the vaccination process against COVID-19 based on data collected between December 27, 2020, the day on which vaccinations began, and May 18.

www.informacion.es
Eddie is an Australian news reporter with over 9 years in the industry and has published on Forbes and tech crunch.