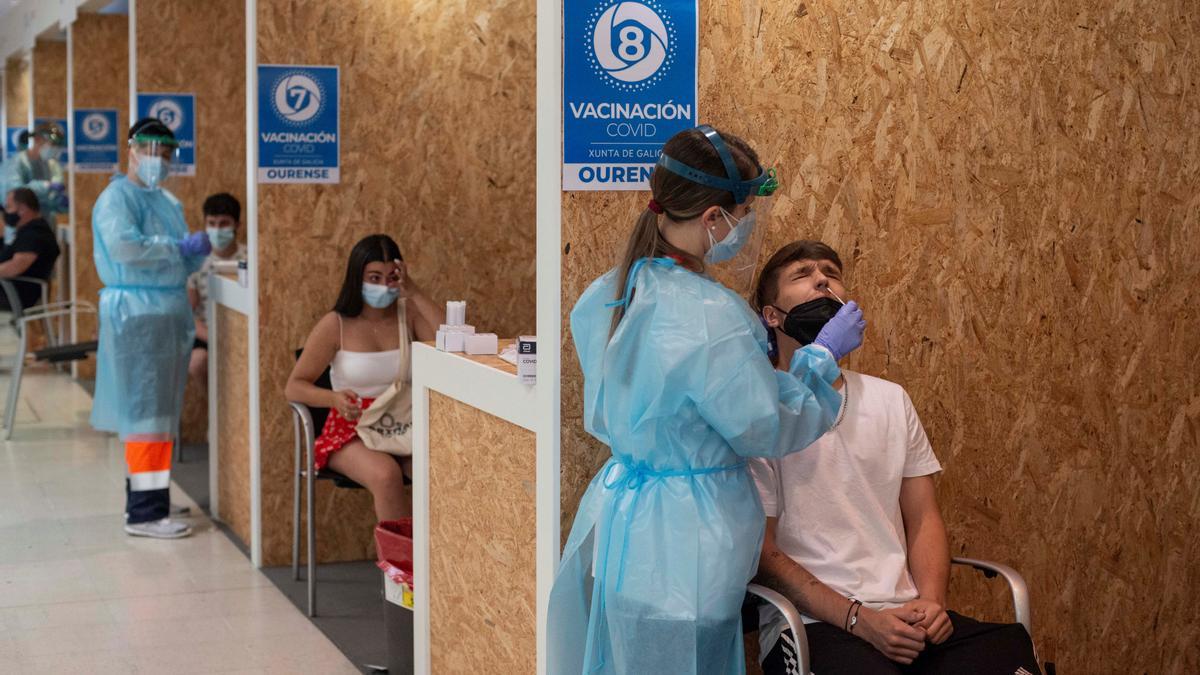 The first week of August closes with a general decline in the spread of the coronavirus, but concerns remain about the hospital pressure that, although it improves in highly affected communities such as Catalonia, it continues to rise in others such as the Balearic Islands, the Basque Country or Andalusia.
Despite this general decline, infections are increasing in the Community of Madrid, which today has notified 3,322 new positives, 169 more than yesterday, although comparing with last Saturday the drop is significant since there are 1,333 fewer cases.
Where hospital admissions rise the most is in Baleares, the Autonomous Community with the highest cumulative incidence in Spain (833 cases per 100,000 inhabitants, 242 more than the national average).
Despite this high incidence, in the last 24 hours, the Balearic Islands have added 499 new cases, 21 less than yesterday and the lowest figure of the week.
Although these data are encouraging, they collide with the increase in ICU admissions of its public hospitals, where 83 patients remain admitted, eight more than yesterday, which places the occupancy at 24.3 percent.
In the Basque Country, the infection rate has dropped by half a point, from 12.7 to 11.1, but ICU admissions are growing, where there are already 67 patients with covid-19 and this Saturday 49 coronavirus patients have entered the plant, which are added to the 259 posted yesterday.
Also in Andalusia, the accumulated incidence has fallen for the fourth consecutive day and stands, this Saturday, at 577 cases per one hundred thousand inhabitants.
This fourth consecutive decrease in incidence occurs after a month continuously rising, according to the Andalusian Institute of Statistics, which reports that it also the number of deaths has dropped.
However, the hospitalized In Andalusia they have risen this Saturday by 25 to 1,361 patients and have also increased in the Intensive Care Units, where 253 people are already admitted.
In Catalonia, epidemiological indicators confirm that the virus is slowing its spread and the risk of regrowth has dropped by 39 points to 490.
In Catalonia, other 3,150 infections and 27 deaths, but ICU admissions have dropped.
This drop in income It is highly anticipated in Catalonia, where ICU occupancy of 48% places it at the top of Spain and 28 points above the national average.
Madrid It is another of the communities where hospital pressure is slightly reduced. This Saturday there are 1,379 people admitted compared to 1,425 yesterday, although the number of deaths (18 today and 20 this Friday) is higher than a week ago.
In Castile and Leon, According to data provided this Saturday by the Ministry of Health, 868 new cases of covid-19 have been registered, twelve less than yesterday and 182 less than a week ago.
Despite this decrease in new positives, the community has recorded nine deaths in hospitals, seven more than the day before and twelve more than seven days ago.
Also contagions have decreased in Murcia with 330 new positives, 210 fewer, according to data published by the Epidemiology Service of the Ministry of Health.
In Cantabria 184 contagions have been reported this Saturday, a hundred less than the previous day and those hospitalized in the ward rise, although those admitted to the ICU decrease, from 21 to 19.
Another community that has noted a slight decrease in active cases is The Rioja, with 16 less, which leaves the total number of infected in 1,631 people.

www.informacion.es
Eddie is an Australian news reporter with over 9 years in the industry and has published on Forbes and tech crunch.