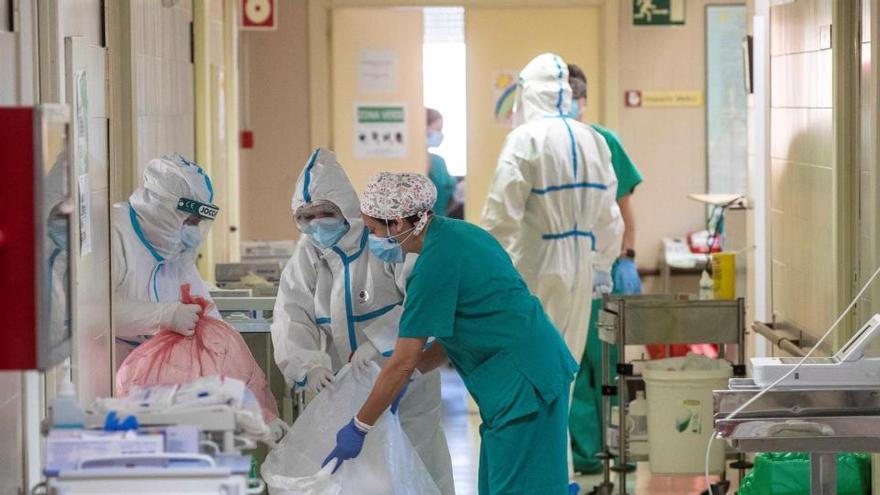 A study carried out by the General Council of Nursing (CGE) estimates that, in a pessimistic scenario of evolution of the COVID-19 pandemic, Spain would require between 11,900 and 13,426 more nurses in intensive care units (ICU) to be able to respond to a possible occupation of one hundred percent of the available beds and meet the recommended ratio of two nurses per COVID-19 patient.
The research also reflects that in an intermediate scenario, with 60% occupancy of ICU beds, it would require between 7,600 and 9,166 nurses to be able to care for patients. If the pandemic evolved better than expected, with a bed occupancy of 30 percent, between 4,500 and 6,000 would be needed, according to the study.
By autonomous communities, in the worst case scenario, the region that would have to hire the most nursing professionals would be Catalonia, with 3,445; closely followed by Madrid (3,337). Andalusia is in third place (1,193), followed by the Valencian Community (999), Castilla y León (754), the Basque Country (598), Castilla-La Mancha (540) and Galicia (515).
"Hospital pressure in the second wave it is, of course, important, but it has not arrived as the previous time. We can still respond to the demands we currently have. But this situation of the ICUs worries us a lot. Everything is caused by the deficit of professionals, at some point it will have to be solved ", the president of the CGE, Florentino Pérez Raya, said at a virtual press conference.
In this sense, he has criticized that the General State Budget Project (PGE) for 2021 does not include a "sufficient budget" to hire a number of professionals "to the extent that they are required." "We are very surprised that, seeing the previous wave, they have not bothered to put the necessary means to alleviate this deficit and this serious situation that occurred in the previous wave, when the ICUs were one hundred percent full and they had to be enabled other places, like IFEMA, "he argued.
As stated in the document, currently, The greatest shortage of ICU beds occurs in La Rioja, with 6.34 beds per 100,000 inhabitants; Ceuta and Melilla, with 7.58 and, after a quantitative jump, others such as Cantabria (10), the Basque Country (10.05) or Castilla-La Mancha (10.07). At the other extreme, the regions with a good density of ICU beds are Madrid (14.97), the Balearic Islands (14.88) and the Valencian Community (14.16).
The greatest increases in the creation of new ICU beds as a result of COVID-19 are observed in La Rioja, Murcia and the Principality of Asturias. Regarding the current occupancy rate of ICU beds, a strip in the northern area that includes Asturias, Castilla y León, La Rioja, Aragon and Catalonia mark the regions with the most saturation at this time. The situation in the Autonomous City of Melilla stands out in a worrying way, with an ICU occupancy higher than 70 percent.
In this regard, the study has also calculated the number of ICU beds that would have to be expanded in the event that the pandemic becomes complicated. For example, if one hundred percent occupancy is reached, the General Nursing Council believes that between 7,459 and 6,611 new beds would be necessary. If 60 percent is covered, between 5,092 and 4,247 ICUs would have to be added, while if the situation continues as the current one, with a 30 percent occupation, we must add between 3,324 and 2,479.
By CCAA, within the worst scenario of the pandemic, once again Catalonia would be the community that would need the most beds, with 1,914; followed by Madrid (1854). Andalusia would have to add 663, Valencian Community 555, Castilla y León 419, Basque Country 332, Castilla-La Mancha 300 and Galicia 286.
The president of the Spanish Society of Intensive Nursing and Critical Units (SEEIUC) also participated in the press conference, Marta Raurell Torredá, has explained a proposal to alleviate the enormous deficit of nurses. Specifically, they have adhered to the European program 'C19_SPACE' whose objective is to provide non-intensivist nurses with fundamental knowledge about the early recognition and management of critically ill patients through a short course (16 theoretical 'online' hours and 6-8 hours practical face-to-face with interactive clinical cases and virtual reality experiences). Within the framework of this program, 185 nurse educators are already working with 1,258 nurses as students.

www.informacion.es
Digsmak is a news publisher with over 12 years of reporting experiance; and have published in many industry leading publications and news sites.