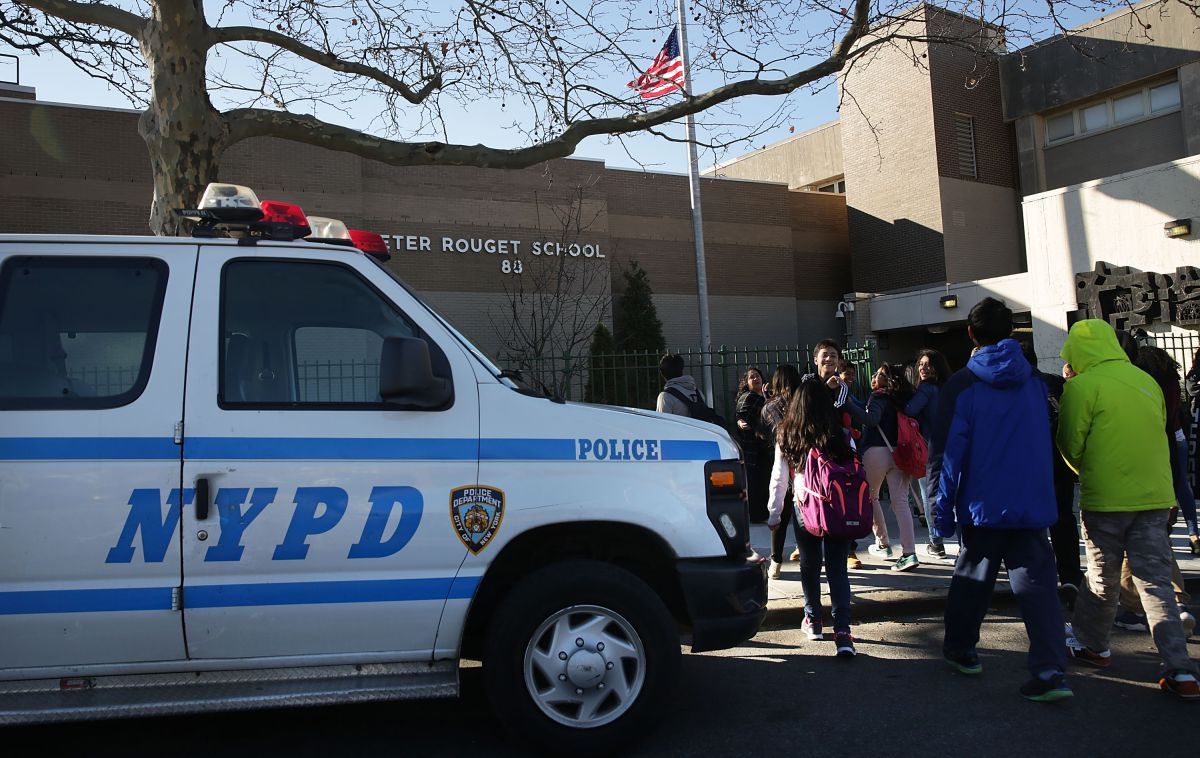 The operating with metal detectors and a detailed review of the packages of students to enter school buildings in New York City will increase in the coming days, without prior notice, as announced this Monday by Mayor Bill de Blasio, after the alarms were turned on when detected only last week three guns in secondary schools of The Bronx and Brooklyn.
"We need to make sure that we are adding extra protection so that there is never violence and no incident where a child is hurt. Reviews will be done in a way respectful and communicative ", specified the municipal president.
The City will work with New York City Police Department (NYPD) school officials from each neighborhood and youth coordination officers to be on campus at arrival and departure times.
20 special security corridors will also be added at points classified as "More risk", where there will be additional presence of the Uniformed to support the school community.
More details of this entire plan will be released in the coming days.
"The intervention will be from various points of view, we come from a pandemic, the students have gone through very difficult times. We are hiring 500 more social workers to help with social and emotional evaluations, "added De Blasio.
Enough staff?
Given the Mayor's announcement, several doubts arose as to whether there is sufficient staff available to increase the 'surprise' reviews on campuses. At this point, he clarified that he is confident in these teams, since the 92% of school agents they are already vaccinated.
"We are even prepared to assume overtime if necessary, "the president said.
Meanwhile, NYPD Department Chief Rodney Harrison confirmed that there are about 3,200 agents in the 1,400 school settings of the city.
"There is an endorsement of youth coordination officers available to replace school safety officers in schools. The big problem that involves leak weapons in schools is still latent and metal detectors have been an efficient way to avoid the worst ", he pointed out.
Given the findings of last Wednesday, where in a matter of hours three firearms were confiscated on school grounds, the Department of Education (DOE) valued that these operations, which are estimated to be "temporary", keep school communities safe.
"This is just part of a problem that we are facing not only with reviews, but with counseling sessions and anti-violence plans. Checks will continue but with empathy towards students", Confirmed the Chancellor of Education, Misha Porter.
"We need more school police"
The new findings of pistols in schools in the Big Apple, without any violent consequences, did manage to 'detonate' again a decades-long debate about police presence in schools.
In this sense, spokespersons for the NYC Coalition for School Safety lobby to keep school safety officers under the absolute mandate of the NYPD, when some initiatives promote their being administered by the DOE and even remove their presence from the campuses.
"There is currently a 1,500 agent shortage school safety. We as parents know what is best to keep our children safe. Here the problem that many politicians do not understand is that we need more troops, "he reacted on Monday on Fox. Mona Davids, spokesperson for this coalition.
According to what is shared by sources from this organization, since face-to-face classes began in the fall, although there have been no shootings inside a campus, there are records of violent acts with knives and shootings very close to school communities.
All in a matter of hours:
a 18 year old student refused to go through a metal detector at a Mott Haven campus in the Bronx last Wednesday, where scanners are installed on random days, according to law enforcement sources. He ran out of the building and tried to hide a .22 caliber pistol in his backpack.
At the hours in Adlai Stevenson High SchoolAlso in the Bronx, a student was arrested with a loaded .32 caliber weapon and a bag of marijuana after the items were detected on the school's scanner, NYPD sources revealed.
A third weapon was discovered at FDR High School in Brooklyn that same day during a fight between a pair of students. After the security officers separated them, the employees they detected a gun at the waist of one of the young people.
The data:
There are 3,700 school security officers currently in NYC public schools, up from 5,500 previously, because the city has not replaced officers who retired or are not working because they refused to receive the COVID-19 vaccine, argues the Coalition for School Safety.

eldiariony.com
Eddie is an Australian news reporter with over 9 years in the industry and has published on Forbes and tech crunch.