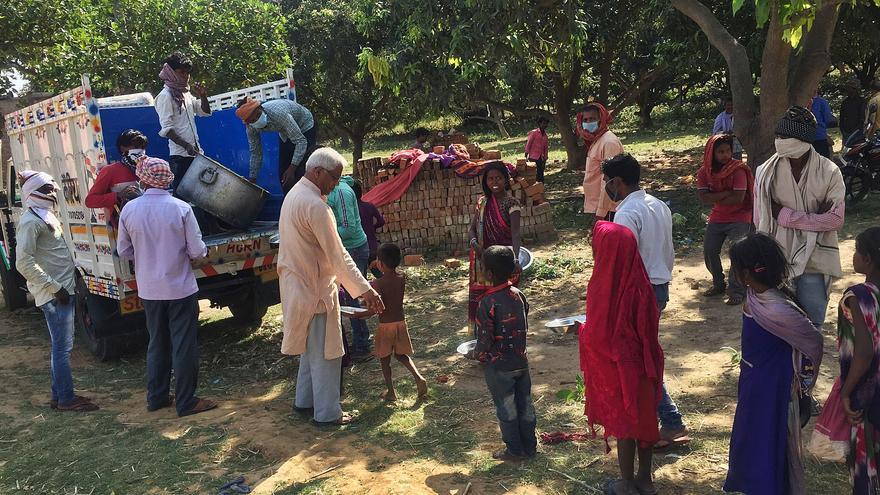 Without wanting to underestimate the effects of the health crisis in Spain, or its consequences on the economy, perhaps "it is worth pausing for a moment to think about those who really have nothing to put into their mouths; not before, not now. And now much less ", explains José Abad, project manager of the NGO Tushirikiane from Elche.
Africa and South America, also India, focus the attention of numerous and small NGOs that emerged in the province of Alicante in recent decades to help thousands of people who "do not understand so much about coronavirus because its existence has been a continuous fight against deadly epidemics and against the worst of all, hunger, "says Charo Martínez.
The developing countries in which organizations such as the two already mentioned, Rafiki (Alicante), Visión Solidaria and Toobabs Team (Elche), Chambáa and ACCI-Asociación Contra la Ceguera Internacional (Elda), are experiencing a «critical situation », According to the spokespersons of these solidarity organizations.
The global pandemic has suspended trips of aid workers with health, engineering, food and construction projects for schools, hospitals … For example, the president of the ACCI Eldense, Pablo Vélez, recalls how «in March we were about to go out to an expedition with two ophthalmologists, a general practitioner, three nurses, two opticians and an anesthetist to Burkina Fasso. Three days before the trip, the authorities suspended all our vacation permits and we had to stay. About 100 people have not been able to undergo cataract surgery and another 250 or 300 complete check-ups have not been carried out.
In Senegal, the food and health care projects – a health center that cared for a thousand patients in October – of the NGO Toobabs Team continue, "but the volunteers have not been able to travel to continue promoting them," explains the president, Carmina Miralles , who asks that "Let's not forget those who, not only now, but always, are having a hard time." This entity has a project, with the Children's Health Foundation, which has had to be closed due to the covid. There, a physical therapist and a social worker offered support to families with children with physical or cognitive development problems.
From Elche, trips to Guinea Bissau and Haiti were also canceled. "In February we did have volunteers starting a water safety project in the African country," recalls the president of the NGO Vision Solidaria, María Andreu. This entity works on programs to disseminate the defense of Human Rights and the Rights of the Child. "We hoped to be able to return to Guinea in November to finish the study of the wells. It has not been. And we wanted to go with volunteers to Haiti to a children's camp, but nothing. The only thing we have done is to send the money so that it could be developed and to keep the scholarships we have, "says Andreu.
Tushirikiane, for example, has not been able to accept new admission to its child nutrition center in Kenya and regrets that an infestation of locusts as nobody knew it has worsened the situation in that country and in Ethiopia and Tanzania.
The Communication Manager of Rafiki Alicante, María Rosa Mirasierras, exposes the difficulties in maintaining care for 400 school children in Uganda and for its sanitary and agricultural actions. «Our volunteers – doctors, ophthalmologists, opticians, dentists … – have had to suspend their trips. An agronomist was going to attend to train the technicians there in optimizing crops and improving irrigation. Nor has he been able to go.
And getting financing is also being very complicated. «With very little there you do a lot. For example, a school can be built with 40,000 euros. But we have not had the opportunity to raise funds because we have not been able to carry out actions such as our party in Benidorm, with which we raised around 8,000 euros last year, "explains Mirasierras.
Rafiki has also felt the economic crisis suffered by the Alicante industry. «It is understandable. Many companies that each year contribute an important contribution to the school are having a very bad time. There are people who cannot sponsor a child for 18 euros a month because they are unemployed, "says Mirasierras.
María José López, from Manos Unidas Benidorm, also regrets that "we could not do the solidarity meal in April, an essential activity for us." José Abad, from Tushirikiane, understands that "some monthly receipts from members are returned" and regrets not being able to carry out actions such as the solidarity march to the Pantano, "with which we raised funds for Kenya, Uganda and Ethiopia. We are not selling Christmas lottery either because most of the volunteers are older people and we don't see fit to put them at risk. To stay active, "we have reduced expenses. We go back to our origins, at home. We have left our headquarters, therefore no rent, no electricity, no water, no internet … With the savings we endow ourselves with funds for next year's projects. Those of this year were already financed in January », assures Abad.
From the NGO Toobabs Team "We have not been able to hold fund-raising events either," says Miralles, who highlights "how lucky we are to continue to feel the support of businessmen. We know that they are making an extraordinary effort for these projects, which are essential for the people most in need that we must never forget. In turn, Miralles is grateful for "the extra effort of the workers at the Senegal health center and the impulse given to all of us by Sister Regina Casado, our counterpart there, who continues to fight like a jabata to make the projects go ahead. It is the engine of our NGO to work against the malnutrition of hundreds of children and families.
Fundraising events and volunteer trips suspended, reduced the economic possibilities of NGOs, which have their projects stopped. What are these organizations doing?
In general, solidarity actions in Alicante are focusing on emergency plans to send money, food and materials, as well as trying to keep everything that was underway. "We dedicate 90% of the time to emergencies," explains the president of Manos Unidas, an entity with projects in Africa and South America, where, according to Martínez, "they immediately need food, water, soap, masks … They are covering the mouth and nose with cardboard so as not to get infected ».
The incidence of the virus seems low but it is difficult to measure it
In general, the Alicante NGOs agree that the incidence in the towns with which they cooperate has been low, much lower than in Spain, "but of course, they do not have a test, it is impossible to measure it", remarks Rafael Madrid, from Chanbáa. This entity, with activity in Togo and Burkina Fasso, provides health care to populations that "live separately from each other", so that contagion is less likely. "And they have few interior spaces to share, they live on the street," he points out. In addition, the NGOs agree that "they are more used to fighting pandemics."

www.informacion.es
Digsmak is a news publisher with over 12 years of reporting experiance; and have published in many industry leading publications and news sites.