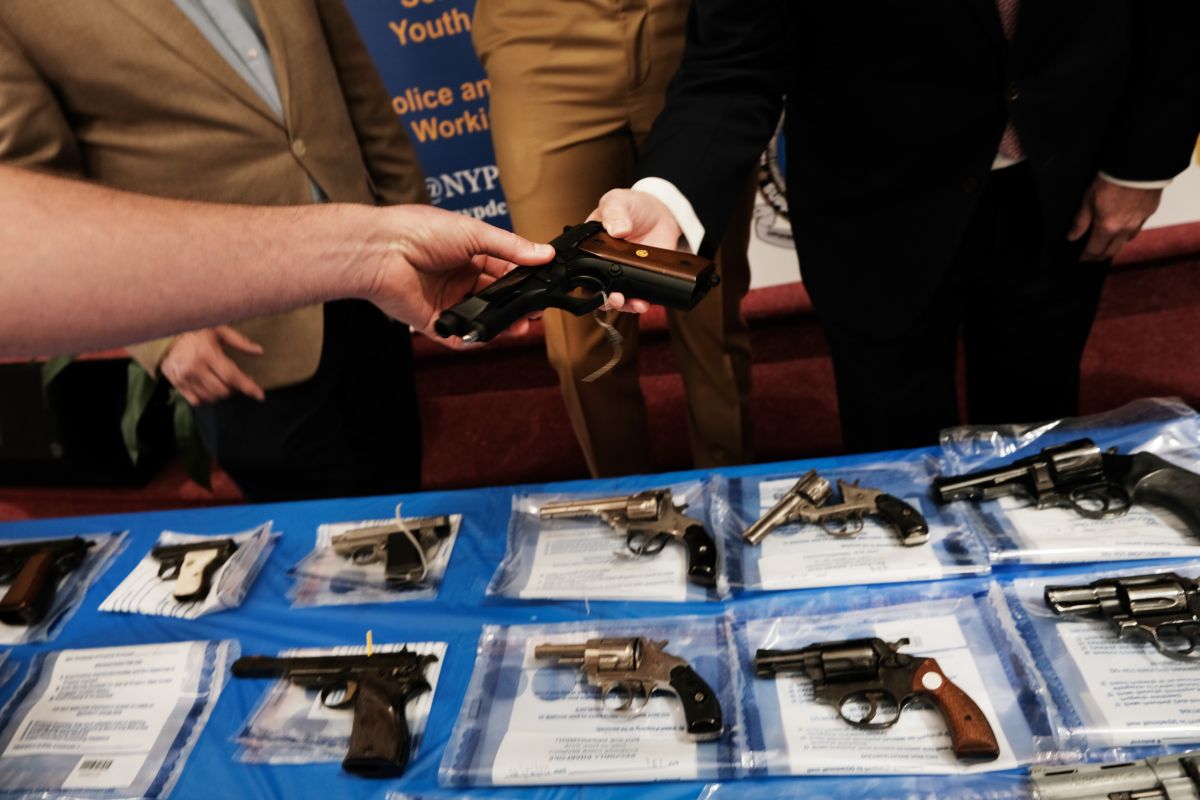 Shooting cases in New York City continue to 'skyrocket', with the most recent fatality being a 10-year-old boy, Justin Wallace, who was shot in the torso last Saturday night in Far Rockaway. And to try to stop this gun violence, the State Assembly on Tuesday passed a package of laws that seek to give more protection to New Yorkers.
Among the legislation voted, one stands out that holds the arms industry responsible for the damages they cause, another that prohibits those with an arrest warrant pending for a crime from buying a weapon, one that prohibits 'ghost' weapons and also the which requires quarterly reports on the origin of the firearms used to commit crimes in New York.
"We have seen too many lives cut short and many communities devastated by senseless gun violence; we shouldn't have to see someone else lose their life in a shooting at a school or workplace, or get shot while leaving their home, "said Assembly Speaker Carl Heastie.
With the approval of the Arms Industry Liability Law, which would make those responsible for the sale, manufacture, importation or commercialization of weapons responsible for the public annoyances caused by such actions, compliance with the Law for the Protection of Legal Trade in Arms (PLCAA) as interpreted by the United States Court of Appeals for the Second Circuit in New York City v. Berretta USA Corps. The PLCAA has been used to protect the firearms industry from civil liability.
"More than 74% of all weapons recovered from violent crime and shootings in New York are trafficked from out of state," said the Assemblymember Patricia Fahy who sponsors that law, adding that at this time, "only one industry in the country enjoys total immunity from civil liability under federal law for negligence in the use of its products; the arms industry. The passage of this landmark legislation will allow gun manufacturers who knowingly use bad actors and distributors to market their products to be held civilly liable for the damage they cause on our streets. "
Heastie stressed that these laws are "addressing the root causes of gun violence in our state, and the common sense legislation we pass today will build on that, helping keep dangerous weapons off our streets and facilitating to the forces of order the tracking and monitoring of firearms that are used in crimes ".
Details of the laws passed
The legislative package includes the Jose Webster Untraceable Firearms Law, which will prohibit the possession of ghost weapons. Ghost pistols are firearms that do not have a serial number, usually assembled from non-serialized parts, including unfinished frames or receivers. The measure will require licensed gunsmiths to serialize and register with the New York State Police any firearm, rifle, shotgun, finished frame or receiver or unfinished frame or receiver in their possession.
The Unfinished catchers act Scott J. Beigel, which would prohibit the possession and sale of unfinished frames and receivers by persons other than licensed gunsmiths. Unfinished frames and receivers are incomplete weapon components that do not require serial numbers under federal law. Because weapons assembled from unfinished frames and receivers do not have serial numbers, they cannot be traced and can be built and transported without the normal background checks that are required when purchasing a weapon from an authorized retailer.
The assembly it also passed legislation that would require all semi-automatic pistols to be capable of microstamping worn caps. Micro-stamping technology uses lasers to make precise microscopic engravings on the internal mechanisms of a pistol. As the pistol is fired, information identifying the make, model, and serial number of the pistol can be stamped on the cartridge as numbers and letters. This will allow the police to trace the firearms back to their original purchaser through cartridges found at the crime scene.
The current legislative package includes legislation that would prohibit the purchase, acquisition, sale or disposal of a weapon by or for anyone known to be the subject of an outstanding arrest warrant for the alleged commission of a felony or felony offense. It would also prohibit an individual from purchasing or acquiring a weapon on behalf of another person known to the purchaser or acquirer to be the subject of such warranty.
Another bill approved today would authorize the court, in matrimonial matters, to order a search and seizure of firearms when a person against whom a protection order has been issued refuses to surrender their firearms when ordered to do so. . Criminal courts and the Family Court currently have similar statutory authority.
The Assembly also passed legislation that would amend the definition of a "disguised weapon" to include any rifle, shotgun, or machine gun that resembles a toy pistol. This would prohibit the possession, manufacture and design of such concealed weapons.
Illegal weapons 'iron pipeline' closed
Known as the 'Iron Pipeline', it is the route used to smuggle weapons between 10 states of the country, mainly from the south to the Mid-Atlantic states and New England, particularly states with stricter arms laws like New York and New Jersey.
And to 'shut down' that flow of illegal firearms trafficked into New York, the Assembly specifically passed a one-of-a-kind law nationwide, which will allow lawsuits against gun manufacturers who irresponsibly sell firearms to traffickers. that knowingly or negligently feed the criminal market. The bill has already been approved by the Senate and is now heading to the Governor's desk for signature.
A 2005 federal legislation, the Legal Trade in Arms Protection Act ('PLCAA'), grants the arms industry unique protection that prohibits states from applying civil liability law to bring justice to victims of their bad behavior. In fact, the arms industry is the only industry that enjoys complete protection against liability law in the country. However, PLCAA contains a "predicate exception" which states that states can pass a "predicate statute" to reinstate some responsibility.
According to the Brady Campaign to Prevent Gun Violence, only 5% of gun dealers supply more than 90% of illegal firearms recovered from violent crimes and shootings. By removing PLCAA's complete immunity from liability, it would simply allow gun companies to be held liable when they act unreasonably or recklessly, such as when they choose to allow fake purchases and wholesaling to dealers.

eldiariony.com
Eddie is an Australian news reporter with over 9 years in the industry and has published on Forbes and tech crunch.