Jose Carlos Cueto
BBC News World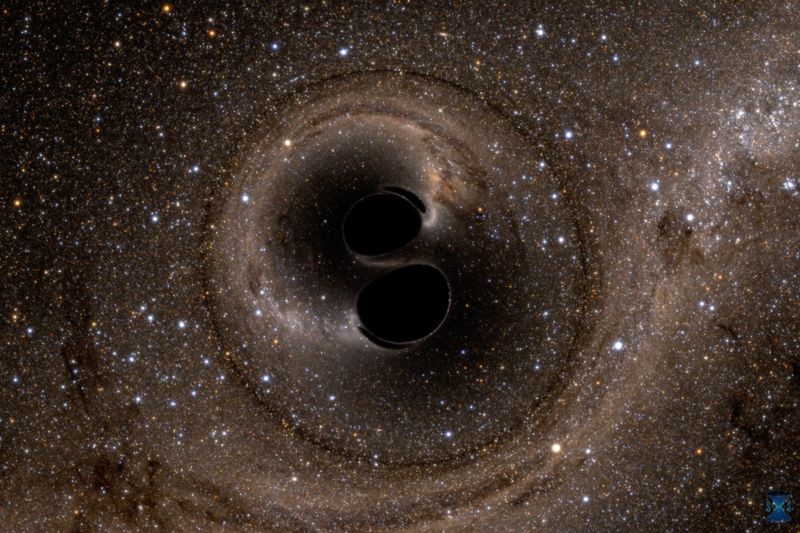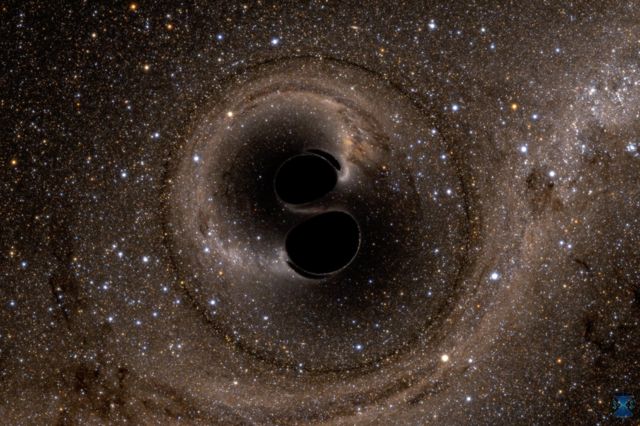 Fifty years later, a group of scientists has confirmed one of the most famous theorems of the British physicist Stephen Hawking.
It is the area theory of black holes, which argues that the area beyond the event horizon, the boundary from which nothing can escape, it never decreases.
Scientists from the Massachusetts Institute of Technology (MIT) and other research centers, led by the physicist Maximilian Isi, were the first to confirm this theory, based on the observation of gravitational waves.
Despite the fact that very extreme processes occur within a black hole where the physical laws that we believe to be universal do not apply, "it is curious that similar things happen at the microphysical level with laws of thermodynamics", Isi explains to BBC Mundo.
The research by Isi and his colleagues was published on July 1 in the scientific journal Physical Review Letters.
Black holes are one of the most enigmatic phenomena in the universe: for them to form, first a star has to die.
In addition, everything that enters, never manages to escape, not even the light. And in his heart, the so-called singularity, time and space stop.
Although until 2019 no one had seen a black hole, the proof of its existence was in the equations of Albert Einstein's theory of general relativity.
What is Hawking's theory?
Stephen Hawking, the famous British physicist who died in 2018, proposed this theorem in 1971, one of the most important on the mechanics of black holes.
The theorem predicts that the total area of ​​a black hole beyond the event horizon should never decrease.
This proposition saves parallelism with the second law of thermodynamics, which indicates that entropy, or the degree of disorder in the universe, should not decrease either.
The similarity between the two theories suggested that black holes could behave like thermal objects that emit heat.
But this proposition was confusing, since it was thought that the very nature of black holes did not allow them to escape or radiate energy.
"Hawking managed to coordinate these ideas in 1971, showing that black holes have entropy and emit radiation on very long time scales if their quantum effects are taken into account," says a statement from MIT.
This phenomenon was called "Hawking radiation" and is one of the most revelations important about black holes.
But then scientists were not able to visually verify this proposal.
Fifty years later it has been possible.
What does it mean that it has been confirmed?
Beyond the curiosity that black holes always arouse, the most important thing for Isi is "to corroborate the total parallelism of certain laws of black holes with the laws of thermodynamics, in this case of entropy."
"With this study we confirm with some precision this fundamental prediction of Hawking about how black holes should work, "says Isi.
"It is very important that these theories, so far mainly abstract, can be approached through an observational analysis", adds the expert.
Until now, Hawking's theorem had been proven mathematically, but it had never been visualized in nature.
How did they get to confirm it?
In the study, the team carefully analyzed the gravitational wave GW150914, captured by the LIGO observatory in September 2015.
That signal was the product of two spiral black holes that spawned a new black hole, concentrating an enormous amount of energy that rippled through space-time in the form of gravitational waves.
According to Hawking's theorem, the area beyond the horizon of that black hole cannot be less than the total horizon of its two original black holes.
"With improved detection systems, we were able to observe the before and after of that collision," explains Isi.
His team developed a technique to pick up specific frequencies, or tones from the loudest aftermath, that they could use to calculate the mass and spin of the final black hole.
Indeed, they confirmed that the area did not decrease after the merger, a result that the team reports with 95% certainty.
"In the future, as our observers continue to improve, we will detect more and more signals with more precision. With that we hope to continue to corroborate these laws and, possibly one day, can discover something completely new", he told BBC Mundo.
Now you can receive notifications from BBC Mundo. Download our app and activate them so you don't miss our best content.

www.bbc.com
Eddie is an Australian news reporter with over 9 years in the industry and has published on Forbes and tech crunch.