A few weeks ago we asked: when was it a blessing to be alive? It caused a minor flood of our inbox, but once we managed to get out for air, there was a surprising conclusion.
The best time of all … is now.
"AT THIS MOMENT," wrote Utta Hogan from Ireland. "It's unique, new, I've never been here before. How exciting is that !!! "
"I have to say that now is the golden age," said Sally Johnson of the United States, citing longevity, emancipation, maternal mortality rates and other metrics that argue for the current era. "Yes, we have many challenges … but those challenges spark imagination, creativity, courage and cooperation (if we are smart enough to rise to the occasion)."
Susan Hayes was more dismissive. "What a silly question. The best time to be alive is today, this moment, right now!"
About half of the respondents agreed. You can read more about them in the section below titled "What We Hear."
Otherwise, this week we were very happy:
The best city in the world to live. Two minute read
Long Covid: A Recovery Story. Three minute read
Seven Ways to Change the World: The Vision of a Former Prime Minister. Three minute read
Overcome it! Man, 82 years old, defies advice with guerrilla carpentry. 90 second read
Our anniversary contest to name the date, last week. Six week scramble
Mount Recyclemore – An imaginative appeal for the G7. Also a six week fight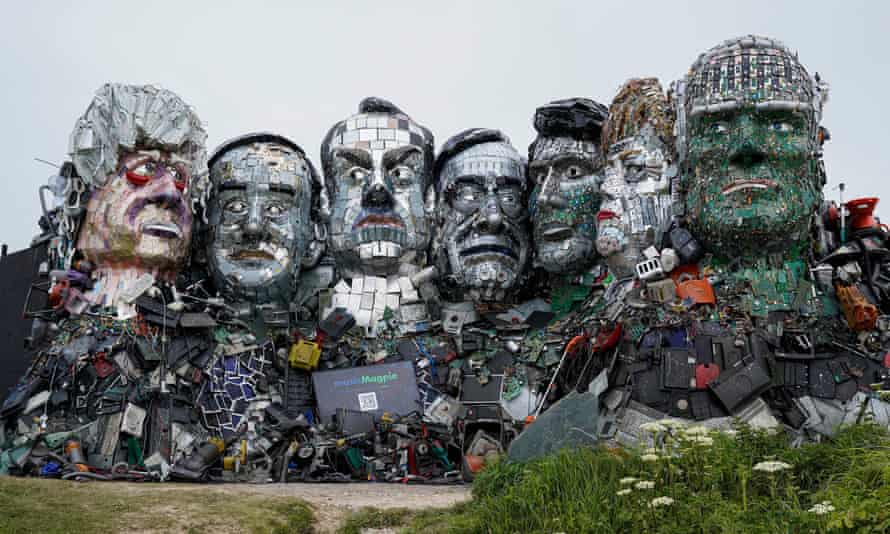 Lucky numbers
The world economy is poised for the fastest recovery in 80 years, according to the World Bank. And the world's most developed nations acknowledge that they have a historic agreement that will make it harder for global multinationals to avoid taxes by recording revenue in low-tax jurisdictions.
New Zealand marked 100 days from the last case community transmission of Covid. Meanwhile, the United States agreed to purchase 500 million doses of vaccines for distribution in the developing world.
And the number of people sleeping outside in the UK has has dropped dramatically from a peak in 2017.
What we liked
We were surprised to read that the US prison population, the largest in the world, is now declining, and that old prisons are imaginatively repurposed.
And this seems extremely relevant: the power of the handwritten thank you note.
What we hear
Erika Harrison from Calgary was adamant in answering the question of when it was better to be alive.
Now. Or hopefully, say, 50 years from now.
Why?
• War, pestilence, maternal and infant mortality have basically never been lower around the world.
• Education, access to health care, scientific development, access to running water, and indoor toilets / sanitation have never been higher worldwide.
• Women's rights (and pay gap), BIPOC rights (and pay gap), LGBT + rights, men's equality (access to paternity leave, access to mental health resources, choice not to be a father etc) have never been better in the whole world. As our society and consciousness have grown, we have also recognized areas that need improvement and, in some cases, great improvement. We have some big challenges facing us, such as climate change, growing socioeconomic disparity, and threats of an erosion of rights (see: anti-abortion in the US and LGBT erosion abroad). But overall, it has never been better. I can save my own money, choose not to get married, travel wherever I want, choose the profession I want to be in, something my grandmothers never could.
Lorraine Dawes remembers the happy days of the 50s and 60s.
My generation has been the most fortunate: I was born the same month as the NHS, a good infant diet with school milk, no primary homework (our evenings and weekends were ours), safe for cycling on the roads, we could go out out of school at age 15 or stay on scholarships for higher education, get a job with a built-in pension, afford to buy a house with a garden, receive maternity allowance and cash child allowance, increase equal rights to women, state pension at 60, free travel with the freedom pass and a priority for Covid-19 vaccination. I appreciate that not everyone was as lucky as I was, but I have certainly been lucky.
Georgie Stuart favors more recent times.
The 90s were the last time you could enjoy an occasion without worrying about the 'evidence' being uploaded to social media the next day! A time when we judged other people's lives less and were busy living our own, a little more carefree than now!
Dagny Sellorin from New Mexico writes praising adolescence.
I am 72 years old. I was not alive in 1066 or 1492 or 1865 or 1920, so I have no way of judging any time except when I experienced myself. I don't think anyone can really judge a moment that they haven't experienced for themselves, without seriously romanticizing or, on the contrary, vilifying that moment.

In my life, my teenage years … The 1960s was the best time to be alive, not because of what was happening in the external world, but because it was my time of hope, discovery, potential, great energy and the associated freedom. without still having to be 100% responsible for my own life … I could dream of being part of the changes necessary to make the world a better place, without being jaded by the realities of the obstacles set to prevent any of these changes from maturing.

I contend that the "golden years" for any generation or individual are the years just before you are forced to confront the reality of staying alive for yourself.
Stephen Farrell believes that life is better for slightly older people.
The idiot's clever answer is, of course, now. However, I would answer the question in terms of my decades. I realize that this is not what you are looking for. In that case, there is no doubt that they were between 30 and 50 years old.

In the 30s there is an interesting combination of youth and the first taste of maturity.

In the 50s, it's the other way around. There is still youth, as there always will be, but it is combined with greater maturity, and if time has been used well, there may even be some wisdom.
Where was the Upside?
With Euro 2020, a welcome distraction from the ups and downs of the last 18 months. Follow the drama here, but don't forget: it's just a game.
Get in touch
Send all your positive thoughts to [email protected] For more general questions or comments about any of our newsletters, please email [email protected]

www.theguardian.com
George is Digismak's reported cum editor with 13 years of experience in Journalism