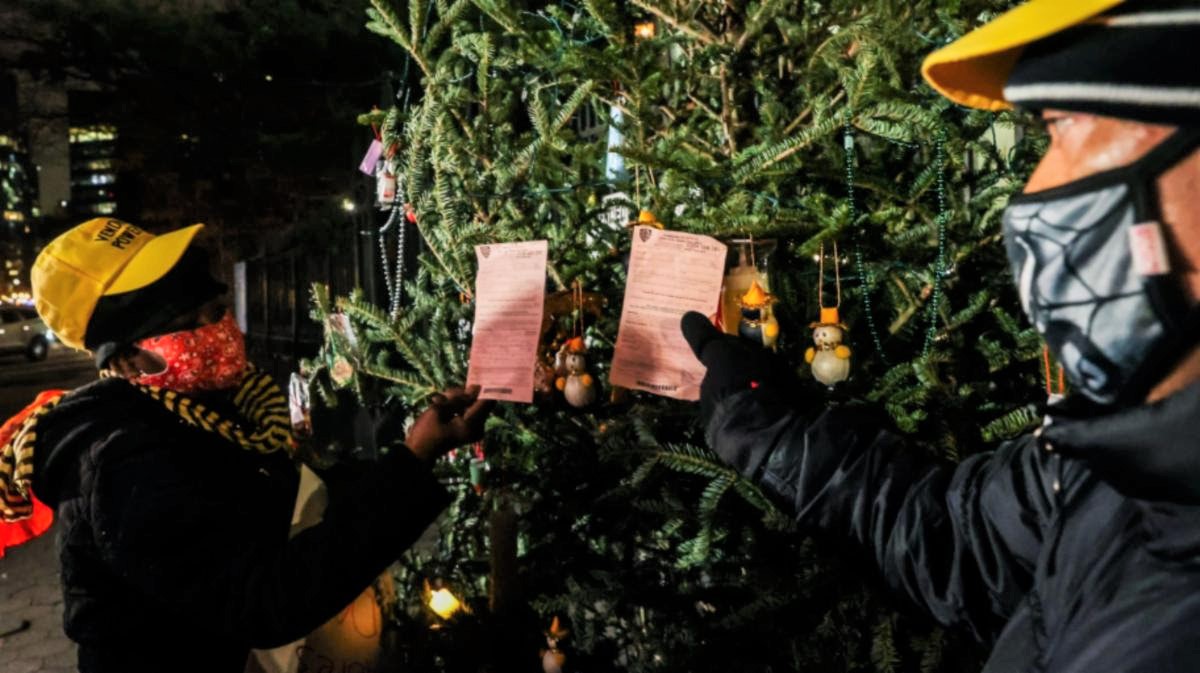 The year 2021 is about to end, and one of the pending issues that will be left to state legislators in Albany will be pass bills (S1175A | A5081A) that would legalize the street vending industry, and that would also create more licenses for these merchants and thus end the 'black market' for permits.
And before the 'inaction' that on this issue has been seen among assembly members and state senators, more than 50 street vendors held a rally on Tuesday night to demand that these laws be passed, and also protest against the costly fines that they constantly receive and that, according to what they say, are the product precisely of the lack of a law that regularizes their activity.
The demonstration, led by the organization 'NYC Street Vendor Justice Coalition', was held on the outskirts of San Mark Church, in Manhattan, where they shared champurrado while decorated a Christmas tree with the hundreds of ticket tickets that street vendors have received only in the last year due to lack of business license.
The street vendor Lucio González, a member of the 'Street Vendor Project' on Fordham Road, in the Bronx, shared his experience: "I became a street vendor at the beginning of the pandemic after losing my job in a restaurant. I started a street vending business because it is an honest job, and I can use my skills as a cook to make a successful business. I never thought that would receive $ 2,050 in penalties for selling tacos, when I tried to get a permit but they wouldn't let me. Now I have to use my relief from the Excluded Workers Fund, which was supposed to help me pay my rent and debts and invest in my business, to pay the fines. "
And that's precisely the problem many are facing now, that after having fought so hard to create the Excluded Workers Fund and gain access to small business grants, they now have to use that fund money to pay for those tickets.
"In the middle of the holiday season and during an ongoing pandemic, vendors continue to be penalized every day by City agencies for not having a legal avenue to work, despite their role as essential workers who ensure that fresh and affordable products, merchandise and meals are accessible throughout the city, "highlighted the activists.
The law that is stagnant
In addition to vendors, activists and leaders of organizations such as 'Workers Justice Project', 'Make the Road New York', 'Save Our Storefronts' and 'Transportation Alternatives', among others, several elected officials also participated in the rally including the senator State Assemblywoman Jessica Ramos and State Assemblywoman Jessica Gonzalez-Rojas, who are sponsors of bills S1175A | A5081A which is stuck in Albany.
"Street vendors are part of the business backbone of our local economies, and we cannot speak in good faith about a just recovery for our state without prioritizing S1175 and the legalization of street vending in 2022," said Ramos.
Meanwhile, the Assemblyman Harvey Epstein He noted that for too long, "providers have been subject to an unfair license cap, which inflated license prices and forced these mostly immigrant New York-owned businesses into the shadows. It is time that we lift permit limits, decriminalize street vending and create a regulatory system that supports all small businesses in our city. "
The bills would create a civil agency that carries out street vending compliance and regulatory oversight, formalize the street vending industry by creating a path to entrepreneurship by eliminating the current insurmountable barrier to enter the industry so they can do business in accordance with the law, including paying taxes, following city rules and regulations, completing all training, and being able to obtain permits to operate your business, and would also expunge the records of any street vendors who may have previously received a misdemeanor for peddling .
The license limit problem
The Street vendors bring millions of dollars in benefits to the city and the state annually, but it remains almost impossible to operate legally due to an arbitrary decades limit on the number of sales licenses available – the waiting list for licenses is so long that it has been closed for more than a decade.
Meanwhile, vendors trying to support their families by working without licenses are subject to harassment, punitive fines and property confiscation, forced to spend COVID relief on paying fines to the city.
There are currently only 853 total licenses for merchandise vendors, and by 2032 there will be 9,000 supervised licenses available for mobile food vendors.
The waiting list for each type of license has thousands of names; in fact, the waiting list is so long that it has been closed since 2007, and vendors have been forced to rent a permit from existing permit holders in an underground market for up to $ 25,000, or sell without a permit, facing fines. $ 1,000 and confiscation of property.
Licenses in figures:
There are currently 853 licenses in total for merchandise sellers.
There will be 9,000 supervised licenses available by 2032 for mobile food vendors.
2007 year in which the long waiting list for a permit was closed.
$ 25,000 and up, pays to rent a permit on the black market.

eldiariony.com
Eddie is an Australian news reporter with over 9 years in the industry and has published on Forbes and tech crunch.