John Peel stage, 12.30pm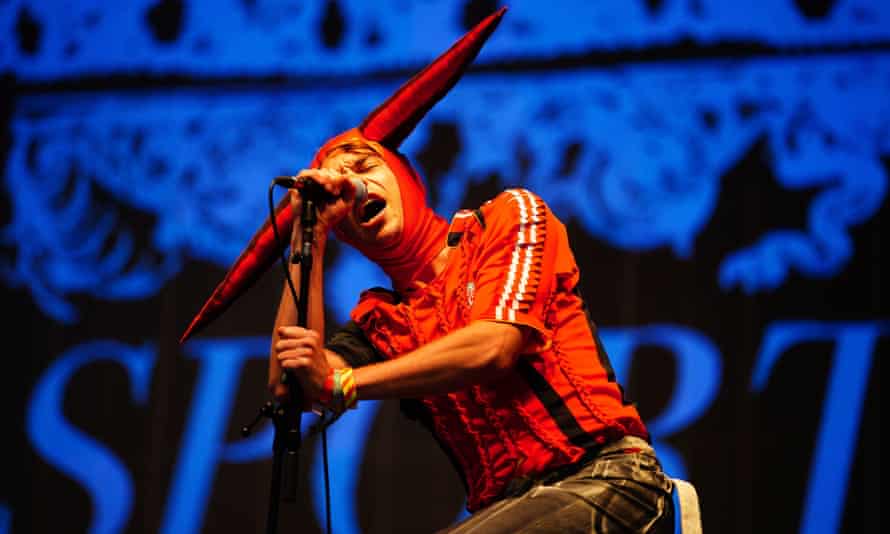 A surprisingly sizeable crowd has dragged itself out of bed and over to the John Peel for this lunchtime set, lured by Sports Team's tales of motorways and middle England. Perhaps by Glastonbury Sunday everyone is homesick for suburban mundanity – though it helps that Sports Team have the indie disco tunes for days to go along with the ennui: Long Hot Summer is like a recently unearthed 80s Cure singalong, while Going Soft's sudden chord changes and shoutalong chorus is reminiscent of Modern Life Is Rubbish-era Blur.
With his eye for absurdist detail and laconic delivery, frontman Alex Rice is often compared to Jarvis Cocker or Damon Albarn, but there's something looser and more slackerish about their sound. That, though, masks some pretty tight musicianship – they tear through early single Kutcher with the confidence of a band who know their worth. They still find time for a spot of needling of their peers, a recurrent theme of their career to date, with digs in interviews at the likes of Shame and HMLTD: here, it takes the form of Camel Crew, a withering put down of the cliquey south London art-rock scene they were never quite part of ("This avant garde is still the same / Go to Goldsmiths and they dye their fringes / Just to know they've made it only / When they sign the rights to Sony"). You wonder how long they'll need to carry on with this scene squabbling – on the evidence here, Sports Team will soon have bigger battles to wage.
Our photographer Antonio Olmos has been wandering the fields and documenting the impressive array of eccentricity and expression that this festival brings out in people.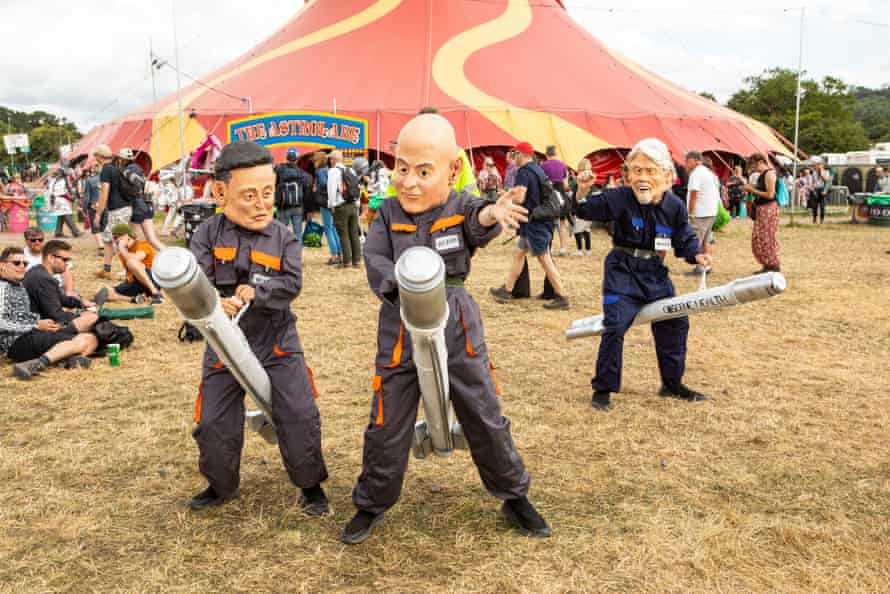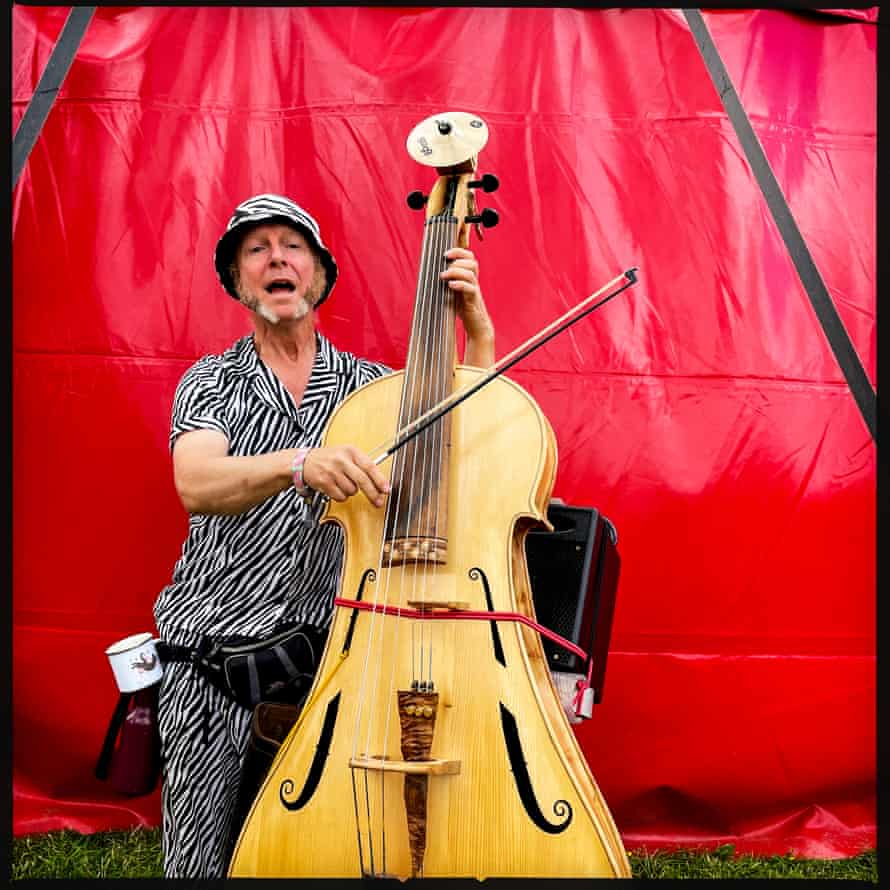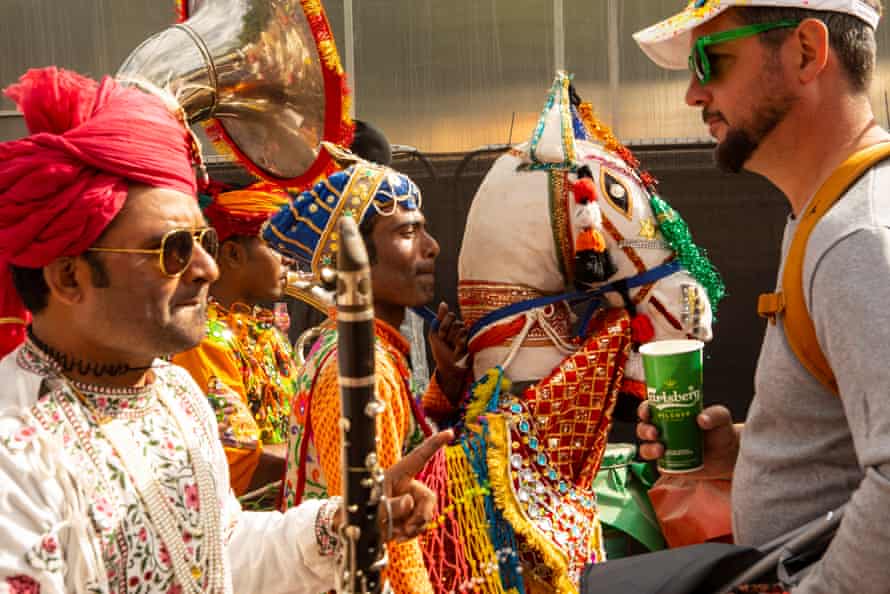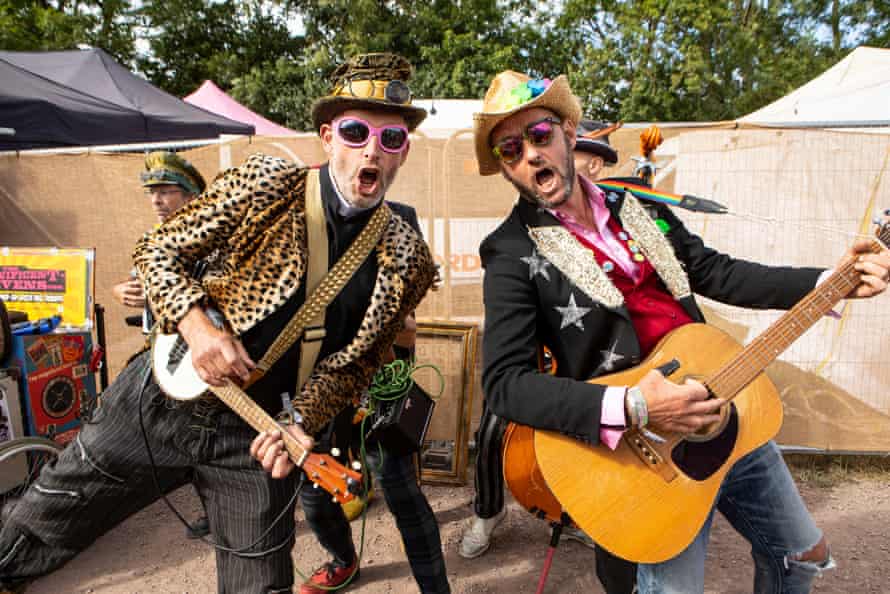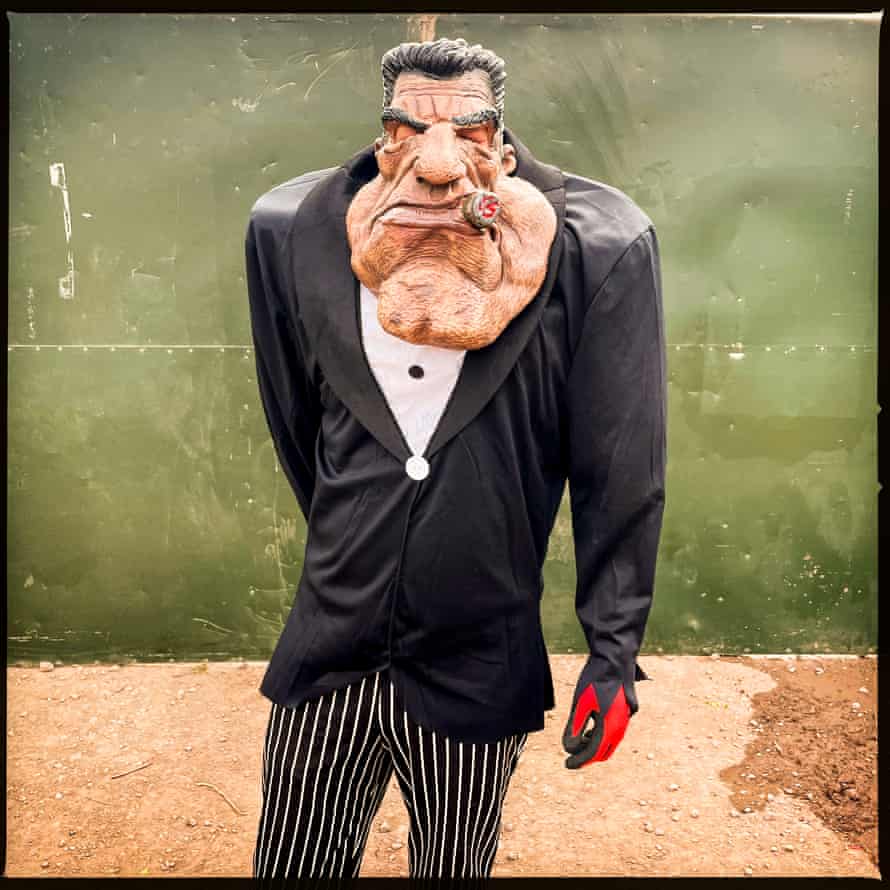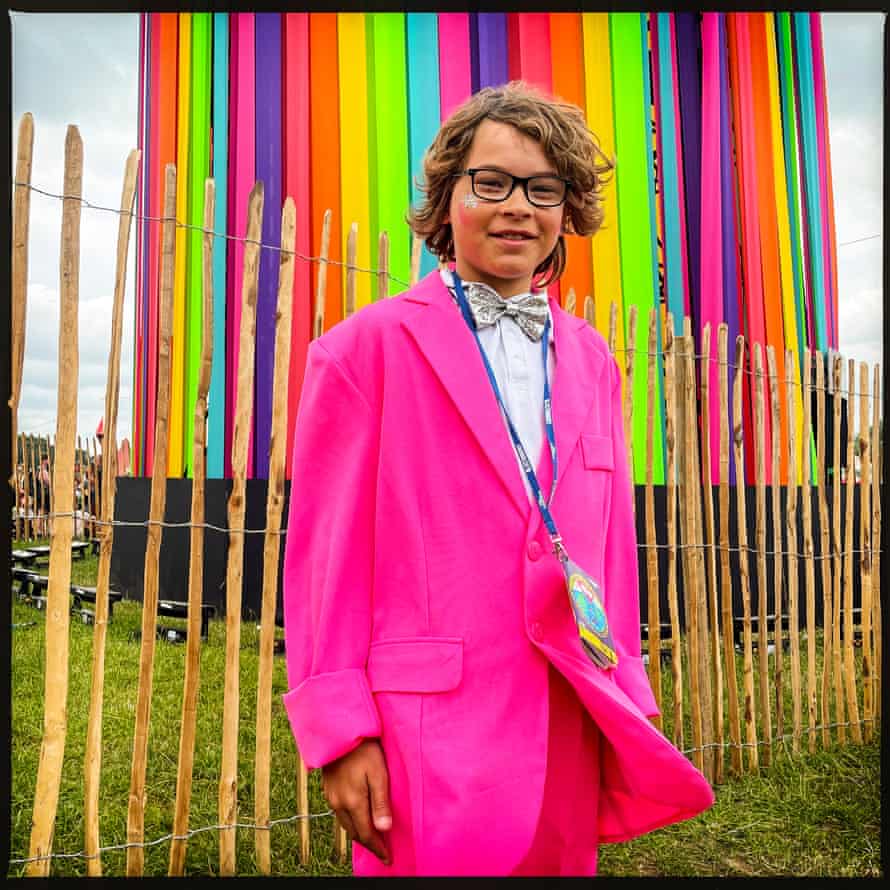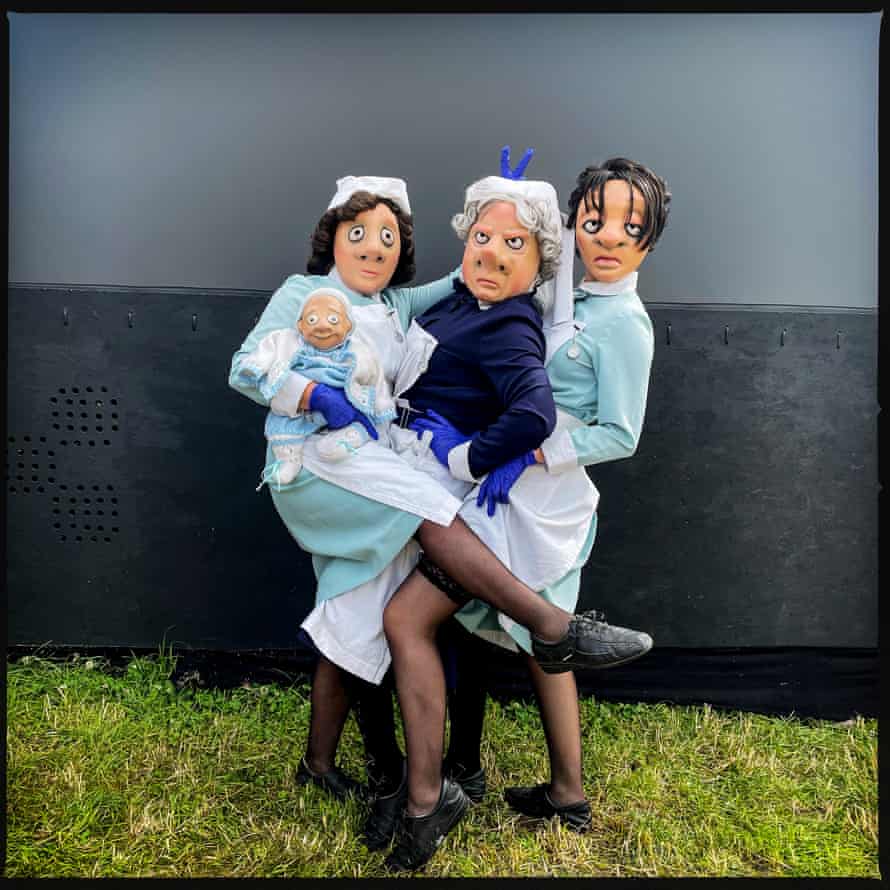 Big Joanie reviewed
Tara Joshi
Park stage, 12.45pm
Big Joanie are one of the coolest, punkest bands in the world. As soon as the UK Black feminist trio take to the Park stage they hit us with a dissonant wall of sound, big smiles and unfaltering, formidable vocals. Between songs they talk about the state of the world, discussing everything from the British government's attempts to send refugees to Rwanda, Roe v Wade ("it feels like everything is going backward but we can't let them win"), transphobia, why we should be buying striking RMT workers cups of tea on the picket line ("a win for them is a win for us"). They describe how their song Crooked Room is inspired by Black feminist academic Melissa Harris-Perry, who described the world as a crooked room built to exclude so many of us – the job of their band, they say, is to break out of the room. It's a theme that runs through the set– ahead of In My Arms they say: "We stand in solidarity with you, we hope you stand in solidarity with us." This collective mindset is clear in the way they play, too – every time I've seen the band they perform as close as is possible to being in a line, each of them given equal prominence and equal voice on stage. They perform as if in communion, taut and vibrantly in sync with one another; this is especially notable on their always exquisite cover of Solange's Cranes in the Sky, transformed here into a snarling thudding march.
It's telling that the talk of solidarity and action isn't po-faced, and there's humour and laughter and warmth throughout the show. "This song is about men being shit in bed," vocalist and guitarist Steph Phillips grins, before drummer and vocalist Chardine Taylor-Stone adds: "It doesn't have to be this way, I'm sure there's some kind of workshop you can attend in Shangri-La." It's You is a playful song full of yelps and chants and thumping beats.
They get cut off at the end as their set has run slightly over, but the skies are blue, the sun is shining down on the Park, and they leave the stage emanating a powerful, radical feeling of hope.
The reviews of Macca are in from both heart-eyed critics and swooning audience members – our news team has rounded up the reaction here.
A special mention to these glorious images by our photographer David Levene of Róisín Murphy, which have a kind of Philip Marlowe noir aspect to them even though it was actually a super fun set of liquid-hips disco.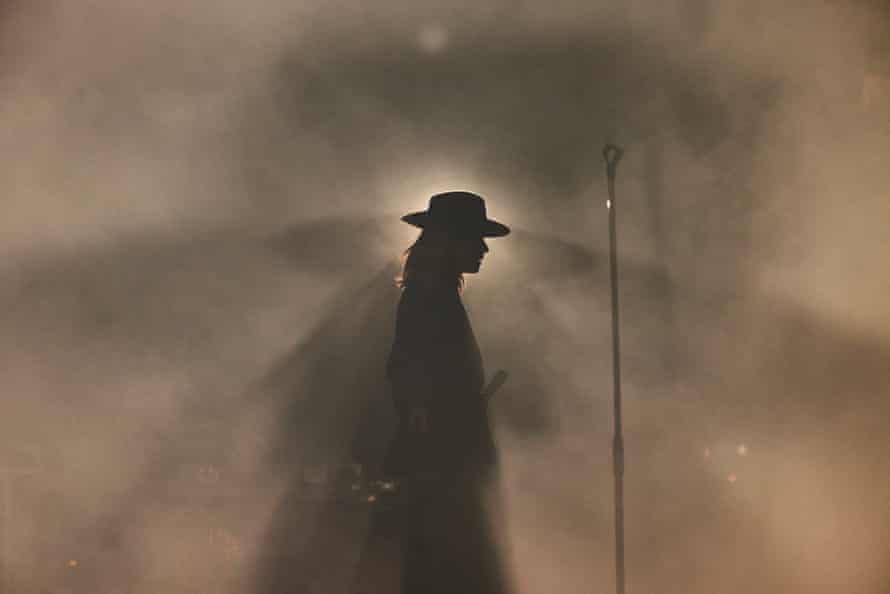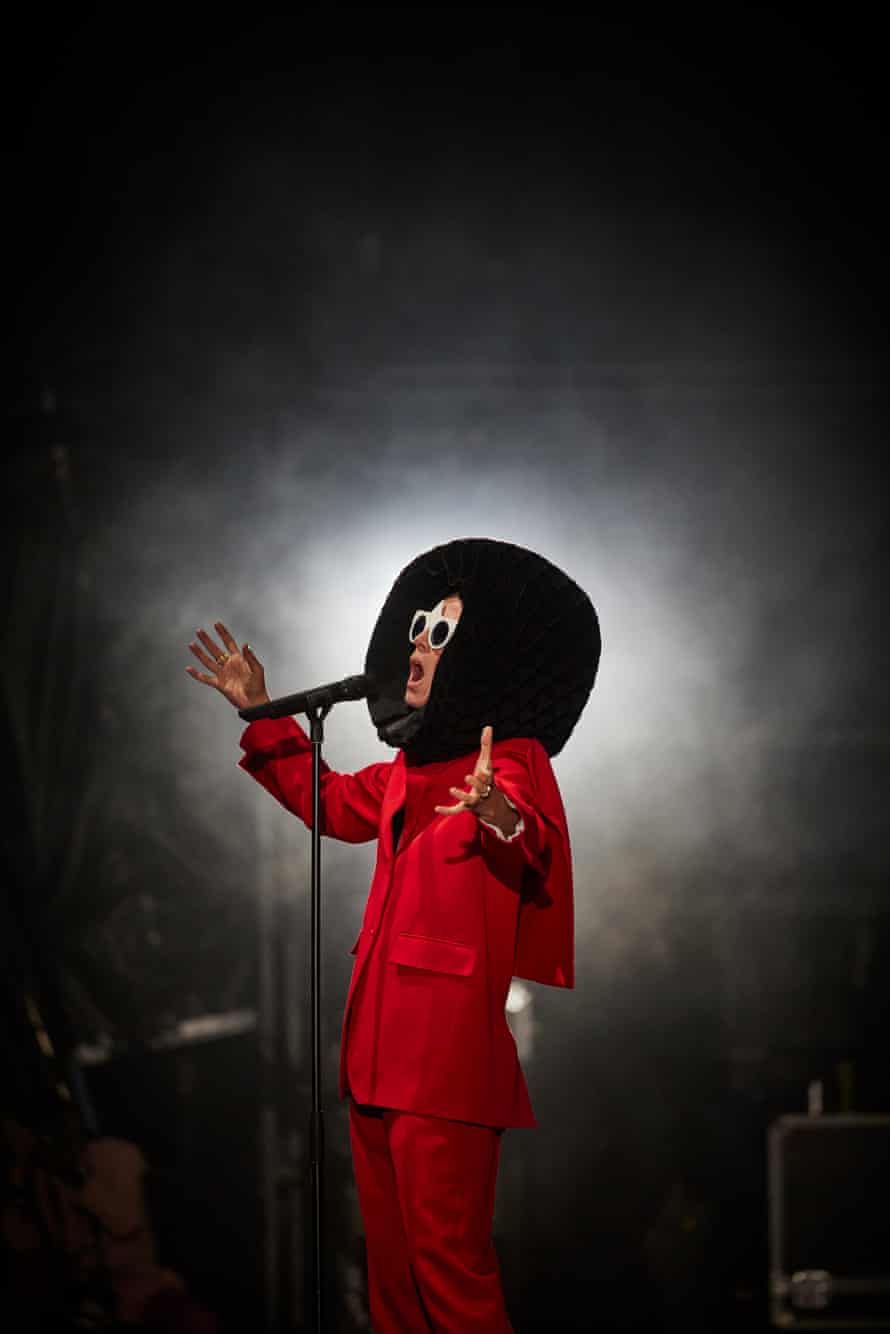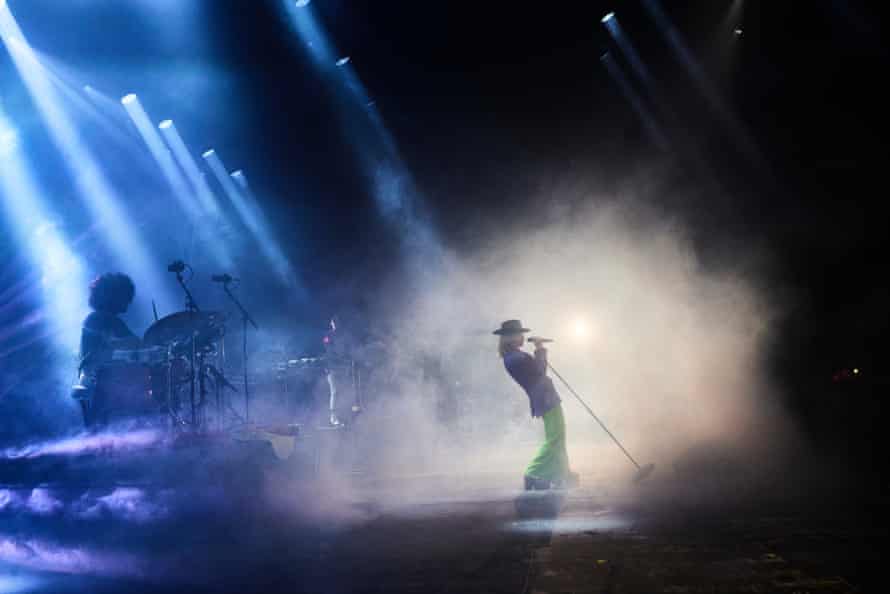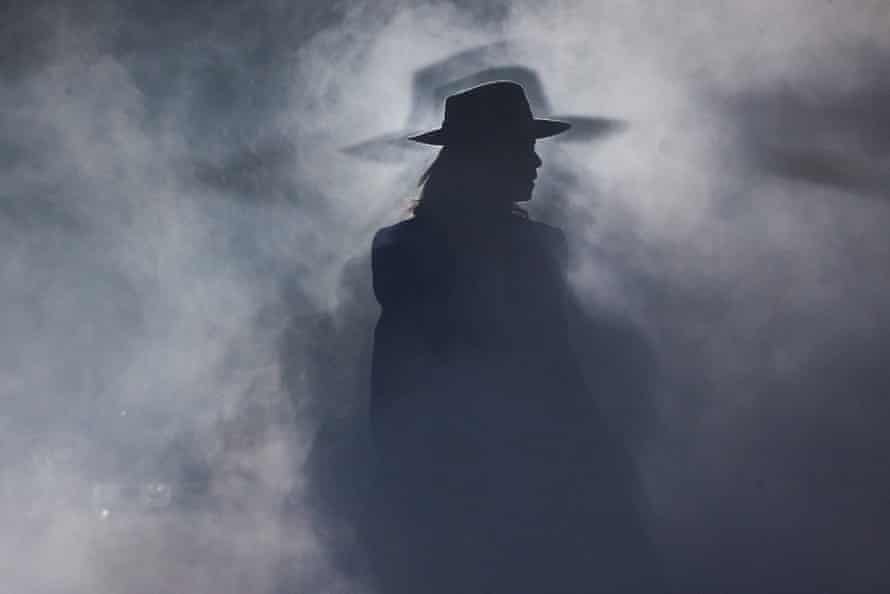 A look back at some tip-top sets from yesterday.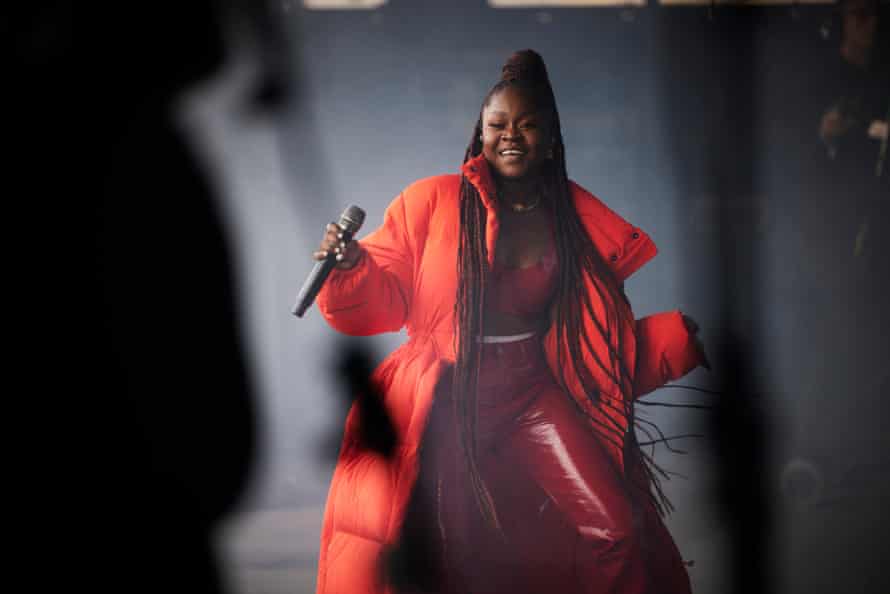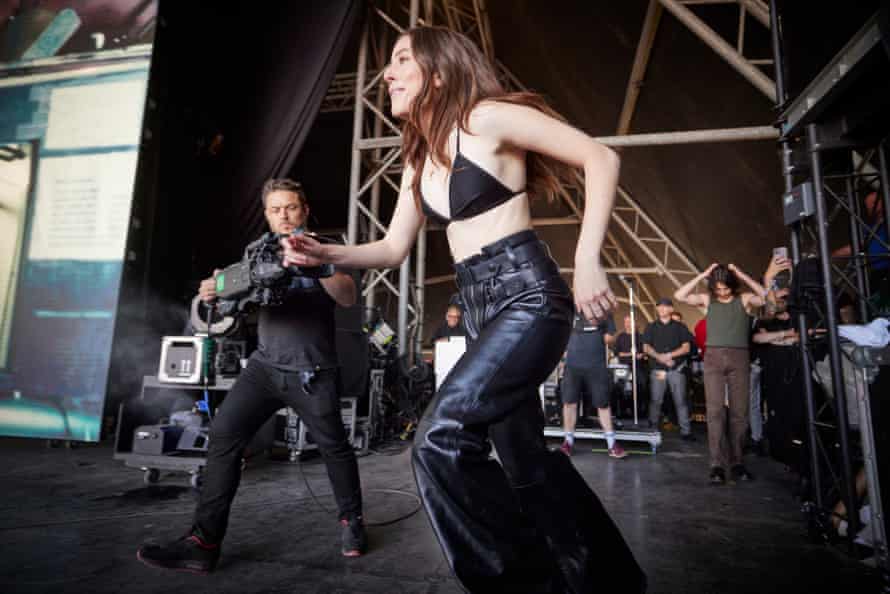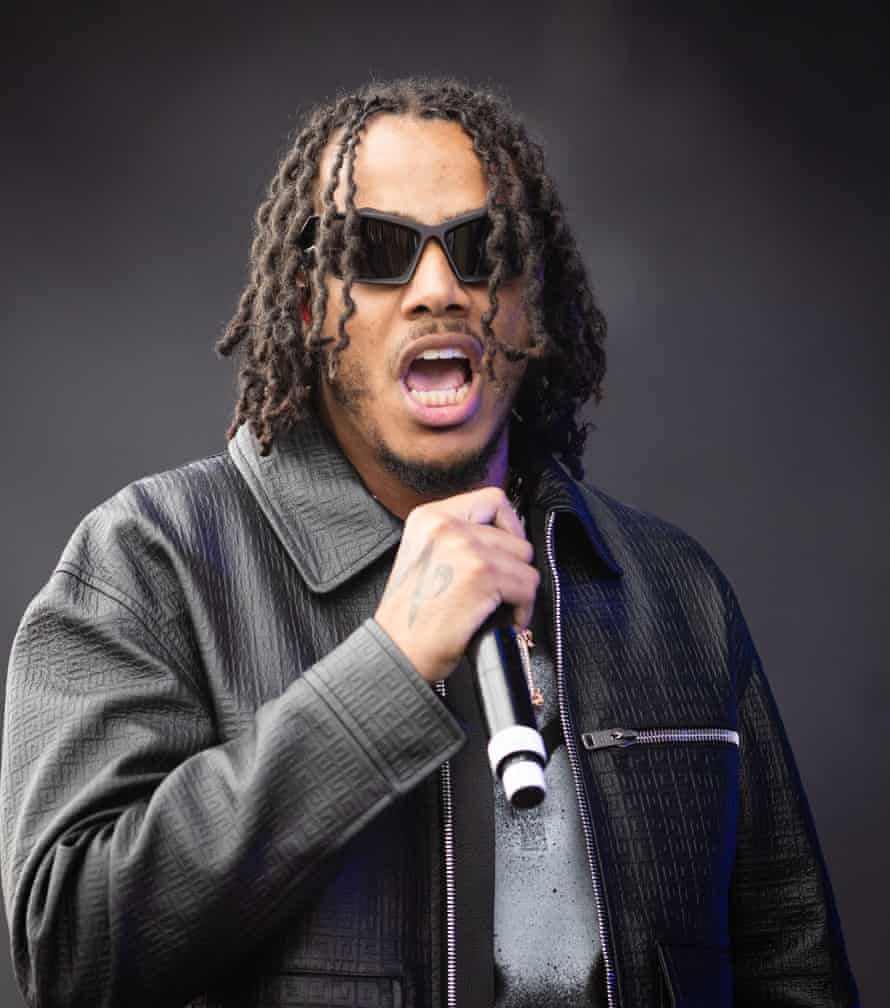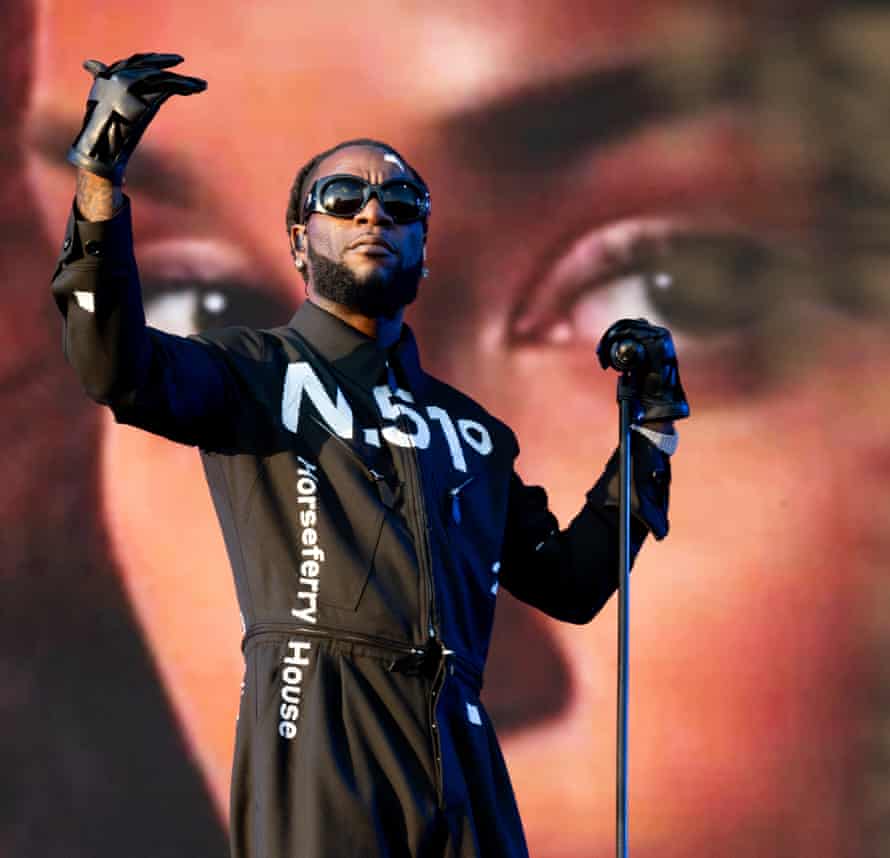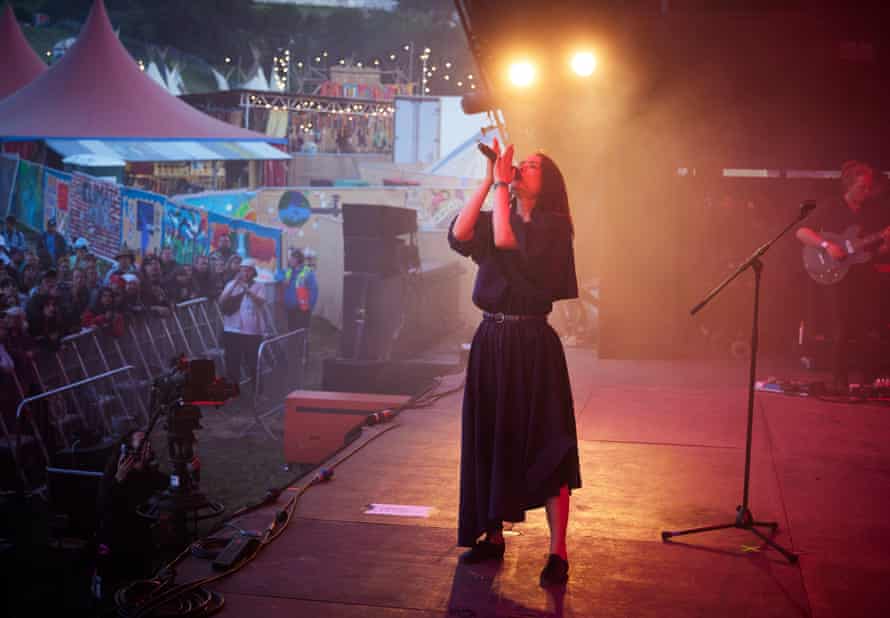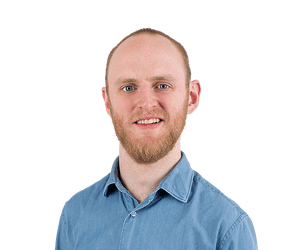 Ben Beaumont-Thomas
Ben Beaumont-Thomas here, taking over while Laura goes to watch her floppy-haired king. Good morning only to the DJ at the Maceo's bar who played You're Makin' Me High by Toni Braxton last night and fulfilled every level of my needs pyramid.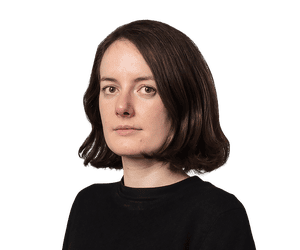 Laura Snapes
Spirits are mostly high around the Guardian cabin this morning, though the conspicuous sight of almost everyone eating a large salad suggests there might be some atoning going on for last night's indulgences. Personally I feel as though I have cheated death and will be off to celebrate with my beloved George Ezra imminently. I don't know exactly how I became a huge George Ezra fan, it just crept up on me. I interviewed him for the Observer earlier this year and he was exactly as nice as you would expect.
Angélique Kidjo interviewed!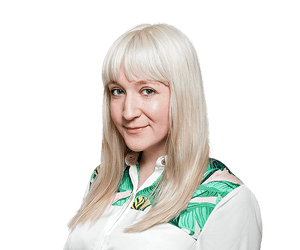 Kate Hutchinson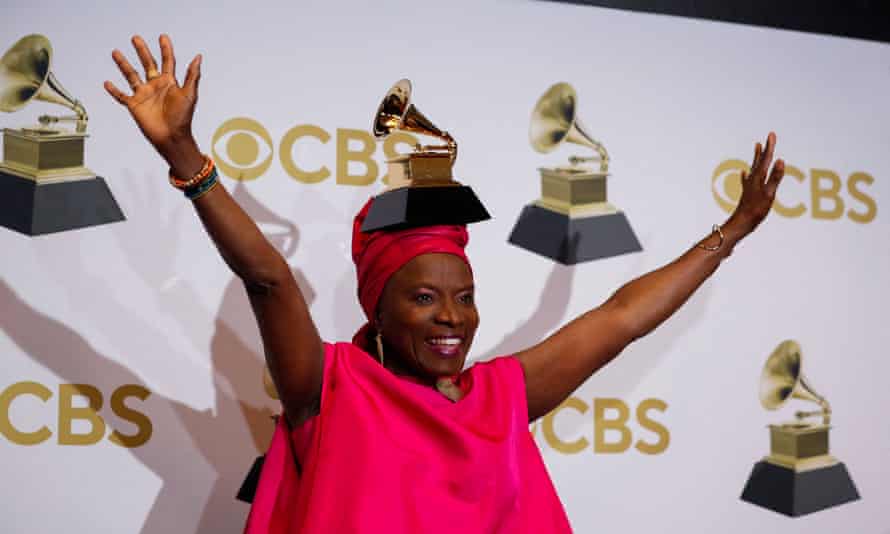 Glasto being Glasto – the size, the scale, the weather – sometimes things don't go to plan and so our live Q&A with Angélique Kidjo on Sunday didn't go ahead, unfortunately. But we managed to catch her backstage …
Benin-born Kidjo is one of the African continent's most recognisable artists, whose fusion of myriad African musical styles and traditions with contemporary western pop, Latin jazz and beyond laid the groundwork not only for today's Afro-pop explosion but also for how forward-thinking, experimental and truly global a pop musician can be. She's released more than 18 albums, worked with the likes of Alicia Keys, Philip Glass, Peter Gabriel and Herbie Hancock, has released an album of Talking Heads covers and a tribute to salsa legend Celia Cruz. Her 2021 album Mother Nature featured some of the biggest next-gen African stars, such as Yemi Alade, Mr Eazi, Burna Boy and Sampa the Great, the latter two who have also performed across the weekend. This is Kidjo's first Glastonbury.
Hi Angelique, how are you finding the festival so far?
It's a huge village of people. I can't wait to be on stage and see all those people dancing. It's about time that festivals opened their eyes to African talent. We have to stop being arrogant, deciding who has the right to perform here or there. We all have the right to exist.
There's a far greater number of African artists playing this year, from Burna Boy to Tems. How is this new wave and your own music changing perceptions?
I think the youth are starting the revolution in music. They want change, profound change, in every way – political, economic.
When you first heard Afrobeats [the umbrella term for the pop sound that blends highlife, juju, R&B and hip-hop] stars like Wizkid and Tiwa Savage from Nigeria, what did you think of their music and this new sound that was coming through?
I predicted this would happen. The thing that gets me is the fact that all of them have been inspired by my music. And for me to hear my music played by this new generation means that I have had an impact that I didn't even know. What is really interesting to me is to see that finally what I have been dreaming of doing when I was there is coming to life. The technology allowed them to be artists in their own right, without counting on anybody, especially not the westerner, to dictate what they have to do. Me, I had to flee my country [to Paris in the 1980s] because of communist dictatorship and I didn't have the technology that exists today. These African artists today can have their own career, unapologetically, not having to answer to anyone.
Does it feel like we've come a long way since the era of calling non-western music "world music"?
I hate that word. I've always hated that word. Rock'n'roll came from Africa. The people decided to call us one music, that's based on ignorance. It's a different kind of slavery, a musical slavery. And I've always been outside that because I've always done what I wanted to do. My music is not to please the critics, it's to please the public.
Do you ever get annoyed when you hear people sampling African music and putting in their music because it's "cool" now?
People that take samples that don't give credit, they live with themselves. But music is not appropriation, it's expansion. If we don't we don't tap into each other's music, music is gonna shrink and disappear. Today our music is in hip-hop, it's everywhere. My view is: take it, give it credit, and support it to be global.
When you left Benin for Paris, did the European music industry ever try to put you in a box?
I don't fit in anybody's box. I grew up in a family where my mum and dad, they brought me all kinds of music from all walks of life. I listen to every music that is in the world. But for the first photo shoot for my first album [on Island Records, 1991's Logozo], the stylist said they didn't know what to dress me in because "people where you're from, you walk around naked, right?" So I said let me get my own wardrobe. I'm a modern African lady. I'm gonna show you how modern Africa can get.
And so you picked out an amazing zebra catsuit! Did you ever feel too ahead of your time?
Yeah, and you pay a huge price for it! When I did my first album in Benin in 1981, the biggest promoter in west Africa was supposed to launch my career and do my first show outside of my country. Two weeks before that concert, he came to my father and said: "I don't want to invest in your daughter. She's too little. Nobody gonna see her on stage." And my father retired from the Post Office, we have very little money, he said: "I'm gonna make a point to show this guy that is stupid." You got talent or you don't got talent. My father said, we don't mind drinking tea, for lunch, breakfast, dinner, whatever it's takes [to afford to this]. So my father put his money [into it] and we got the poster back, changed the date, found new musicians, and I played the show. My father showed me that is possible in the face of adversity to tap into your own resources, tap into your resilience and move forward. Live with purpose. Nothing is impossible.
You must have loads of great other life advice, Angélique …
The most important lesson I've learned is from my maternal grandmother. I was 12, coming back from high school and out of nowhere, from the back, I was hit by stones and sand, with people chanting "prostitute" because I was a singer. I didn't want to sing anymore if I have to be called prostitute. And my grandmother said: "Understand this. You cannot please everybody. And it goes both ways." As long as what you are doing empowers your life and it doesn't hurt you or nobody, do it.
And here's Dorian Lynskey's roundup of the festival for today's Observer.
Our news team have been busy bees this weekend: here's one of their many reports, on how the cost of living crisis is affecting the Glastonbury economy.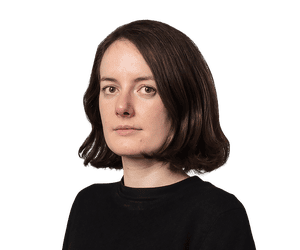 Laura Snapes
I have to admit, while it's nice to have a grounding spell manning the live blog, I am devastated to be missing Pam Ayres on the Cabaret stage. I love Pam. Just look at this amazing clip of her talking about Easter. I went to see her live at Stevenage Leisure Centre a few years ago and I think if you multiplied my age by three I would still have been the youngest person there. What a legend.
I'm coming out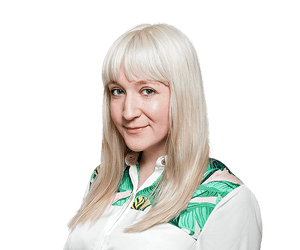 Kate Hutchinson
Diana Ross is on in the legends slot later today, so Kate Hutchinson has been out quizzing the people on what makes her an icon.
Dream Nails: Mimi, 31, Lucy, 30, Leah, 28, Anya, 34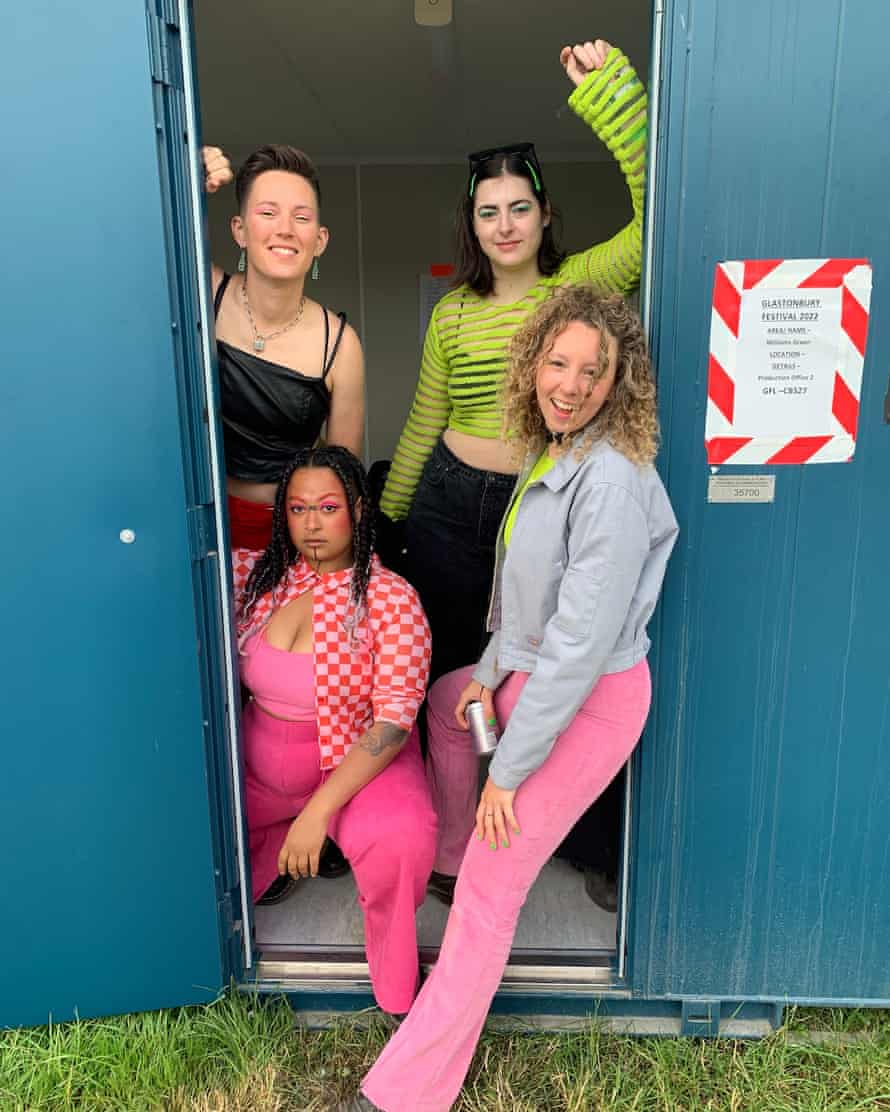 Leah: The roots of Diana Ross and queerness and campery and being part of that community … it's not just icon status, it's like going to church for the queers.
Lucy: Upside Down has genuinely been the screensaver of my brain – it's been stuck in my head since childhood.
"There's certainly a degree of bullishness about McCartney's second Glastonbury headlining performance, which draws an immense Saturday night crowd," our pop critic Alexis Petridis wrote of Paul McCartney's headline set last night, in which he brought out Bruce Springsteen and Dave Grohl. Read the full thing here!
And we're back!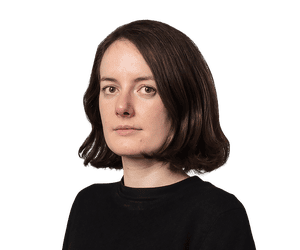 Laura Snapes
Good morning from the Guardian's cabin, where it's definitely a two cans of Coke morning. The secret sets today have been announced – it's George Ezra on the John Peel tent, and Jack White up at the Park stage, which will surely be rammed so I'd get there early if I were you. The sun's out for Diana Ross in the legends slot, and also later today is the superb Herbie Hancock. Prime yourself with Stevie Chick's fantastic interview.

www.theguardian.com
George is Digismak's reported cum editor with 13 years of experience in Journalism