Note to readers: EL PAÍS offers the Future Planet section for its daily and global information contribution on the 2030 Agenda. If you want to support our journalism, subscribe here.
Jhoan Martín Machado and Arisneli Velancourt and their three daughters, Marcela, Miranda and Mariangel arrived in Quito (Ecuador) five years ago with just several suitcases, which they used the first days as beds to sleep. They traveled by bus from Caracas to Cúcuta (Colombia), on the border with Ecuador, which they then crossed on foot. From there, another bus to the south of the Ecuadorian capital; from warm Caracas to cold city in December … "It was the biggest scare of my life. To arrive with my family in a country where I did not know anyone. The youngest suffered hypothermia, and was barely a year old, "says the young Venezuelan, 36, sitting in the living room of his house, a study of about 30 square meters with the dining room, kitchen and bedrooms separated by just one stairs.
After Syria, the country most affected by migration and mass exodus is Venezuela. More than five million people have been pushed to emigrate by the deep political, economic and social crisis in which the country is plunged, according to the figures recently published by the United Nations High Commissioner for Refugees (UNHCR) in its report. annual. The history of Martín and Velancourt has elements that are repeated in the lives of many of their fellow citizens in the last decade: the young woman worked as a systems engineer and he as a security guard, but their salaries were not enough to live on; they suffered from food and medicine shortages and could hardly find milk and diapers for their young daughter. "We decided to get all our papers, birth certificates, our university degrees and passports and leave the country," explains Machado. A process that lasted a year, until they succeeded.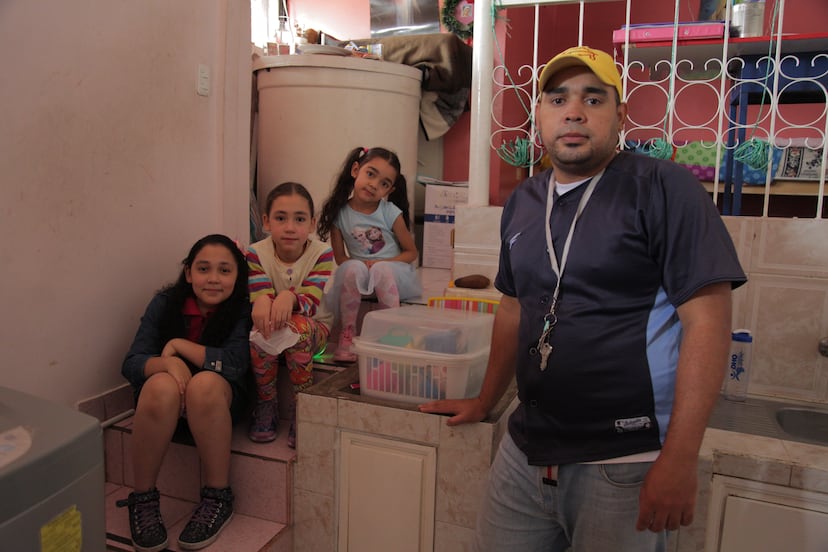 Ecuador is home to more than 400,000 refugees and migrants from Venezuela. Currently, 230,000 of them are regularized, according to UNHCR, with various types of visas or recognized as refugees, but the other half wait their turn to get their papers. Along with Colombia, followed by Peru, Chile and Brazil, it is the country that has the most people of this nationality among its migrants. "Without a general regularization, in the end you can only work informally, or be exploited at work and only have access to very precarious jobs. And the pandemic has exacerbated existing difficulties. Now, the vast majority of Venezuelans who already had a job have lost it and have strong humanitarian needs ", contextualizes Giovanni Bassu, UNHCR representative in Ecuador.
How to get out of the loop of irregularity
To get out of this situation of irregularity, Venezuelan immigrants have several options to get a visa, but all of them with a cost that exceeds what they can afford and arduous bureaucratic processes, which the covid-19 has slowed down even more. Since 2019 there is the so-called humanitarian visa, which has a cost of 50 dollars (42 euros) and which could be obtained by presenting a passport valid for up to five years.
On the other hand, if you are Venezuelan and have children born in Ecuador, you can request the amparo visa, for which you would have to pay 150 dollars (126 dollars). If you have entered the country without a passport and you have to request it from Venezuela, the process can take up to six months and has a cost of 400 dollars (336 euros), to be paid by credit card, the method used by most migrants lacks. The so-called permanent visa, a permit of up to 10 years, involves paying $ 550 (463 euros) and requires having stayed a minimum of 21 months in the country. "Very few people are going to meet the requirements for this type of visa, in addition to that amount of money," explains Camilo Urbina, ECHO II Regional Project Team Leader for Ayuda en Acción Ecuador.
On the occasion of the International Conference of Donors in Solidarity with Venezuelan Refugees and Migrants, the Ecuadorian President, Guillermo Lasso, announced a new regularization process
Despite everything, migratory pressure in the region and from the international community is making things better for Venezuelans in exile. The Colombian government intends to regularize about one million undocumented Venezuelan migrants who are already in its territory through a temporary protection statute valid for 10 years. This measure by the Iván Duque Executive has caused a domino effect in other countries, also in Ecuador. On June 17, on the occasion of the International Conference of Donors in Solidarity with Venezuelan Refugees and Migrants held in Canada, the Ecuadorian President, Guillermo Lasso, announced a new regularization process: "To be an effective, lasting and permanent policy It should be complemented with economic integration strategies for access to the labor market. Universal access to vaccines based on cooperation and solidarity is an imperative ", he declared.
But while this new regularization arrives, many people are still out of work or have barely gotten a precarious one. It is twelve o'clock on a Saturday and the central market of Atuntaqui, a town of 10,000 inhabitants in the Imbabura region, north of Ecuador, bustles with the bustle of fruit, vegetable, meat and fish stalls and traditional food . In one of these restaurants, Gloani Berrios is busy cleaning, mop in hand. This Venezuelan arrived in the country in May 2020, two months after the pandemic broke out, with her two daughters aged 21 and 20 and a girl aged three. "We were lucky because people gave you food as a gift because there was nothing," explains Berrios with Evelyn Ordóñez, another compatriot, who, like her, escaped from Venezuela with her two children. They both live in the same place, together with another family, to be able to pay the rent for the house. "As soon as we got here we would eat twice a day, hopefully," adds the young woman.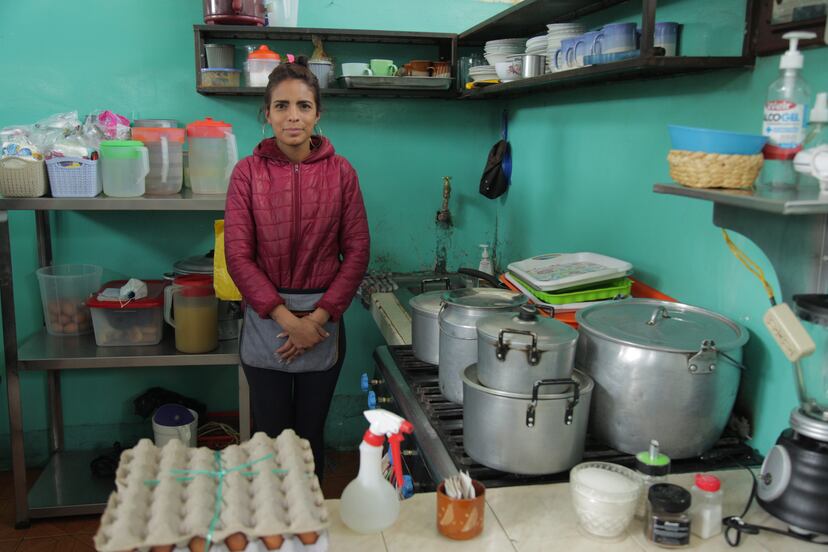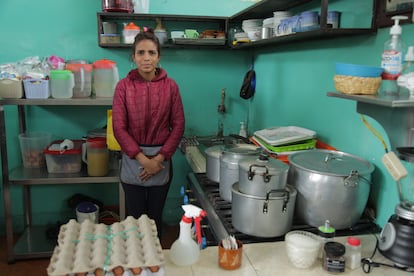 Gloani and Evelyn are beneficiaries of the regional migration program that, together with several organizations of the Alliance2015 network, has implemented Ayuda en Acción in Ecuador. With the five dollars (4 euros) they earn daily, they are not enough to survive. Ayuda en Acción has lent them an amount through food cards through which they can stock up on basic products in large supermarkets. "Like them, we receive many daily calls from people who have lost their jobs and need support to eat and start their own business," says Camilo Urbina, project team leader. ECHO II Regional Assistance in Action Ecuador.
In addition to money for the purchase of food and legal advice, this project in Ecuador has offered psychological support to more than 3,000 people through a telephone assistance service. "What we do is report in order to calm down. The fear and ignorance of the migrant population as to whether or not they can exercise their rights already existed before, but the pandemic has exacerbated them, "explains Ana Marcela Mullo, psychologist and consultant for the Help in Action Ecuador psychological care project.
A fear that is also reflected in Samuel and María —fictitious names—, a couple of Venezuelan refugees who fled their country for political reasons and two years ago came walking to Quito with their four children. In the Ecuadorian capital they make a living selling empanadas and fixing bicycles. "They treat us as if we were drug dealers," Samuel explains at the doors of his bike workshop, as he recounts how the police tried to seize the cart they use to sell food. Accumulate five fines of $ 400 in recent months.
"There are days when it rains since the morning and no food is sold. Why do they treat us badly? The fine comes out right away, "laments María, who explains how her eldest son was given a job for three months as a security guard, was fired for no reason and was never paid his salary. "If only they gave us work and paid us what we worked," adds the woman, visibly hurt. "Just arrived, when I still did not have a visa, I worked in construction for six months and they paid me two, working six days a week for 35 dollars (29 euros)," adds Samuel, who assures that they are in a hurry every month to pay rent. of 135 dollars (113 euros).
Rather than go back, I would tell him that I never wanted to go out

Jhoan Martín Machado, Venezuelan refugee
An income that for Jhoan Martín and his family is 250 dollars (210 euros), plus electricity and water bills. Samuel's improvised bicycle workshop is in front of his house and that is where the young Venezuelan spends his time many mornings and afternoons, trying to earn some money to raise his daughters. He and his wife, like Samuel and María, also sold empanadas in their early days in Ecuador. Now she has a job in the administrative department of a private clinic and has gotten a permanent visa. Jhoan Martín continues to alternate temporary jobs as a painter, repairing bicycles, and in the maintenance team of a building, while he processes the identity card – the country's national identity document -, a requirement that has been imposed on him in this last job to be able to pay him the month and a half who have been working there and perhaps get a permanent contract.
While that time arrives, Jhoan Martín goes out on Saturday mornings to play ball with his daughters in the park near his house and misses his family, with whom he talks every week on the phone. "Would you like to go back to Venezuela?" A question to which Jhoan Martín has a very clear answer: "Oops, I would rather say that I never would have liked to go out."
You can follow PLANETA FUTURO in Twitter, Facebook e Instagram, and subscribe here a nuestra 'newsletter'.



elpais.com
Eddie is an Australian news reporter with over 9 years in the industry and has published on Forbes and tech crunch.