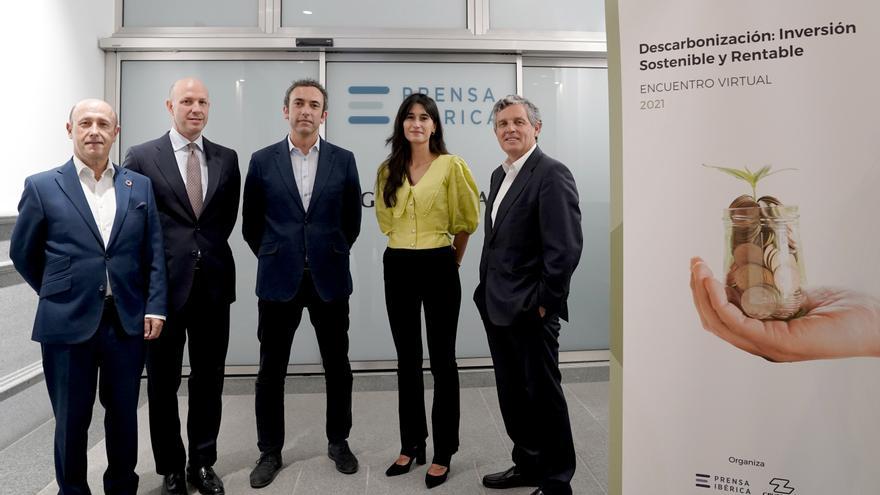 In recent years, pandemic aside, two things have become evident: that the planet is in a climate emergency situation and that the economy must face a transition towards a greener model. And here everyone has to contribute their grain of sand, also from the investment community. So, Prensa Ibérica and Bestinver organized last week the round table 'Decarbonization: sustainable and profitable investment' to analyze the present and the future of investments with positive impact both on an environmental and social level.
Moderated by economic editor of El Periódico Pablo Allendesalazar, four experts from the sector participated in the debate, such as Jorge Fuentes, manager of international equities at Bestinver; Claudia Antuña, Afi investment analyst; Gonzalo Rengifo, CEO of Pictet AM in Iberia and Latam; and Francisco Javier Garayoa, general director of Spainsif. All of them contributed different nuances, but all agreed that SRI investment is key to moving towards a more advanced society. Of course, as long as it is profitable.
"It is not about putting social and environmental milestones before fiduciary responsibility with our clients. The two things have to be combined: the investments have to be profitable and at an appropriate price and, in addition, they must create a positive impact on society ", summarized Jorge Fuentes. In this sense, Claudia Antuña considered that every time there is a "greater environmental sensitivity on the part of society", which will demand more solutions from companies at the level of sustainable, ethical and social development, which also translates into greater requirement by the investor, that "it will demand to the companies that their strategies are in accordance with these values ​​".
"More sustainable companies will make a better society, without a doubt. But SRI investment must be with common sense: analysis, risk management and long-term strategy"
It is what Gonzalo Rengifo defined with the concept of 'thinking green pays': "SRI investment means that you have two layers of risk management: the financial one and the one that analyzes the ESG (environmental, social and governance) criteria of a company. And that makes you make better investment decisions, because bad corporate governance or bad environmental management reduce profitability ". In other words, a point has come when the social and environmental commitment of a company can no longer be considered an expense, but rather a key asset for its growth.
And here Francisco Javier Garayoa again introduced the concept of profitability: "Investments must be responsible at a social and environmental level, but above all they must be profitable. In this sense, I like this phrase that says that the benefit will allow to change the world. Of course, we must be flexible in this period of transformation, because not all companies are at the same level to adapt to European regulations ". An EU regulation on green finance that Antuña considered has been "very positive in fueling the current wave of SRI investment", although Rengifo warned that care must be taken not to suffocate traditional companies: "They must have a roadmap to decarbonize, but this cannot be overnight".
"Sustainability will permeate in the epicenter of the companies, in the nuclei of decision"
It is true that SRI investments are experiencing a peak and that many companies have started the green transition, but Fuentes warned that it is better to move forward calmly: "We prefer that things go little by little and there is no boom, because with so much noise It is difficult to distinguish when it comes to 'greenwashing', which we could define as an environmental posture, or when it is an authentic strategy to generate long-term value. You have to work well and analyze in depth to separate what matters and what is only appearance ".
"Investments must be socially and environmentally responsible, but above all they must be profitable"
In any case, the four participants in the round table agreed that sustainable and responsible investment is a key tool for the progress of society. "Rarely is the alignment of interests between governments, companies and citizens so clear, and this will be the case in the coming decades," said Gonzalo Rengifo. "Sustainability will permeate in the epicenter of the companies, in the decision nuclei", added Claudia Antuña. "More sustainable companies make a better society, without a doubt. But you have to invest with common sense: analysis, risk management and long-term strategy, "Jorge Fuentes explained.
And these words by Francisco Javier Garayoa serve as a conclusion: "The entire ecosystem of sustainable investment is not the result of a coincidence but of a necessity: the climate emergency. It is not possible to continue with the current economic and social model, because natural resources are depleted and the welfare state is put at risk. It is urgent and I believe that the key to many investments from now on will be their contribution to society ".
"Thinking green means adding an additional layer to traditional risk management, which is no longer just financial"

www.informacion.es
Eddie is an Australian news reporter with over 9 years in the industry and has published on Forbes and tech crunch.