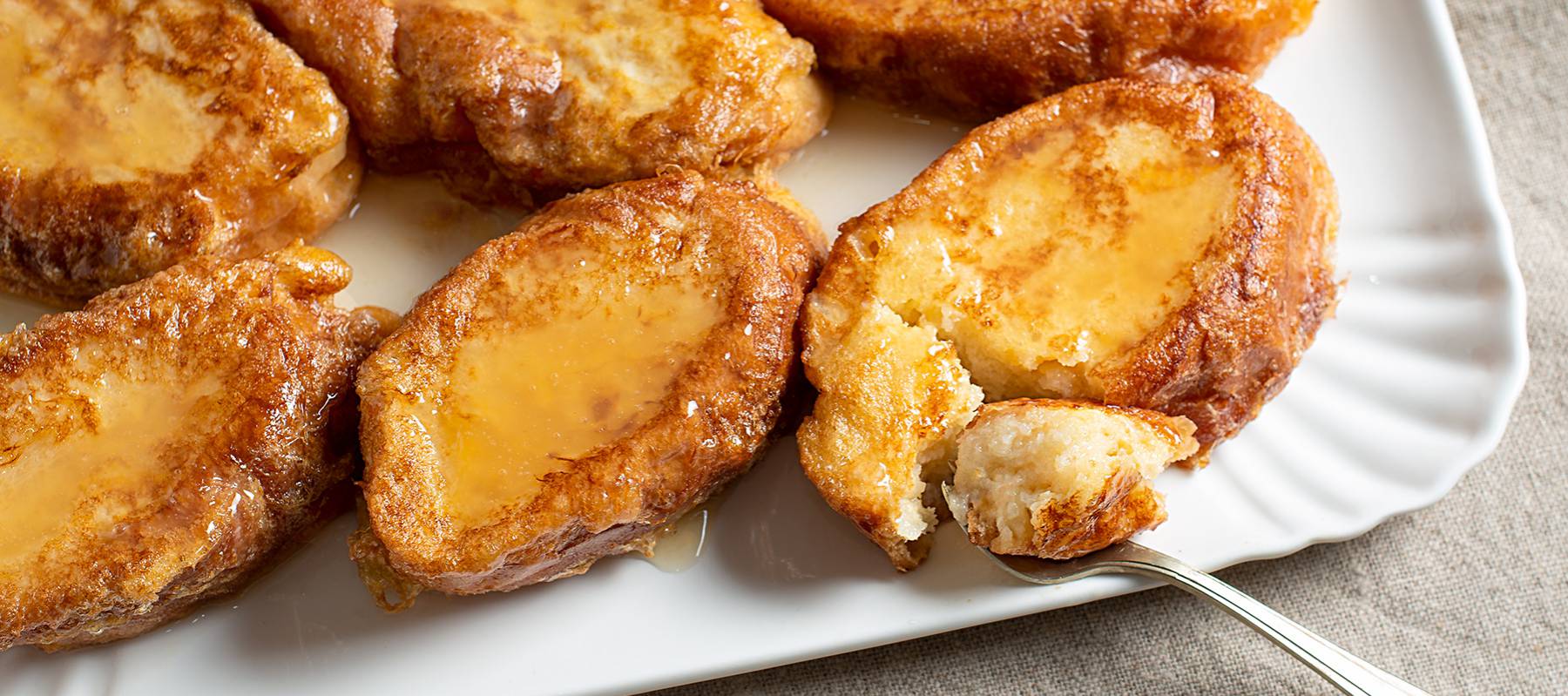 Each one is the fruit of what they have lived and, in a matter of traditional recipes, of what they lived in childhood. I grew up with milk torrijas and those of sweet wine I tried when I was older in a place in the Villa and Corte, The house of torrijas, next to Puerta del Sol, an establishment that continues to exist since its foundation in 1842 and still serves wine and milk torrijas. I don't like the red wine torrijas, but the sweet wine lightened with syrup is not disgusting: well done they can be a delicacy. In a matter of making torrijas well, said the classic Manuel Martínez Llopis in The typical cuisine of Madrid, written in four hands with Mrs. Simone Ortega (genuflection):
"At the point is the secret of the torrijas, which can be cloying or insipid if the point of soaking is not correct: soft or hard if the point of frying escapes: in short, they are a series of points whose success or no, they can determine that the torrijas are an unpleasant semi-porridge, or a golden delicacy ".
As our friend says, and I completely agree, the intricacies of torrijas resides in two fundamental issues: soaking the bread well, so that we make sure that the liquid soaks the slice in all its volume and there are no dry areas or Hard crusts: if the bread is suitable it will soften, but will remain firm enough to handle. And second; fry the torrijas in oil hot enough so that they brown quickly and do not absorb a lot of fat.
As for bread: torrijas are originally a dish of use, so they were prepared with the remaining bread and ball point. Now we are used to finding loaves of bread designed for that purpose around this time; that there are acceptable ones, as long as they have the crumb a little brown so that it can withstand the soaking well. Opened breads have become fashionable, which are already somewhat sweet per se; I will not say anything against, there are worthy ones, except the blandurrios like a hot dog bread. The insufficiently dense mold-type breads with a square format cause me great distress: square torrijas, no thanks; Call me rancid, I don't give a damn.
Difficulty
The point, or was it not clear?
Ingredients
Makes about 12 sweet wine torrijas
1 loaf of bread for torrijas
1 l of sweet or semi-sweet white wine (with semi-sweet you have to increase the amount of sugar a little)
200 ml of water
150 g white sugar
Peeling of an orange, without white part
3 cinnamon sticks
2-3 eggs -depending on size- for the batter
Mild olive or sunflower oil for frying
For the honey syrup
300 ml of sweet or semi-sweet wine
120 g of honey
2 cinnamon sticks
Preparation
Cut the torrijas loaf of bread into slices of the thickness we prefer -they are often marked with the slices-, that will come out about 12 torrijas. Spread on a board and let them dry for a while, so they absorb more liquid.

Prepare the sweet wine soak: put the liter of wine in a saucepan together with the water, the white sugar, the orange peel – cut with a sharp knife without any white skin or albedo – and the three cinnamon sticks.

Heat to boiling, cook for five minutes, cover and let cool so that the liquid flavors well. Test the sweetness point before using it to make sure it is to our liking.

In another saucepan, prepare the honey syrup for the finished torrijas: put the 300 ml of wine, the honey and the two cinnamon sticks. Bring to a boil and cook for five minutes to concentrate. Let cool.

Put the slices of bread in a dish where they fit in a single layer and pour the wine syrup from the soak through a strainer to remove the flavorings.

Let soak so that the slices are soaked for at least an hour; it is essential that the bread is soaked throughout its thickness, without leaving any dry areas. If the bread absorbs the liquid immediately, without leaving anything at the bottom of the pan, you can prepare a little more soaking and add it.

When the bread is well soaked, put the beaten eggs on a plate next to a frying pan with plenty of soft oil, about half a finger high, and heat over high heat.

Go coating each slice of bread in the beaten egg, handling it carefully so as not to destroy it, and fry in the oil over high heat. The torrijas should be browned immediately, each side in just over a minute, so that they remain in the oil for a short time, otherwise they will absorb too much fat.

Remove the fried French toast with a slotted spoon, which drains the oil well, to a source with kitchen paper to absorb the excess; then go to a source where we will bathe them with honey syrup. Enjoy.
If you make this recipe, share the result on your social networks with the hashtag #RecetasComidista. And if it goes wrong, complain to the Chef's Ombudsman by sending an email to [email protected]

elcomidista.elpais.com
Eddie is an Australian news reporter with over 9 years in the industry and has published on Forbes and tech crunch.