How wrong can you be? Senol Gunes' young team departed Baku for a reportedly awkward investigation in Istanbul after suffering three defeats and conceding eight goals, scoring just one in response.
It's all relative, but this was Turkey's best performance of three. Ultimately though they failed to control Xherdan Shaqiri and seemed fooled by Vladmir Petkovic's clever decision in the middle of the game to switch from three to four.
Having finished the group behind Wales on goal difference, Switzerland should aspire to progress as one of the best third-placed finishers.
They certainly started well in Azerbaijan. When six minutes had elapsed, Haris Seferovic received the ball from Steven Zuber and was allowed enough time to turn before launching a low, incisive shot just inside a post.
The ball's journey to the back of the net took it through Merih Demiral's legs and the Turkey defender is sure to wince on replays highlighting the slowness of his reactions to the danger Seferovic's position represents.
A large part of the problems encountered by the Gunes team had their origin in the midfield, where Kaan Ayhan was frequently overrun and his teammates struggled to handle the excellent Breel Embolo.
His combination of snake movement and clever heist game submitted the 20,000 Turkish fans gathered in Baku to their misery compounded when Ayhan once again found himself wanting and Shaqiri sided with two of Petkovic.
The Liverpool winger seemed to make Turkey nervous every time he took possession and Ayhan and his friends looked petrified as Seferovic's shot was blocked and Zuber sent the ball out of the way of the scorer.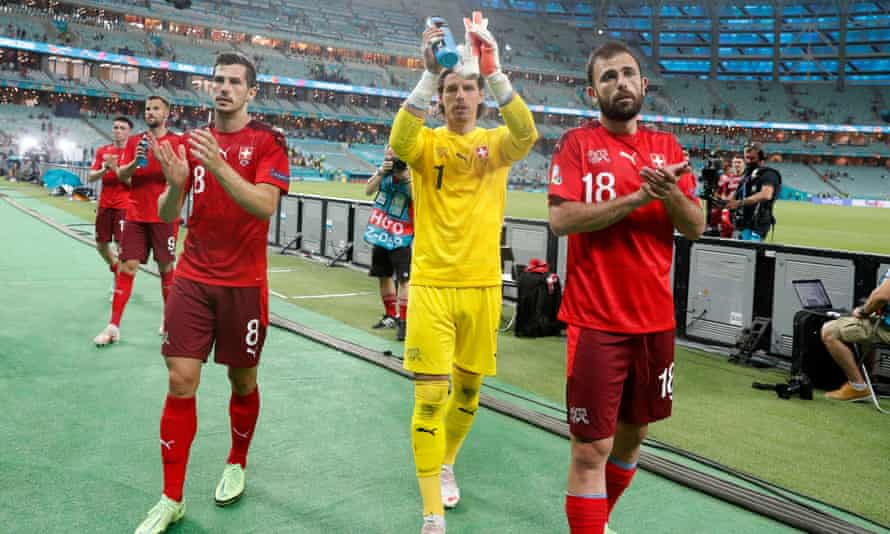 After taking a high-caliber stabilizing touch, Shaqiri, stationed just outside the box, used his supposedly weaker right foot to send a subtly curved shot that arched into the upper corner. It was a finale that not only belonged to the highest level, but emphasized the gigantic task facing Turkey. Their goal difference in Group A now registered a marked minus seven.
It has been a terrible tournament for the supposed dark horses of Euro 2020 but, for once, they started quite strongly, creating quite a few opportunities in the first half, albeit mainly from long distance.
Unfortunately for Gunes, Yann Sommer, the Switzerland keeper, proved to live up to everything thrown at him, magnificently saving Burak Yilmaz and Mert Muldur. Meanwhile, at the other end, only a stellar save with an extended foot from Ugurcan Cakir came between Shaqiri and another spectacular goal.
It was a highly entertaining visualization but, not for the first time, Turkey's defensive vulnerabilities had been cruelly exposed and the slumped and resigned body language of the Gunes players as they walked into the second half indicated that they believed the game was over.
This impression was only reinforced when his manager and his staff exchanged desperate hand gestures. The Gunes center-backs, especially, were struggling to guess Switzerland's attack maneuvers and he relied on Cakir to attack them once more, courtesy of a good save from Embolo.
Petkovic's decision to allow Shaqiri a free role in which the so-called "Alpine Messi" roamed between the lines, exploiting hitherto hidden spaces, was paying big dividends. The Liverpool player may not be interested in backing down and he often seems to be the type of player who falls asleep when managers offer defensive tutorials, but in the attacking sense it is far from practical.
While incessantly prodding and probing for weaknesses in the Turkish baseline, using those quick and clever feet to often blinding effect, Shaqiri made a difference.
Fenerbahce's Irfan Kahveci was hoping to play a similar role for Turkey and the player who represents possibly Gunes' best chance for a small miracle briefly dragged his team into things. Once again, the goal came from outside the area, with Kahveci overtaking Sommer thanks to a swooping left-foot shot that was unleashed after his deep counter-foot from Ricardo Rodríguez.
Finally Turkey felt hope but, with Shaqiri around, pressing for the tie proved dangerous and, indeed, fell apart on the counterattack.
Hats off to Zuber for his third assist of the game after playing a cute one-two with Granit Xhaka before crossing over to Shaqiri to shoot unerringly, left-handed for the first time, from inside the area.
Granit Xhaka subsequently hit the post from a free kick but, with a goal difference of minus one, Switzerland had probably done enough.

www.theguardian.com
George is Digismak's reported cum editor with 13 years of experience in Journalism