"They showed them many shops and rich shades of many forms of cloth and silk, and other cloths (…) that were wonderful to see, that everywhere that man went, he saw many beautiful shops." Of the many wonders he saw — and described — in Samarkand (in present-day Uzbekistan), the Castilian ambassador, Ruy González de Clavijo, spared no adjectives to describe the luxurious yurts that, in 1404, the court of the conqueror Tamerlane used. Glamping or luxury camping is far from being a recent discovery, but one cannot help feeling like that traveler from Embassy to the court of Tamorlán when, 617 years after his famous adventure, he entered a two-story, 4.8-meter-high tent. Only this is Chiclana de la Frontera and not Samarkand. And that here there are no kings or warriors on the road, but a company, Teacampa, that does not stop growing at the mercy of an ancient technique.
José Pérez became anxious when, overwhelmed by the 2008 crisis, he decided to leave behind his career as an interior architect and decorator of commercial spaces in Madrid and returned to his native Cádiz to restart his working life. What am I doing here if there is no work? He wondered. The answer was found in the fusion "of tourism in the area with construction and design," as he himself answers. Pérez and his partner, Alberto Gallardo, conceptualized the idea in Teacampa, one of the few companies in Spain capable of designing, manufacturing and operating by its own means stores of glamping made by hand and with natural materials.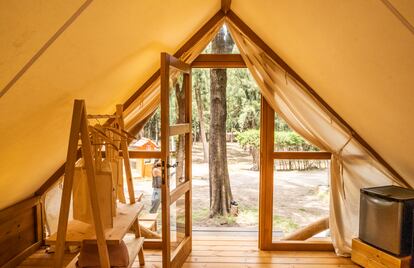 That leap came in February 2019, when they formed a limited company which, shortly after, Susana Pérez and Santiago Lazcano joined. They had not even finished starting when the pandemic led them to go through "extreme difficulties", as Pérez acknowledges. "It has hurt us because people have stopped their investments," says the CEO of the company. But chiclaneros soon realized that, after months locked in flats and terraces, their potential clients wanted to be outdoors. "We saw that our profile is not the camper. They are people who go to hotels, but who want nature, "says José Pérez. The idea worked.
As much as to create a small revolution in Chiclana, a town closely linked to construction that suffered strongly from the fierceness of the 2009 crisis in the sector. To build one of the seven luxury stores – each with the name of a Cadiz forest – that the company offers, it takes two to three weeks of artisan work. And many hands: the company already has 25 workers who work in four vessels that will soon become too small for them. "We are giving a lot of local work to textile workshops or carpenters," says Pérez. The numbers seem to prove them right. They closed 2020 with a turnover of 200,000 euros (of which 30,000 were benefits that were reversed), but so far in 2021 they already have 600,000 euros of income, "with the forecast of reaching one million euros by the end of the year", as Gallardo points out.
The spiky roofs of the tents gleam from a distance in the showroom that the firm has on the Las Lagunas de Chiclana highway. The interior is not far behind in spectacularity. "They are 60% wood, 30 glass and 10 textile", quantifies the manager of the firm. The resulting equation results in a construction of up to 45 square meters inside and ten outside, with attachable kitchen and bathroom modules where the design is taken care of even in the furniture, also designed by the firm. As it happened to Clavijo, marveled by so many details feast, it is hard to believe that the entire display is, in truth, a movable property that costs between 9,000 and 25,000 euros, depending on the model and the adaptation that is made.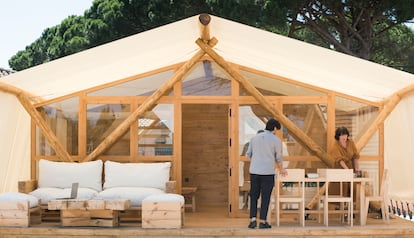 Teacampa specializes in two types of clients: individuals who wish to place one of their tents on their own land for their enjoyment or for rent, and campsites. For the former, they are attractive in those plots where building is prohibited (although their use depends on local regulations). For the latter, they are tempting beyond luxury, since the Andalusian Regional Government Tourism Council considers their creations non-fixed constructions, which is why they allow increasing the number of stable accommodation in an establishment, beyond the bungalows (which yes they are fixed).
The potential of this approach made Pérez and his family look back and recover one of the original ideas of his project, implicit even in the name: "We wanted to see our clients camping." In the summer of 2020, they began to manage by themselves an area of ​​the La Paloma campsite, in Tarifa. They are already immersed in negotiations with investment groups to create external projects with which to expand and have set a goal to land with camping farms with the Teacampa firm in Huelva, Granada or southern Portugal by the summer of 2022. Ultimately , they only need the three days of assembly to extend the luxury wherever they propose it.

elpais.com
Eddie is an Australian news reporter with over 9 years in the industry and has published on Forbes and tech crunch.