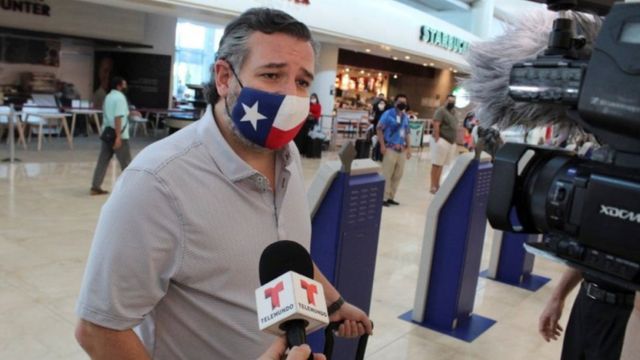 While millions of people in Texas suffered long blackouts, cold and food and water shortages as a result of a devastating winter storm, Republican Senator for that state, Ted Cruz, went on vacation to Cancun with his family.
The photos of Cruz on the plane that took him to Mexico went viral in the United States since Wednesday night, drawing strong criticism from the evidence that the politician had abandoned his voters in the middle of one of the worst climate crises in his recent history.
This Thursday Cruz confirmed that he had traveled to Mexico because his daughters had asked him to and "wanting to be a good father"He decided to accompany them.
"With school canceled for the week, our girls asked to take a trip with friends. Wanting to be a good parent, I flew with them last night and will be back this afternoon," he said in a statement.
Mexico is currently one of the countries to which the US Centers for Disease Control and Prevention recommends not traveling due to the high levels of coronavirus infections.
According to US media that interviewed parents from the private school where Cruz's daughters study, the educational center recommends that its students not make international trips and, if they do, prohibits them from returning to the classroom for a week.
On Thursday night, after returning home, where he was greeted with a protest, Cruz said he had realized that I had made a mistake and that is why he decided to change his return ticket.
"It was obviously a mistake. In hindsight, no there should be done. I was trying to be a good father, "he told reporters.
Outrage
The trip by Cruz, his wife, and their two daughters raised widespread questioning in the United States given the critical situation in Texas, where millions of people have no electricity or running water in temperatures that have dropped to around -20ºC.
More than 20 people have died as a result of the cold in the southern United States from the storm.
As a federal legislator, Cruz does not have a direct role in Texas emergency response, but residents often reach out to their elected officials during natural disasters for help accessing resources.
They are also the links for better management between states and federal agencies.
Cruz, one of the most staunch defenders of former President Donald Trump, has questioned other politicians over the years for taking vacation trips or playing golf in times of crisis, calling them hypocrites.
The 50-year-old senator is seen as one of the potential candidates for the 2024 Republican primaries.
Now you can receive notifications from BBC News Mundo. Download our app and activate them so you don't miss our best content.

www.bbc.com
Eddie is an Australian news reporter with over 9 years in the industry and has published on Forbes and tech crunch.