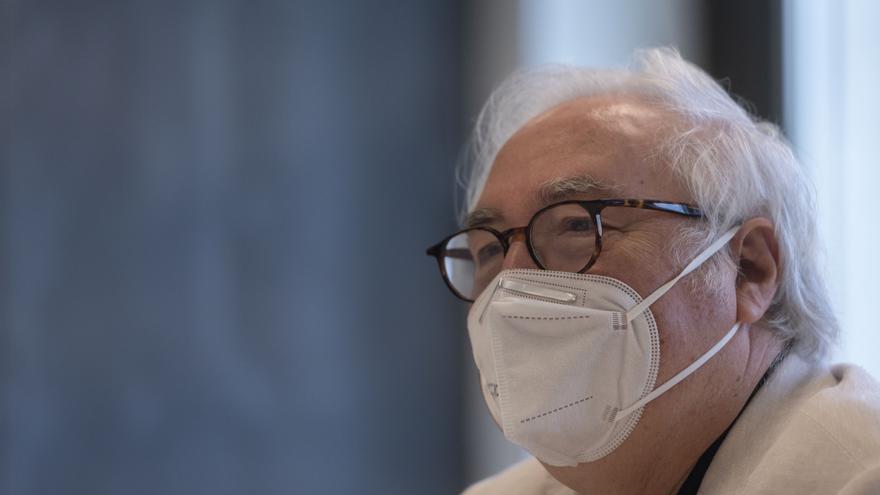 Universities must dedicate at least 5% of their budget to research and their Teaching and research staff with a temporary contract may not exceed 40% of the workforce, according to a retroactive royal decree approved by the Council of Ministers.
With this rule, the Ministry of Universities of Manuel Castells introduces substantial changes to create and recognize a university and guarantee its quality, whether public or private, face-to-face, virtual or hybrid.
Since the entry into force of the royal decree, universities and colleges will have up to five years to adapt to teaching requirements, research, teaching and research staff, administrative staff (PAS) and established facilities.
According to the new standard, Teaching and research staff with a temporary contract may not exceed 40% of the teaching staff of universities, a percentage that many exceed.
Stop the high temporality of contracts at the University It is one of the priorities of Minister Castells, contrary to precarious employment formulas and false associate professors, as he himself has said in different parliamentary appearances.
The royal decree also provides that the teaching and research staff who give classes It is composed of at least 50% of doctors and that those who teach doctorates hold a doctorate degree.
On the other hand, it will be essential for universities to offer at least ten official bachelor's degrees, six master's degrees and two official doctoral programs and have at least three of the five major branches of knowledge represented (Arts and Humanities, Sciences, Sciences of the Health, Social and Legal Sciences and Engineering and Architecture).
The approved decree it will oblige universities to dedicate at least 5% of their budget to their own research program or programs, a minimum number of scientific publications or patents and of national and international research projects that must be requested and obtained is established.
The royal decree also requires that the undergraduate and double degree students will be, at least, 50% of the total official student body.
If the percentage of foreign students enrolled in the set of official master's degrees is greater than 50% of the total of the official student body, the minimum limit of undergraduate and double official degrees enrolled in relation to the set is established at 35%.
It also specifies that in the event that there is a center attached to more than one university at the time of entry into force of this royal decree, it will have a maximum period of one year to definitively join a single university.
It also specifies that eThe faculty of private universities and private centers attached to universities may not be civil servants of an active university teaching body and placement in a public center as well as full-time teaching and research staff in the same situation.
The Menéndez Pelayo International University and the International University of Andalusia are exempt from compliance with this royal decree, due to their "academic specificity".
Spain has 50 public and 37 private universities and the Catholic Church, which add 1,061 faculties and schools.
76.85 million for digitization
On the other hand, 'l Council of Ministers has approved the direct granting of grants to Spanish public universities with official undergraduate and postgraduate education, for a total amount of 76.85 million euros distributed in the period 2021-2022.
The university that will receive the most funding will be the Complutense de Madrid (UCM), with 4.73 million, followed by Seville (US), with 3.95 million, and Barcelona (UB), with 3.52 million.
This initiative to promote the modernization and digitization of the Spanish university system will be complemented with a program of singular investments of 24.06 million euros for the National University of Distance Education (UNED) in order to fill its structural deficiencies and how lever to implement measures for depopulated Spain.
Finally, an additional line of 50 million euros will be launched for the improvement of infrastructures and the deployment of centralized digital services, which is managed by the Ministry of Economic Affairs and Digital Transformation, and which will complete the two previous investment items in the context of Higher Education, reaching a global amount of 150.91 million euros for the Unidigital Plan.
These grants are aimed at promoting investment in infrastructure, technological developments and teaching innovation projects to improve academic resources in digitization; reduce the digital divide for academic staff and students; promote interuniversity digital innovation projects of a strategic and interdisciplinary nature; and promote digital training.
As reported by the Department headed by Manuel Castells, in the UniDigital plan, the actions to be developed by the universities should contribute, on the one hand, to the improvement, adaptation and modernization of digital equipment and actions that reduce the digital divide, and second, to make investments to improve digital learning environments such as enrichment of existing educational technologies that allow the deployment and integration of tools to support collaboration and participation in class.
They must also contribute to financing projects for the development of materials, content, resources and repositories that improve the digital offer for the student community, the training of teachers in digital skills or organize innovative training programs.
All the actions that are intended to be achieved with the amounts granted in this Royal Decree aim to contribute to an increase in the digitization rate of the university system as a whole of 10% compared to 2019.

www.informacion.es
Eddie is an Australian news reporter with over 9 years in the industry and has published on Forbes and tech crunch.