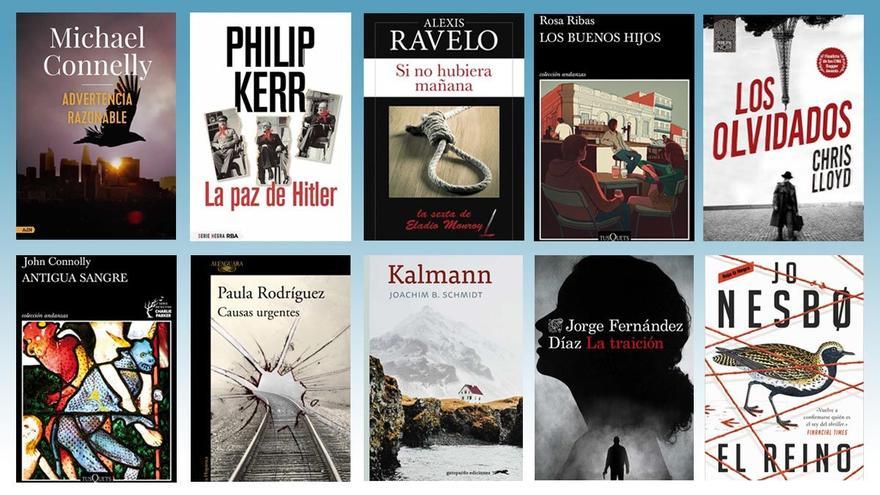 Michael Connelly (AdN. 18,50 €)
Recovering journalist Jack McEvoy and former FBI agent Rachel Walling, former Los Angeles crime reporter and creator of Harry Bosch embroiders a plot by a woman killer investigating 'fake news', the trade in genetic information, sex addiction and the 'darknet'.
Alexis Ravelo (Alrevés. 20 €)
After the recent and applauded 'A guy with a bag on his head' (Siruela), the canary returns to his series of Eladio Monroy, a cunning and sarcastic Navy pensioner who accepts orders so as not to get bored, with this sixth installment of cigar ' hard boiled '.
Joachim B. Schmidt (Gatopardo. 21,95 €)
A hard-to-forget protagonist who gets crossed from time to time: Kalmann, 34, is autistic and acts as the self-proclaimed 'sheriff' of a remote Icelandic fishing village when he discovers a pool of blood in the snow at the time the richest neighbor in the community disappears.
Rosa Ribas (Tusquets, € 19.50)
Darker and more dramatic than 'A Too Familiar Affair', but just as empathetic, is this second installment of the series starring the Hernández family of detectives, based in the Barcelona neighborhood of Sant Andreu. An infallible and everyday 'noir' full of secrets.
Paula Rodríguez (Alfaguara. € 17.90)
From Buenos Aires comes the one that the newspaper 'Clarín' places among the 10 must-sees of the year. Debut of the Argentine journalist in which the secrets and lies of the characters accumulate around a train accident, whose victims are missing two of the 43 people who were on board.
Philip Kerr (RBA.19 €)
Last novel unpublished here (concocted in 2005) by the creator of Bernie Gunther, who died in 2018. In it, a philosophy professor recruited by Roosevelt becomes a key piece on the board of Nazi defeat. An espionage ucronía in which historical figures weigh more.
Chris Lloyd (Principal of the books. € 19.90)
In line with Philip Kerr's Bernie Gunther, the Welsh author, who lived in Catalonia for 20 years, presents the detective Eddie Giral in a plot based on real events. In the Paris of 1940 occupied by the Nazis, four refugees appear murdered in a train car.
Jo Nesbo (Reservoir Books / Proa. 21,90 €)
A monument of more than 500 pages to greed and ambition served by the Norwegian 'crack' and apart from his detective Harry Hole: a family tragedy and a love triangle starring two brothers from dark childhoods in an isolated town.
Jorge Fernández Díaz (Destination. € 18.50)
Espionage, political corruption and the power of the Church intermingle in the third 'thriller' by Agent Remil, paid for by the Argentine Government. Here he will put himself at the service of Pope Francis, who could be splattered by an international scandal.
John Connolly (Tusquets. 21,90 €)
The Icelander redoubles his commitment to the occult and ghosts with this complex and convoluted novel, almost gothic horror and medieval shadows, where his tormented detective Charlie Parker faces dark and demonic powers.

www.informacion.es
Eddie is an Australian news reporter with over 9 years in the industry and has published on Forbes and tech crunch.