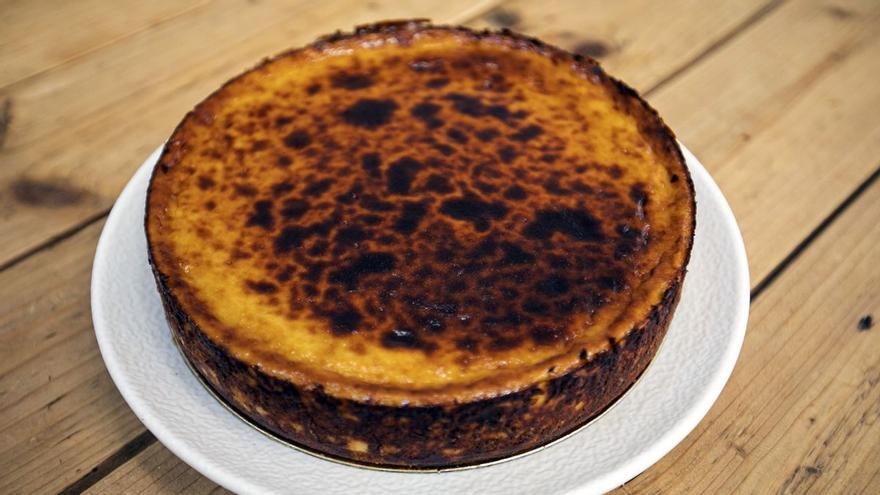 1. Use quality ingredients
"Although it may seem obvious, using quality ingredients makes the difference: organic eggs, a good cream, first-class butters and, above all, a good mix of cheeses."
2. Use cheese without fear
"Use cheese without fear. Substitute a small part of the cream cheese for cheeses that add more flavor, without fear, like any variety of Swiss cheeses such as Emmentaler AOP, Le Gruyère AOP Reserva, Appenzeller® or Tête de Moine AOP. Substitute another part by creamy cheeses to help obtain a better texture: mascarpone, ricotta, brie, camembert … ".
3. Look for a thick mixture
"Mix all the ingredients incorporating the minimum amount of air and look for a thick mixture (it usually happens by substituting a part of the cream for cream cheese). This will give it greater consistency, will prevent it from rising in the oven and thus will remain creamy inside ".
4. Reduce the amount of sugar
"Adjust the amount of sugar: many times, traditional recipes tend to abuse it. My advice is not to exceed 17% sugar in the recipe."
5. Give it a special touch
"A good cookie and butter base should have more or less twice as much cookie as butter, and everything should be well crushed. If you want to give it a special touch, use goat and sheep butters, which will add a lot of flavor to the cake. I recommend freezing the base of the cake once it is placed in the mold before adding the dough. I use Maria cookies, but you can use Lotus, Digestive, Oreo … Any change will give it different nuances. "
6. A tall, non-stick pan
"Use quality molds: a good non-stick mold makes all the difference. It is also convenient if it is high so that the cake fits well."
7. The cake must be in direct contact with the corners of the mold
"Line the base with parchment paper, but not the corners. The direct contact of the cake with the metal mold will help the baking (it is good to spread a little butter around the corners and then unmold it better)".
8. Bake at 210-220 degrees
"Don't be afraid of the temperature: bake at 210-220 degrees until the cake is golden brown, even if it is wobbly."
9. Let the cake rest until cold
"Let the cake rest until it cools. If you see that it is too liquid inside and it wobbles a lot, let it rest 2-3 hours in the refrigerator so that it compacts well. You can even leave it overnight."
10. Repeat the recipe until you adjust it to your tastes
"Repeat the recipe as many times as you consider necessary to try small modifications: with a few repetitions you can better adjust the recipe according to your tastes."

www.informacion.es
Eddie is an Australian news reporter with over 9 years in the industry and has published on Forbes and tech crunch.