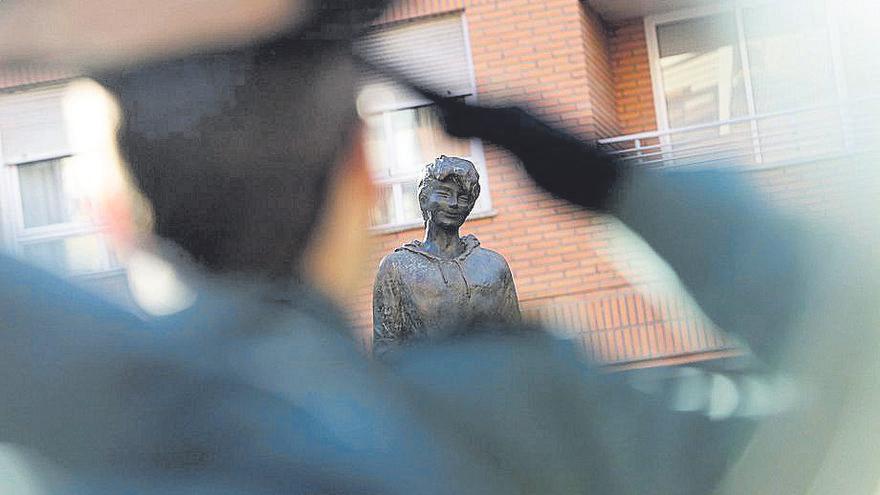 He is 57 years old and is an Aragonese civil guard for whom the threatening shadow of terrorism was a constant presence until 10 years ago. Now, after laying down his arms, he says that he is not afraid, that "life has gotten safer", although from time to time it still occurs to him that"AND handed over part of his weapons, but not all"and that a small group called ATA seems to have inherited the spirit of the old band.
However, he stresses, his situation has improved. "Mine and my family's, because in the days when ETA existed my eldest daughter often told me, when I was little, that I I was very clumsy because, whenever I was going to open the car, I would drop my keys on the ground", Explain.
Over time, this member of the Benemérita is not in favor of forgetting. "On the contrary, years of terrorism must always be kept in mind so that new generations see the dangers of radicalization and so that that time never returns, "he emphasizes." It would be a failure of society if that were to be repeated, "he maintains." It is history and it must remain as history, "he concludes.
The son of a military man with family roots in Bilbao, this agent remembers his trips to the Basque Country very well. "Everything had to be done almost clandestinely, through the back door, so as not to arouse suspicion," he says. "Some of our friends and relatives lived in pro-ETA environments and all precautions were few, even when you went to funerals of loved ones, "he laments.
"I had relatives, in different positions, who were threatened by ETA and that circumstance of permanent risk makes you see the situation in the Basque Country from another perspective," he says. On those occasions it was about going unnoticed so that it would not be noticed that his father was a military man and he was a civil guard.
But the episode that most marked him, of the many that touched him more or less closely, was the attack in the Dominican Republic square, on July 14, 1986, when a van with 35 kilos of rubber 2 operated remotely exploded and cut the life of 12 civil guards between 18 and 26 years old who were preparing in the Traffic School. "All the deceased they were classmates from my class, who had left the academy only six months ago", Victor remembers.
Solo chance saved him from death. He would have liked, like those brutally lost comrades, to study to be a Traffic agent. But a command dissuaded him, told him that this was not his thing, and then he took another path within the armed institute.
But, unfortunately, the attack in the Dominican Republic square was just one of the bloody events that marked his life. He was also deeply affected by the assassination of Colonel Martín-Posadillo in 1989, who was "a good friend of the family."
He also lived with intensity, in 1986, the terrorist act next to San Juan de los Panetes, in which the target was a bus that went to the General Military Academy. And also the brutal attack against the barracks on Avenida Cataluña, also in Zaragoza, with 11 victims. Or the death of his classmate Luis Aragó Guillén, in San Sebastián, in 1991. Not to mention the attack, also in the Aragonese capital, against Commander Luis Constante Acín in 1980 and that of Colonel Romeo Rotaeche in 1981 in Bilbao.
"My daughter had to say she was an electrical worker"
For his safety and that of his family, he prefers not to reveal his name, only to emphasize that he is a member of the National Police. He landed in Zaragoza from San Sebastián, where fought against ETA for 13 long years in the Information Brigade. No one there knew what his real job was and when he went to it in the mornings I never repeated the road, much less used the car. All the precaution was little, but one day his name came out in some papers confiscated from the terrorist gang and he decided to return to the Aragonese capital, his hometown. At that time I had a 3-year-old girl and did not want to endanger her life. At that point her daughter found out that Mom and Dad were policemen.
His practices were in San Sebastián. Enrique was his instructor, who told him that he "had wood" for the work that he would later complete for more than a decade. He could not see him return, already as an officer after requesting the destination, since the ETA members shot him in the neck. "I have seen many companions die and that is never digested. However, you try to avoid being affected too much because if you do not stop being effective and you have to avoid more deaths, "he adds.
Acknowledge that his real obsession was chasing down "the bad guys", which is how you rate murderers. "Ernesto, another colleague told me: 'this work is like an hourglass, the one who achieves results is the one who has patience to see how the grains fall little by little' and I did the same," he points out, while emphasizing that there were investigations that lasted eight months and up to a year.
"You have to think that the terrorists also got sick, broke up with their partners or the infrastructure that gave them support or coverage had been touched by the State Security Forces and Corps and that was noticeable," he asserts. In fact, I worked 365 days a year and very especially the weekend, since some members of ETA did not have exclusive dedication and had their jobs.
This agent is very proud of his work in the fight against terrorism because he and his colleagues managed to dismantle ETA commandos, but he cannot help but acknowledge that the price to pay "personally was very high." "Before having my daughter we only interacted with the rest of the companions, there could be no cracks in security," he adds. In fact, it was when she schooled the little girl that she had to create a social identity: He was an electrical worker.
"My wife is a policeman and she also worked in the same job, so once I had surgery and those who took care of me had to be my colleagues. In the end we were all a family," he visibly nostalgic recalls.
Although now he can tell, this policeman points out that could be dead. He suffered two cheating attacks while doing his job. Remember one especially, when ETA threw grenades near a school. They went and the gang had prepared a car bomb that was going to explode while they searched the area. It was a civil guard who realized that the car was very low and activated the alert. It was packed with explosives. For all that has been experienced, the 10 years since ETA's termination is clouded by the pain of the victims and by the 300 unsolved murders. "We must never forget."

www.informacion.es
Eddie is an Australian news reporter with over 9 years in the industry and has published on Forbes and tech crunch.