"I tell the students that they are very lucky. I wish I could have studied there ". Elena Arzak does not disdain the studies she carried out at the Lucerne School of Hotel Management, in Switzerland, but she admits that she is envious of those who have been trained at the Basque Culinary Center throughout her ten years of life. The chef still remembers the day when the desire of her father, Juan Mari Arzak, and other Basque chefs such as Pedro Subijana, Martín Berasategui, Karlos Arguiñano or Andoni Luis Aduriz, began to materialize with the laying of the first stone of a faculty pioneer, that of Gastronomic Sciences. It was December 2009 and, finally, that desire to bring gastronomy to the academic field was beginning to come true. Two years later, in 2011, a group of students entered that building for the first time to become the first class of university chefs in Spain.
"The Basque Culinary Center was necessary to be able to concentrate education, innovation, research in the same place and then leave all that legacy to future generations", reflects Elena Arzak, the only female member of the institution's board of trustees and trainer in some masterclass. That 360-degree vision to which the chef refers is repeated like a mantra in each and every one of the conversations with the academic leaders of the center located in Donosti. "An ecosystem of activities has been generated that has made us unique in the world. Gastronomy has acquired new meanings, making its economic and social dimension evident ", points out José Mari Aizega, director of the institution from the beginning and whom Arzak insists on pointing out as one of those responsible for the achievements achieved thanks to his" commitment ".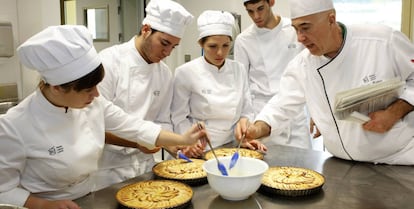 Attached to the University of Mondragón, the Basque Culinary Center is not just a school of cooking techniques. The institution has been expanding the educational offer towards management, tourism or gastronomic sciences, and, for just over a year, it has launched the first doctoral program in Gastronomy in the world. "Now we are focused on attracting international talent and companies, on innovation and entrepreneurship," says Aizega, who does not hide some of the pending challenges. "One of the challenges of the sector is equality and the creation of references that later inspire new generations to follow that path," he says, while pointing out that, at present, the percentage of men and women among students is more or less than 50%.
In addition to young people without previous experience or training, the faculty is also a place of specialization and reconversion for graduates from other areas and active professionals. While working at the Arzak restaurant, the cook María Gómez used her weekly payments to study the master's degree in Restaurant Innovation and Management in 2011. Although he had already gone through a hospitality school, his knowledge of how to run a restaurant was "basic." In 2014 he fulfilled his dream of opening his own establishment, Magoga, and since then, in just a few years, he has gone from being one of the young promises of Spanish cuisine to consolidating within the gastronomic map. "Knowing, for example, communication has marked a before and after. For a business that is in Cartagena and not in Madrid, it is very important ", points out by phone from the premises, recognized with a Michelin star and two Repsol suns.
For Luis Arrufat, chef and coordinator of the area of ​​masters and courses, one of the keys to success lies in an eminently practical training method, but with a solid theoretical base that consists not in the execution and reproduction of recipes, but in understanding the processes . Arrufat, who started working at the center thanks to his former boss, Ferran Adrià, with whom he shared a kitchen at elBulli for six years, says: "Looking is learning. To do is to understand ". Thanks to this educational methodology based on analysis and creative freedom, Francisco Espi, recently graduated from the master's degree in Cooking: Technique, Product and Creativity, feels that he has gone from being a mere "executor" of orders to feeling safe when developing his work and clarify what you want your path to be. "With a little more experience, now I do see myself capable of setting up my own restaurant," he says. At 23 he has already passed through some of the best national restaurants such as Nerua, Enjoy and Noor, by Paco Morales, where he has come to work as a second chef.
But if there is something that the institution highlights, it is that gastronomy goes far beyond the kitchen, the dining room and the sommelier. "The professional focus has been opened. Now the students are aware that there are more professions than chefs, "says its chief executive officer, José Mari Aizega. The sample is the BBC Innovation, the technological center where around 30 people work dedicated to innovation, research and entrepreneurship, with projects that range from the creation of algorithms for the combination of healthy ingredients, to sensory analysis on how we perceive the products. food or technology development for the food industry. "We have a space, the DG Lab, an innovation laboratory, where technologies can be tested in a real context because it has a part that is a restaurant," says Begoña Rodríguez, director of BCC Innovation, who defines this approach to the sector as " holistic ".
Despite its short life, the Basque has acquired a global dimension thanks, in large part, to its International Council, made up of some of the most relevant chefs in the world such as Massimo Bottura (Osteria Francescana) or Dominique Crenn (Atelier Crenn ) and led since 2015 by Joan Roca. "The kitchen has entered through the front door at the university. We have shown that it can be a university degree and also, Basque is an open house that welcomes a very diverse sector, a very valuable asset ", reflects the chef of the El Celler de Can Roca restaurant. Every year, this advisory body awards the Basque Culinary World Prize, a distinction for those projects that understand gastronomy as a "transformative tool", according to Roca, and which in 2020 went to chef José Andrés after an annual meeting marked by the pandemic . "There is a great diversity of points of view. Although we want to globalize everything, there are certain conditions in each place. The hotel structure is very different in each country ", explains Roca, who predicts a return to normality for the future. "I think that, in haute cuisine, we will go back to being more or less where we were."

elpais.com
Eddie is an Australian news reporter with over 9 years in the industry and has published on Forbes and tech crunch.