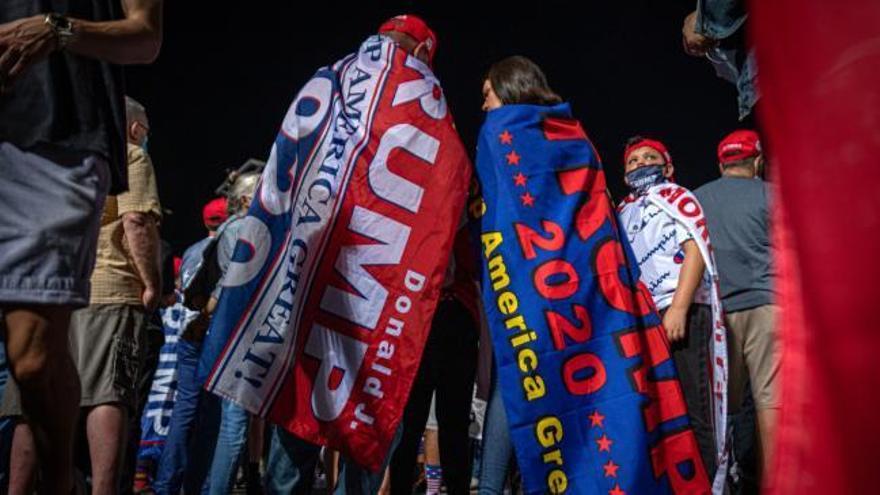 One day before the elections on Tuesday, November 3, the United States electoral campaign has raised the tension one more degree between the Republican candidate, Donald Trump, and the Democratic candidate, Joe Biden, due to various actions taken by Trump supporters, while participation continues to skyrocket.
Biden has claimed that dozens of the president's supporters surrounded his home in Delaware with SUVs, while the FBI has begun an investigation against a group of president supporters who surrounded a Biden campaign bus on the road while it was underway .
Biden faces this last day of the campaign with a comfortable lead in the polls, However, since her campaign she is trying to avoid conformism to prevent what happened in 2016 when the Democratic candidate Hillary Clinton came with an advantage to the electoral evening and was defeated by Donald Trump.
Participation triggered
The early participation of the elections is setting historical records due to the prevention against the pandemic and, if it continues at this rate, more than 100 million votes they will have been emitted before the electoral day of this Tuesday.
According to CNN, nearly 92 million Americans have already voted, which is equivalent to two-thirds of the total turnout in the 2016 elections and approximately 43% of registered voters nationwide.
In states like Texas, more people have already voted than in the elections that faced Hillary Clinton and Donald Trump. Indeed, in this state, the Supreme Court has dismissed a demand by the Republican Party to invalidate 127,000 votes cast in advance in the city of Houston for having been carried out in a format that allowed citizens to vote from the car.
Trump says he will wait for votes to be counted
After some first statements in which he claimed that the result of the elections should be known on the election night itself, Trump has backed down and assured that he will wait for the votes to be counted before claiming victory in case of being the most voted.
In most Rust Belt states, key to determining victory in these elections, mail-in votes are counted after face-to-face votes, so the results could vary greatly as the count progresses, as it is expected that more Republicans vote in person on the same Tuesday and more Democrats by mail.
For this Monday, Trump plans to do presence at five events, each held in four different states: North Carolina, Pennsylvania, Michigan and Wisconsin.
In his acts on Sunday, the president has defended his economic management and has accused Biden of being a "Castro puppet", while his followers have asked him to fire the chief scientific officer for the fight against coronavirus in the country, Anthony Fauci.
Biden focuses on the pandemic
For his part, Democratic candidate Joe Biden campaigned this Sunday in his native Pennsylvania, a key state for his presidential aspirations, and has focused his speech on the mismanagement of the Donald Trump pandemic and his government team.
Biden has emphasized his proposals to create jobs and raise taxes for the rich in a message to the working class of these key states of the 'Rust Belt', among which are Pennsylvania, Michigan or Wisconsin.
The candidate will remain in his home state this Monday and will be accompanied by his candidate for vice president, Kamala Harris, and by rock star Lady Gaga, who will act in the final act of the former vice president's campaign.
For her part, Harris will also be accompanied by a music star at her latest election event. In his case, it will be singer John Legend, according to CNN.

www.informacion.es
Digsmak is a news publisher with over 12 years of reporting experiance; and have published in many industry leading publications and news sites.