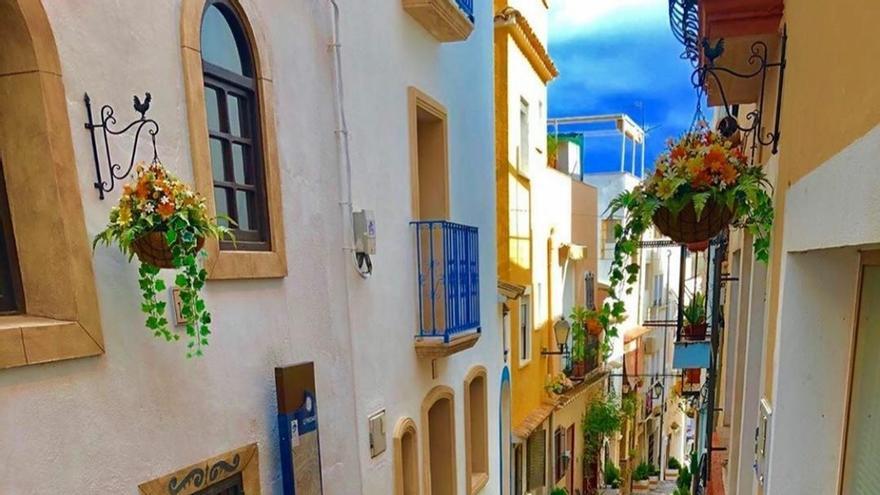 Komfort: A «Komfortable» proposal to enjoy in company
As its name suggests, Komfort claims a comfortable, friendly, close kitchen, like the one we could eat at home, but with that creative and masterful touch that makes it different and appetizing.
In this way, Komfort is the casual restaurant for The Cook Book Hotel. A true gastro-emotional "comfort zone" for all audiences and all tastes, due to its decoration, its service, its prices and its cuisine. «It is a gastronomic concept in which all kinds of customers fit. We have as a concept the make the client travel through a global cuisine in which different nuances and sensations are offered ", explains its chef, José Manuel Miguel.
Above all, its grill stands out for the preparation of grilled meat and fish, oven from firewood, in which traditional pizzas and cocas, spoon cuisine, and tapas and starters are made to share.
A) Yes, Comfort claim the trend comfort food in terms of aesthetics, service, cuisine and value for money. A philosophy that has earned him Bib Gourmand distinction, awarded by the Michelin Guide to highlight the honesty of traditional proposals, respectful of the local product and with an average price of no more than 35 euros.
Regarding its facilities, it stands out for being a bistro-type room with large windows, tables of different heights and an endless number of different lamps defining the personality of the place. The diner will find a traditional and international cuisine well prepared that is distinguished by the presentation of its dishes that denote its taste for details.
More information:
Direction: Departure Marisol Park, 1, 03710 Calp
Telephone: 636 57 22 41
Mare Beach: One of the best restaurants facing the sea
Located on the beachfront of La Fossa, on the Calpe promenade, Mare Beach bears the signature of the chef with a Michelin star, José Manuel Miguel.
In a summer and Mediterranean atmosphere is Mare, a quiet restaurant with a wide, light offer and focused on the proximity products with special prominence to fish and shellfish from the markets of Dénia, Calpe and Jávea, mainly.
Therefore, its menu is made up of local fresh fish and seafood, which are prepared in simple recipes of influence international. Among the proposals, one stands out selection of natural French oysters, pickled or champagne; raw fish –salmon with white garlic and miso, sea bass in ceviche and red tuna in tartare– and a couple of salads with a touch of the sea: smoked sardine with Parmesan arugula and quinoa and Cantabrian anchovy with Benissa tomato and napkin cheese , among other.
In addition, the terrace of Mare Beach It is characterized by its views and by being set with live music, thus representing the place perfect to relax and unwind this summer vacation. After dinner, you can enjoy one of the cocktails (mojito, piña colada, Melon Collins, yuzu margarita, among others) from its extensive drinks menu, also made up of a careful selection of wines (including DO Valencian and options for glasses), variety of beers (with a premium range), coffees and infusions, liqueurs and distillates.
«At Mare Beach our inspired dishes looking at the sea», Stresses the chef, José Manuel Miguel.
More information:
Direction: Partida la Fossa, 23, 03710 Calp
Telephone: 679 05 68 69
"The Hydra is a restaurant to savor life"
– What is Hydra for Encarna Bertomeu?
The Hydra is a project that I started alone 6 years ago, I started by selecting the team, I continued to create a pleasant space in this restaurant that I had liked so much with the aim of achieving a Mediterranean, fresh, cozy atmosphere …
My intention is that clients feel at home, and at the same time, in a small oasis of well-being, emotional and gastronomic. He was very clear that the type of cuisine would be traditional-Mediterranean, taking advantage of the resources that our area offers us: oils, wines, vegetables, meats, rice … For Encarna, the Hydra it is a restaurant to savor life.
– What makes you different?
The soul of Hydra is different, passion and love for our work is the basis of our work. We take care of the details with our clients, client satisfaction is due to the sum of many details, it is not only about serving a good rice or offering good table service, at Hydra every detail counts: a close treatment, a careful and respectful service, a traditional gastronomy with the ringtones exclusives of our kitchen, the decoration of the terrace and the interior designed to transport the customer to a bubble of well-being, where problems and concerns have no place. The Hydra is your home.
– What are your specialties?
Our hallmark and at the same time what differentiates us is the work we are doing in terms of recovery of native dishes of the Marina Alta, work that little by little will see the light. Among them, the "Esgarrat" or "Espencat", the "Bull amb ceba", the "Coquetes", the mortar "all i oli", "Figatell" from the Marina, fresh and wild fish. All this elaborated as our ancestors did.
Also the traditional «Cauldron" O "Sailor». I come from a family of hoteliers, I am the 4th generation preparing this dish that is so ours, in the same way that my ancestors did. Formerly, this dish was the fishermen's ranch on the high seas and today it is a dish of authentic luxury, where rockfish such as scorpionfish, grouper, spiders and also monkfish with their liver … and with the stock obtained, the arroz a banda is prepared in the same cauldron; truly a unique dish for fish lovers, with character and simply delicious.
– What would you highlight from the letter?
I would highlight the amount of tapas we have and the variety of top quality meats and fish from nearby fish markets as well as some wild fish from the north of Spain.
And without a doubt, what has given the restaurant its name, the rice dishes, from the most common such as arroz a banda to a honeyed barnacle, clams and cañaillas, honeyed ray, or also baked rice, a family recipe . We also have a wide range of winesAs sommelier that I am, I bet a lot on those of the Valencian Community and specifically, those of Alicante, I am very committed to my environment, our winegrowers and our producers of honey, oil, etc.
– Where are you located?
We are located in a privileged environment, in the Cala Calalga, Calp, our terrace is located very close to the sea and the Paseo Marítimo, but away from the hustle and bustle of being on the beach. We also have the ecological walk nearby, which borders the sea and runs to the end of Benissa, along the coast, the landscape is wonderful, both the beautiful views, and the variety of native plant species found on this trail.
– What makes your team different?
Without a doubt, the commitment to the customer and to HYDRA. I am fortunate to lead a great cohesive and united team, they are people who work to obtain customer satisfaction and their well-being, always recommending the best of the house and the fresh products that we receive daily. Without a great team it is impossible to grow and feel fulfilled, and the Hydra is fortunate to have great human capital.
More information:
Direction: Av. Rosa de los Vientos, 16, Bajo, 03710 Calp.
Telephone: 865 64 93 83

www.informacion.es
Eddie is an Australian news reporter with over 9 years in the industry and has published on Forbes and tech crunch.