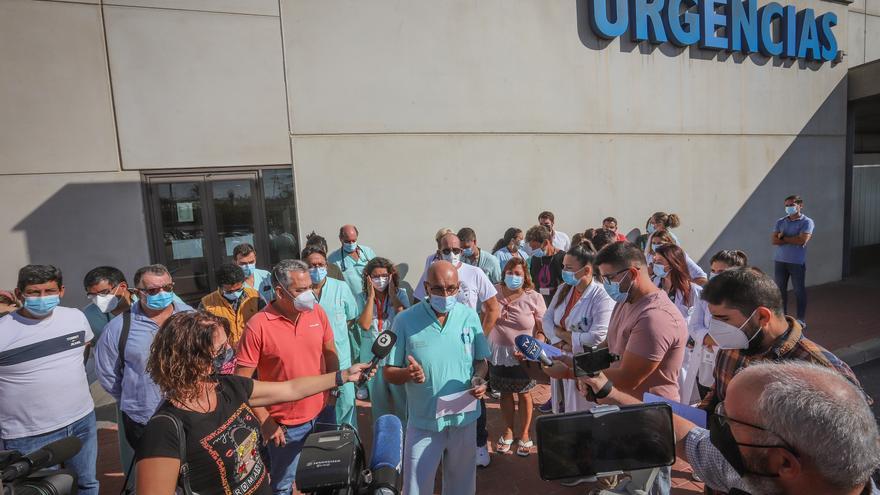 The address of Human Resources of the Ministry of Health has reported to the members of the works council that the formula contemplated for the subrogation of doctors without MIR of the Torrevieja health department – around sixty doctors – was a resolution that "exceptional and temporary" allow them to continue in their current contractual conditions, "with the exception" that if a doctor with any specialty requests "the square would go to the street, that is, they would cease to be fixed". The decision affects, above all, emergency physicians – almost 70% of the staff of that department made up of 27 doctors, family doctors concentrated in health centers in Torrevieja city, and doctors from the Home Hospitalization Unit.
The decision has fallen like a jug of cold water among the affected personnel because it converts them "de facto" in internships, in case they wanted to regain their position in Torrevieja through the public employment exchange, when one of them has been working with a fixed contract in the health center for more than a decade and they were included in the list of surrogate personnel since the Ribera concession. Health told them a week after the direct management began that they should cease their position, join the job market and opt for the position they held again. Something that they rejected outright. The workers remember that they are not going to renounce their labor rights -such as severance pay- and maintain that the responsibility for this situation of legal limbo lies with Health, which incorporated them into the subrogation list like the rest of the more than a thousand toilets that the Generalitat has taken over with the reversion process.
In view of the decision of the Generalitat the works council expressed its disagreement and for this reason a demonstration has been called this Friday at 2.30 pm at the emergency door of the Torrevieja University Hospital "to which all colleagues and the population are summoned to express the demand to the Department to subrogate all the personnel who had been exercising their functions before the reversion ".
The Generalitat has shielded itself from the lack of information from Ribera Salud when it comes to justifying the situation of these doctors. According to Health, when he assumed the management, he did not know the number of doctors without specialty who worked at the Torrevieja Hospital. Health has clarified that the legislation prevents a non-MIR doctor from making a permanent contract, although it can hire temporary doctors who lack the specialty through the employment exchange when there are no applicants with a specialty. Something that happens very frequently in the emergency services of regional hospitals of all public centers and for family doctor positions.

www.informacion.es
Eddie is an Australian news reporter with over 9 years in the industry and has published on Forbes and tech crunch.