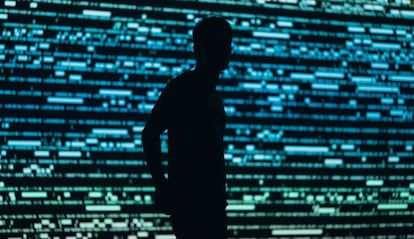 The Austrian organization in defense of digital rights NOYB will take legal action against 422 European websites from ten countries for violating the General Data Protection Regulation (RGPD), specifically for not offering users in a simple way the option not to accept the cookies from third parties. Among them are 49 Spanish women, as EL PAÍS has learned. The cookies Third parties are the digital files that remain on the devices each time we access a page and that collect browsing information that, after processing, serves to personalize digital advertising.
NOYB activists, acronym for None of your business (It is not your business, in English), they will go to court one month after notifying 560 companies (57 Spanish) that they were in breach of the RGPD by using a misleading design of the web so that users would accept the cookies. Those that have not rectified in this time (only 138 have, among them eight Spanish) are those that will now be reported to the data protection agencies of each country. They could face fines of up to € 20 million. Among the Spanish websites mentioned are those of large companies such as Telefónica, Mapfre or Zara Home, those of large supermarket brands such as Caprabo, Consumer or Eroski, those of Renfe or Transmediterránea and those of magazines such as Fotogramas, Diez Minutos, National Geographic or Vogue. The websites of companies such as Amazon, Google, Facebook or Twitter also appear.
"Many websites, such as those of Seat, Mastercard or Nikon, have improved significantly since we notified them. We are very happy about those changes. Others, on the other hand, have only stopped their most problematic practices. We hope that the data protection authorities will issue opinions and sanctions soon, "says Max Schrems, President of NOYB. The young lawyer rose to fame five years ago, after getting Facebook to keep the data of its European users in community territory to ensure that its management meets community privacy standards.
The Austrian's crusade against the social network, which included the filing of 22 complaints while he was still a student, all of them for violations of his privacy, caused a profound impact in Brussels. Former Justice Commissioner Viviane Reading acknowledged years later that Schrems' drive and his determination to enforce the privacy rights of Europeans was one of the motivations behind the GDPR itself.
The odyssey of avoiding 'cookies'
Since the GDPR, the European touchstone of privacy, came into force three years ago, every time we access a website for the first time, a banner or notice asking us whether or not we agree to their use cookies of third parties that track our navigation. In practice, many pages are looking for the turns so that it is difficult to say no, or at least so that doing it is such a tedious process that in the end we accept them so as not to waste hours pressing buttons. "They make it so difficult to click on the no that everyone gives up. We want a button for yes and another for no to be clearly offered ", they comment from NOYB.
The design of the notices that jump when entering a website that we had not browsed before makes more than 90% of users choose to directly click on accepting that their data be shared with hundreds of companies, while according to the own recognition industry only 3% really agree with it. Among the most common practices to achieve this are hiding in a submenu the option not to accept the cookies, the use of colors that may be misleading (for example, put accept in red) or that the accept button is given by default.
NOYB has decided to file this year about 10,000 lawsuits related to the alleged misuse of the cookies. These 422 files would be part of the first wave, which in turn would be the largest round of lawsuits filed jointly since the RGPD entered into force.
This campaign, in turn, is part of a larger action directed against cookies. The first part of it consisted of filing lawsuits against Apple and Google for tracking without permission mobile phones that work with their respective operating systems, iOS and Android. In both cases, the procedure followed is to generate a kind of identifier or license plate of the device that is then exchanged with other companies and shared with advertisers. All this without requesting the consent of the users.
Apple redirected this situation a few months ago when it introduced an important change in iOS: since April, applications that want to track the user will have to ask for permission; In case of not obtaining it, they will not be able to obtain data about your digital activity.
You can follow EL PAÍS TECNOLOGÍA at Facebook Y Twitter or sign up here to receive our newsletter semanal.



elpais.com
Eddie is an Australian news reporter with over 9 years in the industry and has published on Forbes and tech crunch.