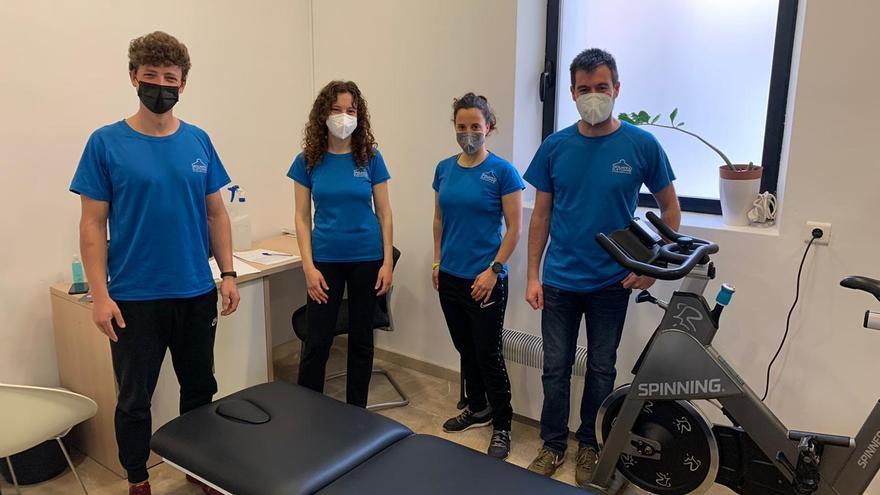 Professionals have already interviewed users with the aim of assess physical and respiratory capacities, as well as the sports habits and body composition of each users of the program. This evaluation aims to individualize the training load of the program as much as possible and, in this way, gradually increase your physical and respiratory capacity.
The evaluations were carried out by the workers of the Eduardo Latorre municipal sports complex, coordinated by the Alcoy Health Department. Carla Lloret as physiotherapist, Javier Aura and Saúl Bernabeu as Physical Activity Technicians and Andrea Ferrándiz also as Physical Activity and Nutritionist technician.
7 people will participate in the program, 4 women and 3 men who have suffered from the disease and will be divided into two groups. A group with a severe affectation and another group with a moderate affectation. These people, as we have reported, have been referred by the Verge dels Lliris Regional Hospital.
The activity will take place at the municipal facilities at defined times in the morning, during 3 weekly sessions and a period of 8 weeks, repeating sessions at home and working specifically on respiratory physiotherapy.
"This is a free program for the citizens of our municipality that aims to contribute to improving the quality of life of these patients who have overcome the long period of hospitalization due to Covid and the consequences that it has caused. We hope to help people to recover in the best possible way ", explained the Councilor for Sports and Public Health, Miguel Juan Reig.
It should be noted that physiotherapists are playing a fundamental role in the recovery of people who have suffered severe COVID-19. This disease does not end with medical discharge as there are many sequelae that appear in patients. The post-ICU syndrome encompasses a global deterioration: cognitive, physical and emotional. There is respiratory damage and a very marked loss of muscle mass with great generalized weakness. There is also impairment at the functional level, metabolism such as polyneuropathies and circulatory disorders, since immobility itself favors the appearance of edema or venous thrombosis.
For this, therapeutic exercise and respiratory exercises developed according to the needs of each patient are very important in the recovery of patients who have passed COVID-19, since it helps to improve physical condition, reduces dyspnea, increases muscle strength, improves balance and coordination, reduces stress and improves mood and thinking, increases confidence and improves energy.
The activities of this multidisciplinary program will focus on the recovery of physical condition, respiratory therapy and psychological or emotional effects.

www.informacion.es
Eddie is an Australian news reporter with over 9 years in the industry and has published on Forbes and tech crunch.