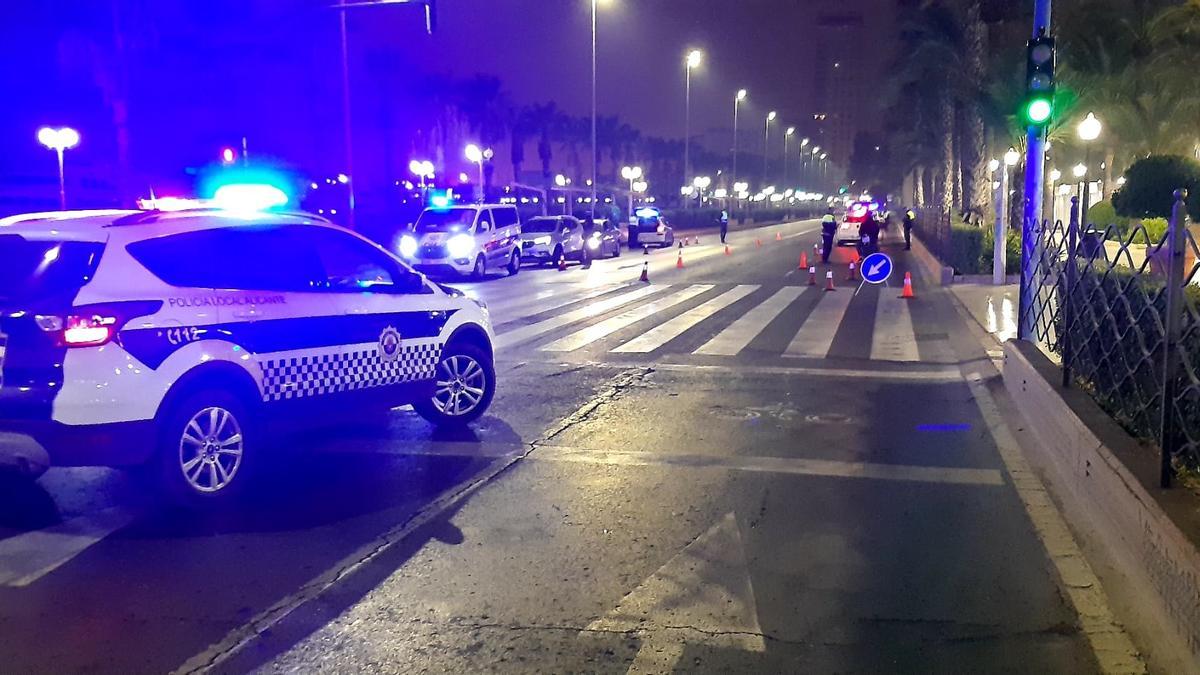 The City Council Security Department reports that the special operation organized by the Alicante Local Police last morning to deal with the covid with inspections and controls, resulted in a total of thirty complaints for disobedience of the curfew, not wearing masks, violating the cleaning ordinance and driving under the influence of alcohol. The agents have sanctioned two establishments for not respecting safety distances, and have dissolved seven parties in houses to avoid coronavirus infections in Alicante.
During the past day at the closure of the hotel and restaurant premises and the fulfillment of gauges and measures, the two locals, who were not complying with the measure of maintaining distances between tables and customers to avoid contagion and capacity.
The Local Police has organized a device with controls and surveillance patrols to enforce the curfew with the restriction of mobility from midnight, with the exceptions of justified reasons such as traveling for work, in which they were imposed eight complaints for non-compliance and being on the public highway, and after 00.15 hours people were intercepted on Nadadora Carmen Soto street.
The night service agents and the Fox unit tonight have also denounced two people for not wearing the required mask, with penalties of € 100, already eight people for violating the city's cleaning ordinance.
The mayor of Security, José Ramón González, has asked that "Let's continue joining forces and preventive measures are adopted with the utmost responsibility, avoiding any situation that could put the health and safety of all at risk, the priority should be that no new infections occur with a rigorous monitoring of the capacity limitations in the meetings avoiding them this Christmas ".
To deal with the pandemic, the Local Police dissolve the parties that are organized in homes, generating noise and annoyance to the neighbors, without masks and with meetings of more than six people. In this At dawn, seven parties have been intervened, The first three until 00.30 hours have taken place in Villajoyosa avenues, Teulada and La Unión, and after 1.20 hours they have moved to Alcolecha street, about two to Francisco Montero Pérez street, and until 3 After 30 hours, two more parties were dissolved on Avinguda de Niza and Matemático Romero.
Likewise, the Local Police organized a device to obtain stop a hit-and-run vehicle, at 11:08 p.m. in a traffic accident on Pablo Iglesias street, managing to intercept him, immobilizing the car and opening proceedings for an alleged crime of disobedience and against road safety, and for driving under the influence of alcohol.
Accidents and traffic controls
The Local Police has deployed a comprehensive traffic surveillance and discipline device, carried out various alcohol tests, and three drivers have been denounced for driving with a higher level of alcohol than the regulations established, being instructed in two cases proceedings by a crime against judicial road safety at 00:30 in the Glorieta Emilio Álvarez Antón and in La Fuente, and an administrative complaint, at 11:05 p.m. on Calle Astrónomo Comas Sola. Just as a fourth driver has been denounced, after 02:01 hours, in the Plaza Sol, for a crime when driving without the regulatory permit, and the vehicle was transferred to the municipal depot.
The unit of Attested and Traffic of the Local Police traveled tonight to attend five traffic accidents the first at 10 pm on Calle Pintor Pérez Pizarro, where material damage occurred, and a vehicle left the road after 10:46 pm on Calle Salvador Allende.
Finally, in traffic matters, the agents intervened in a rollover accident at 11:02 p.m. in the City of Matanzas, and two patrols moved after 11:07 p.m. at the intersection between Gijón and San Sebastián avenues to help a driver injured in an accident, and at 11:15 p.m. in Rebolledo, where a vehicle left the road for causes that are investigated and an accident occurred.
The Local Police and the Firefighters of the Firefighting and Rescue Prevention Service of Alicante traveled to Miriam Blasco avenue at 10:30 p.m. to extinguish a burning trash can, and at 11:39 p.m. to Mayor Lorenzo Carbonell avenue, to carry out a Opening of a home with the ladder vehicle to help an elderly person who had suffered a fall at home.

www.informacion.es
Digsmak is a news publisher with over 12 years of reporting experiance; and have published in many industry leading publications and news sites.