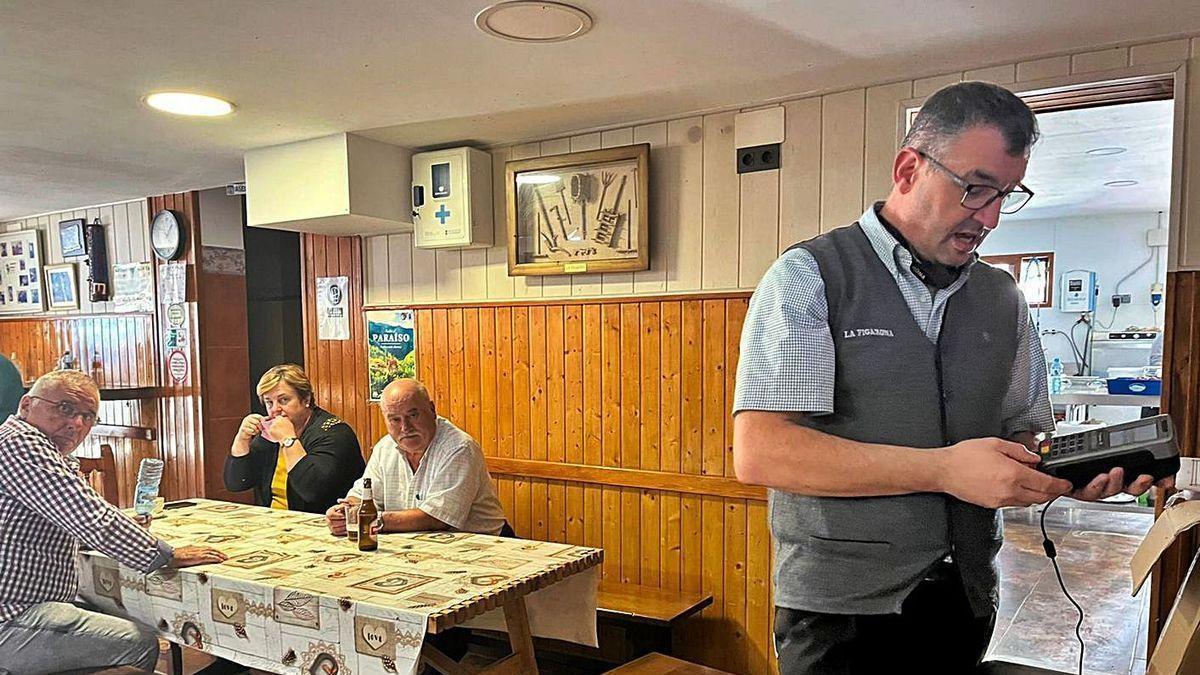 As we pass the curve of the Mesón de la Tabla, on the way to La Figarona, the telephone coverage begins to disappear. And suddenly, when you get to the bar, there is nothing left: no calls, no messages. "Eight hundred meters from here, more or less, there are," he says. Jose Antonio Benitez, owner of the establishment. Because although the cable passes close by, for them it is neither there nor expected: "People come and tell us to 'go easy', that is how they disconnect. But this is not how you can live. We are paying for a service that they are not giving us ".
He says that when they call the different companies, they all give them "long". "It seems incredible that we are like this in the center of Asturias," he says, outraged. And he shows his mobile, where he does not have a line. The landline, however, does give a signal. It is the one they use for reservations. Although it is not always heard quite well; communication is cut off because the quality of the line is not good. But the worst is not that. The worst thing is that the dataphone is confined in a corner of the bar, it works when it wants and while it is plugged in, and customers have to get up there to pay. Not very functional.
When his parents opened the establishment, half a century ago, there were no such problems because the internet was not even a reality. Nor when his son, José Antonio Benítez, went to work in the establishment, a quarter of a century ago. But in recent years, society and communications have been advancing and it seems that they are leaving them behind. And not because they want to; they don't care about the company, what they want is the service.
"The cable passes 800 meters and they do not tell us when they are going to install the fiber," they lament in the affected area
He is not the only neighbor to whom the same thing happens: all the houses up, just after the curve, suffer from the same evil that seems irremediable. At the bar he works Silvia Vigil. She is the mother of three children, two of them in high school and the third in college. Until that moment, everything had gone more or less well, with some annoyance regarding the connection issue. But accelerated digitization in a house where there is barely a coverage line and four users was practically unfeasible..
To take an exam during confinement, for example, Silvia Vigil had to agree with the teachers extra time so that they could send it. Sometimes the system broke down. So, he had to climb on top of the highway – risking being fined because it was forbidden to leave the house and the Civil Guard passed by – so that his children would not be suspended. About the online classes, he doesn't even mention them: it was impossible for the three of them to be able to see them at the same time. And, on top of that, he is now pending a trial and connection problems often make him have to renegotiate deadlines and procedures.
"There are times when I don't have time to go to the bank. So I try to transfer from home. But they ask me for a confirmation code, which many times does not enter, or they have to send me again and again. It is neither the first nor the second time that a card has been blocked ", account outraged by" paying for a service that they do not have ".
There are some neighbors, like Marco Aurelio Garcia, that "tired of calling one company after another and not being offered solutions" decided to hire satellite internet. "I am delighted. I recommend everyone to wear it, "he says.. José Antonio Benítez, the owner of the establishment where Marco Aurelio usually stops for coffee, says that he is going to try to see how it works: "They call me suppliers, and they write to me. I see that, sometimes, the messages come in and you respond, but you don't know if they are going to be sent or not ". The problem is not not having the internet, but that while the world depends on the internet, they cannot access it.
What angers them, above all, is that the cable passes just half a mile from the bend. "It would not cost them anything to expand it," recalls the owner of the premises. Silvia Vigil, while still tending the bar and serving drinks to customers, with overwhelming familiarity with many of them, sums up the feelings of many of her neighbors:
–I don't care who, but I want to have wifi. If we belong to Siero, let it be Siero. Because everyone gives us long and things are late, bad and never.

www.informacion.es
Eddie is an Australian news reporter with over 9 years in the industry and has published on Forbes and tech crunch.