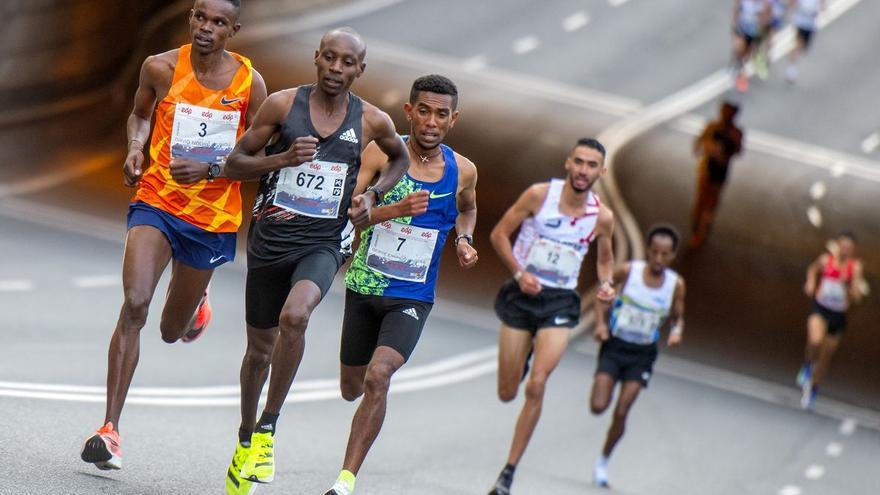 It was the first time Sabastian Kimaru came out of his Kenya hometown to put on your shoes and run. A premiere, moreover, that circumstances had delayed for more than two months.
I was called to participate in the Valencia 15K on November 14, but problems with his passport and visa prevented him from reaching Spain on time. Three weeks later, his appointment was again Valencia, in this case the proof of 10 kilometres, until the PCR test that he had to do before leaving Kenya revealed that he was infected with Covid-19.
"It was a shame, so on January 9 I spoke with his coach and with his representative to see if the boy could adapt your training to participate in the half marathon (21 kilometers) of Seville. There were only two weeks left and the boy had never competed in that distance, but they told me that yes, he could do it," he explains. Jose Enrique Munoz, coordinator of elite athletes of the Sevillian event and of many other long-distance races throughout Spain through his company Ened Sports.
Kimaru appeared in Seville confident in his chances of winning. Despite being an unknown who had never competed in Europe, his times in Kenyan races showed that he was a young runner (27 years) and with potential, although his specialty until now had been the middle distance, especially the 5,000 meters. The day before the race, however, they ask him to act as a hare.
A favor
A hare, in the jargon of athletics, is a runner who is assigned the function of set the pace of the test for a series of kilometers. They receive the task of running at a certain constant speed so that the race is launched for the favorites, thus limiting the psychological wear and tear of these tests.
In this way, the organization guarantees that the winner will set a good time, which favors the career prestige. Otherwise, the test is exposed to the runners marking each other too much, the pace being smooth and the final time being far from a good mark.
"Hare hunting is usually a paid job. And very well paid. But the Seville half marathon is a small event, with a reduced budget, and we cannot afford to hire hares. So, abusing a bit of the trust I have with his manager, I asked him for the favor of having Kimaru and another boy play the role of hares. They accept do me a favor, because they also know that we will return it to them in the future, inviting those athletes to other tests", explains Muñoz.
Kimaru and his partner receive a very clear assignment. They had to pull the main group at a rate of 2:48 minutes per kilometer. Their work would end at kilometer 10, in the middle of the test, through which they had to pass before 28 minutes. And from there, they could do whatever they wanted: retreat, run faster or slower, attack… In the higher-ranking races, where the hares are professionals, they usually step aside and brake.
"Looks great"
"But around the seventh kilometer of the race, Kimaru approaches the organization bike to tell us that looks great and asks us permission to speed up the march, to go faster than we had asked. We told him that no problem, our goal was for the winner's time to drop below the hour, we didn't care who did it, of course," continues Muñoz.
Received permission, Kimaru launched for victory. And not only did he achieve it, but he also did it by placing the Seville half marathon as the second fastest half marathon of Spain, only below that of Valencia, in which some of the best times in history have been registered, including the current world record (57:32 by Kibiwott Kandie in 2020). The 59:02 de Kimaru they represent the 31st best mark in history. And all this, it should be remembered, in his first distance race… and acting as a hare.
According to sources who know how this type of test works, a broker of his characteristics (unknown and inexperienced outside of Kenya) was able to collect around thousand euros for going to Seville, with travel and stay expenses paid by the organization. His victory, with a circuit record included, raised his income to an amount that can be around 3.000.
money and prestige
"And not only that. Beyond the victory, the mark he has made is going to open many doors for him, it is going to make him hire in many other events, including some of the best averages in the world, and with a much higher cache the one I had. In fact, it is most likely that he will not return to Seville, because I doubt that we will be able to pay him. In addition, he has a material supply contract with Adidas, which will surely pay him a bonus for what he has done," adds Muñoz.
Is it usual for a runner who acts as a hare to end up winning the race? No, it is not. However, the case of Kimaru is not entirely exceptional either. In the 2019 Malaga marathon, Martin Cheruiyot was hired to act as a hare for the first 30 kilometers and ended up winning. The same thing happened in the 2014 Seville marathon with Cosmas Kiplimo Lagat and in the 2019 Abu Dhabi marathon with Reuban Kiprop Kipyego. All three were Kenyans, as was Kimaru.
"In the end, when something like this happens, we all win. To the guys who win starting from hares many times it changes their lives, the marathon receives much more repercussion than usual because the winner is a hare and you, as the organizer, often end up saving the race", he highlights Gerardo Prieto, coordinator of elite athletes of the Barcelona marathon and collaborator of El Periódico de Catalunya, a newspaper belonging to Prensa Ibérica, the publishing group of this newspaper.
Jonah Chesum
Prieto recalls the most famous example of recent years, that of the Catalan capital marathon in 2017. Jonah Chesum, an athlete with Paralympic experience due to a malformation in his right arm After an accident when he was a child (his house caught fire), he was hired as one of the hares, with the aim of setting the pace of the race until kilometer 30: "He was with another hare along with a very good Ethiopian who we thought that he was going to win, but suddenly he runs out of energy and blows".
Prieto, on the race bike, decided to approach Chesum to ask him if i could go on or not. The Kenyan said yes and ended up raising his arms. The repercussion was such that even some foreign media such as 'La Gazzetta dello Sport' placed his photo on the cover the next day.
"There are races that contractually require their hares not to be able to compete for prizes, that they retire when they finish their work, but we don't do it. On the contrary, we stay deeply grateful. He thinks that we had run out of a race ahead, what he did was save us the ballot, "says Prieto.
"Who is Messi?"
Chesum had gone to Barcelona with a hare contract of less than 3,000 euros and ended up taking 10,000 at home. With that money, he bought a small farm in Kenya and a cow that he named Barcelona. "Then the cow had a calf and asked me what name related to Barcelona could I give him. I told him that I called him Messi. He replied: 'Who is Messi?' I didn't know Messi!"recalls between laughs Prieto.
Despite his sudden popularity, Chesum did not have a great career afterwards. He decided that with the money he had earned and the investments he had made with it, it was enough to be able to live comfortably with his family.
kenyan culture
A cultural issue, Prieto points out: "He thinks that in Kenya people don't go out running as a hobby, as happens here. There is a pragmatic interest: they run to earn money. I remember going to see a half marathon there and in the first lap half of it was withdrawn. They see that they are not going to win and they go home, they have no interest in overcoming themselves or anything like that."
Kenya, like Ethiopia or to a lesser extent Djibouti and Eritrea, are inexhaustible granaries of long-distance and middle-distance athletes. Runners with potential train there in training camps that are often owned by Western managers or the sports brands that sponsor them.
"Maybe they don't have the means that we have in Europe, but they have other things: rusticity, tranquillity, an exceptional atmosphere, no stress…" comments Prieto, who points out that many of the best European long-distance runners train in Ethiopia and Kenya: "They start rolling and make groups of 50 or 60 athletes. That in a high-performance Western center, no matter how many means it has, does not happen."
The sports director of the Barcelona marathon comments that he has hired several relatively unknown hares in these training camps, after observing their performance in local competitions and follow its evolution. For that, contacts in the area are essential.
"We have a relationship with managers and coaches, who are the ones who offer us athletes. We have access to their daily training data, their results in competitions and we also talk to them. We are specialized in that profile of young and unproven athletes, to whom we give the opportunity to stand out in Europe", explains Muñoz.
The stars of the future of world athletics are born there, preparing for someone to give them the opportunity to show their talent outside their native borders. Sometimes they do it like hares, working for others. Sometimes, much less, those hares reach glory on the first try.

www.informacion.es
Eddie is an Australian news reporter with over 9 years in the industry and has published on Forbes and tech crunch.