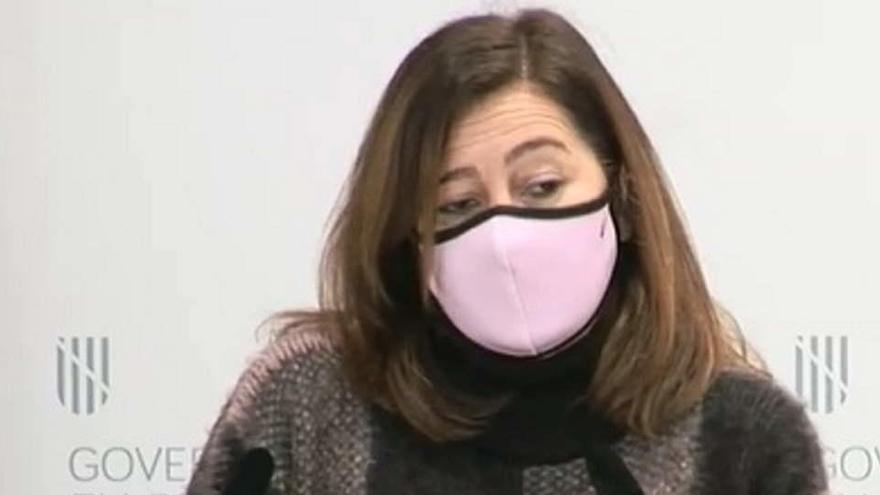 In addition to foreigners, all citizens, whether residents or tourists, must undergo health checks by the covid to enter the Balearic Islands from next December 20. President Francina Armengol made this announcement, agreed with the Ministry of Health, in a press conference after meeting by videoconference with the Canarian president, Ángel Víctor Torres, to discuss a common position on health controls for travelers in ports and airports.
The president explained that controls will be carried out on all those who travel to the Balearic Islands from elsewhere in Spain and will distinguish between three groups: residents, tourists and visitors for justified reasons. With this measure, it is intended to "reinforce security to stop the virus".
Residents of the islands who travel to the Peninsula from December 20, the Government offers three options: a PCR at origin, which can be done for free in one of the 67 centers on the peninsula with which the Executive establish agreements; An antigen test can also be done at the airport or port, or finally, they will be able to keep a quarantine of ten days in their homes.
Regarding national tourists who come from autonomous communities with a cumulative incidence of more than 150 cases per 100,000 inhabitants must present a negative PCR, performed 72 hours before upon arrival in the Balearic Islands.
Armengol has detailed that those who enter the islands without having submitted to the controls will face serious sanctions, which they can reach a fine of 3,000 euros.
Finally, those who enter the islands for justified reasons – care for the sick, work, studies, etc. – will be included in the group of visitors. they will be required to sign a responsible declaration.
Exemptions
The Balearic president has pointed out that residents who have left the islands are exempt from submitting to sanitary controls 72 hours before your return, although they must sign a responsible declaration that they have no symptoms. Nor will children under 6 years of age be obliged to undergo any test in any of the cases.
Freight carriers and aircraft and boat crews are also exempt, as well as travelers related to federated sports competitions, who must adhere to specific protocols of their federations.
Until the end of the alarm state
Armengol has highlighted the importance of the measures coming into force before Christmas, due to the expected increase in mobility, and has specified that in principle will remain until May 9, which is even when the state of alarm governs.
The president has specified that students from the Balearic Islands who are abroad are governed by the state decree referring to who come from other countries.
"This is not a normal Christmas"
The president has described the situation in recent weeks in the Balearic Islands as "worrying and serious", especially in Mallorca "where in a single week it has gone from about 200 cases a day to almost 300". The accumulated incidence at 14 days in Mallorca has increased from 220 per 100,000 inhabitants on December 2 to 276 on December 10." We are far from the maximum of 574 in August, but then in just two weeks we went from one incidence from 250 to more than 500 ", has warned Armengol, who has pointed out that hospitalizations and occupation of ICUs are increasing.
"You have to take extreme precautions, it's not a normal christmas", has underlined.

www.informacion.es
Digsmak is a news publisher with over 12 years of reporting experiance; and have published in many industry leading publications and news sites.