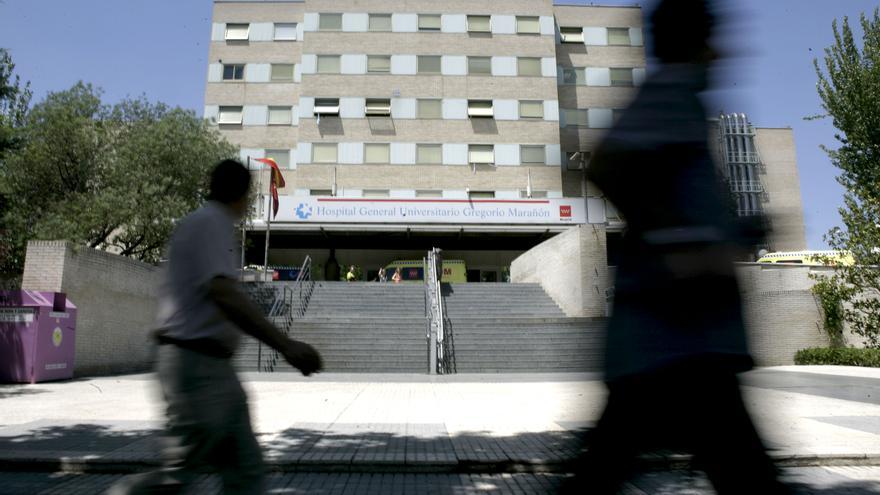 Post-traumatic stress, depression, suicidal ideation, anxiety, insomnia, nightmares… Gender violence impacts the psychological balance of the victims and can break their mental health. The Gregorio Marañón University Hospital in Madrid has a specific program so that battered women can overcome these symptoms and disorders.
Is he Attend program, in which experts in psychiatry, psychology and social work treat between 130 and 140 female victims each year who have psychiatric symptoms.
"It is an exclusive program for women victims of gender-based violence with psychiatric symptoms, mental health disorders or sequelae. It was created so that these women could have quick access to a specialized program without having to go through a waiting list of general mental health consultations", the psychologist and coordinator of the program, Leticia Camarillo, explains to El Periódico de España.
Social services of the Community of Madrid and also mental health and family medicine can refer women directly to Atiende.
"When they arrive, most have post-traumatic stress and the usual symptoms are lack of concentration, insomnia, lots of nightmares, repetitive memories of traumatic events that they have lived They get lost even to get to the hospital, it is something that happens to them a lot. They have corseting and emotional blockage because they are completely terrified and very afraid"explains the psychologist.
"They are terrified"
"They are terrified of how they are going to react to this loss of control. They present continuous anxiety, they are nervous, with palpitations, sweating…", adds Camarillo.
Day after day after day, the victim of gender violence receives the message that it is worthless, is questioned as a person and as a woman by the person who should love and care for her and this causes consequences: "It is one thing to have a trauma from having suffered an attack or rape by a stranger, this can be understood better than the person to whom that you love and with whom you trust harms you. You feel that you have done something wrong, they have been educating you to think that you deserve it because you were doing something wrong. The punisher feels morally superior to tell you that you are doing it wrong and that destroys the person a lot, it makes them doubt whether they are a good or a bad woman."
In Attende, a psychological and psychiatric evaluation to determine the treatment that each victim needs: sometimes it is necessary to resort to pharmacological therapy combined with psychological therapy, other times the approach is exclusively psychological. The goal is to calm the most acute symptoms, stabilize the most serious symptoms and this is usually achieved within a year.
The work done with them is individual so that they can understand the symptoms and do not get scared for them, that they know that they are going to miss them and they will be able to identify them but at the same time they are aware that the process is going to be long, clarifies the therapist. They are explained the steps that they are going to take in the following months and also the behaviors that can be expected from the aggressor.
The psychologist admits that it is a complex process because women must turn their own beliefs around: "Each one has to look for her own life, what they were before him, what they liked before him, their dreams before him." Along the way, it is necessary not only to talk about the conflict of gender violence, but also that their minds can talk about other things they have experienced because "they are crushed by this".
During this time, they usually also require psychosocial support to help them deal with situations such as filing a complaint or facing a lawsuit against the aggressor.
"They can have an acute disorder, but it is difficult that it is not going to be cured or improved. There does not have to be lifelong structural sequelae", specifies Camarillo. Sometimes the intervention requires a more extensive treatment in mental health due to the existence of comorbidities or complex pictures of suicide attempts or dissociative pictures.
The fear approach
The psychologist points out that one of the most complex parts of therapy is dealing with fear. In most cases, she emphasizes, women continue to suffer violence even when they have separated from the abuser: "We think that once you separate, he leaves you alone, but that man never leaves you alone. He harasses you, he watches you, appears at the door of your house or at work or at your children's school. You do not know what he is thinking, you know that he has a lot of hatred for you because you have denounced him, you have left him or you do not want him as he expected.
The patients, he continues, "are afraid of revenge for having dared to be without him." "As many women continue to be crushed all their lives by their ex-partners, who do not let them be, they become chronic these pictures," he denounces.
After passing through the Atiende program, women can be discharged, referred to mental health centers to continue long-term therapy or to social services to complement treatment with psychosocial help.
Ask for help
The 016 assists victims of all forms of violence against women. It is a free and confidential phone that provides service in 53 languages ​​and leaves no trace on the bill. Information is also provided via email. [email protected] and counseling and psychosocial care through the WhatsApp number 600 000 016. In addition, minors can contact the ANAR phone 900202010. All resources against gender violence.

www.informacion.es
Eddie is an Australian news reporter with over 9 years in the industry and has published on Forbes and tech crunch.