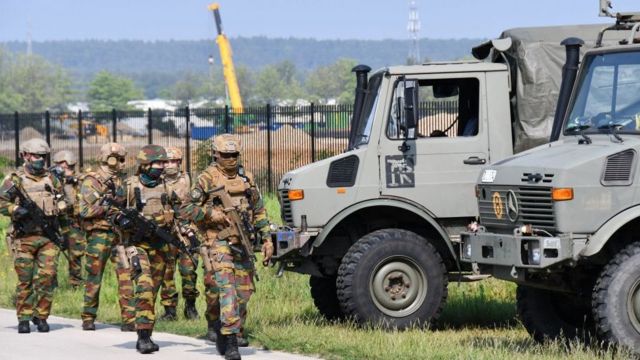 For almost three weeks, Belgium's top virologist has been locked up in a safe house with his wife and 12-year-old son, surrounded by a military device to ensure their protection.
Many scientists around the world have been under threat from the COVID-19 pandemic, but the case of Professor Marc Van Ranst is one of the most serious.
He has been threatened by a soldier linked to the extreme right, Jürgen Conings, who has waged a kind of "revenge" against virologists and the confinements imposed in response to the pandemic.
The seriousness of the threat lies in the fact that Conings is a military shooting instructor, who has fled with weapons – a rocket launcher and a machine gun – and until now the Belgian police he has not been able to find his whereabouts.
"The threat was real," Van Ranst told the BBC, as he recalled the night of May 18, when he had to move into the safe house where he is now.
"This ex-soldier, who was heavily armed, was in front of my house for three hours, waiting for me to arrive from work," he recalled.
The police reported that that night Conings had left the military installations where he resided loaded with high-caliber weapons and had gone to the virologist's home.
Usually, Van Ranst returns home from work at the time the soldier I was waiting for him. But that day he had just arrived earlier and was inside with his family.
"Unfortunately, he is trained to be a sniper with various types of weapons. So he is the type of person that you do not want to be on a hunt for your head," the scientist noted.
"I'm not scared, we just want to be cautious"
When the BBC tried to interview Van Ranst via Zoom, the Belgian authorities pointed out that the scientist could not show his face or the surroundings of the house. And he couldn't be outside or near the windows either. That's how serious the situation is.
But beyond the threat to his life and the difficult circumstances he faces, the virologist, who became the leading scientist in the fight against the covid-19 pandemic in his country, looks very calm.
He even jokes about the situation, although he admits that it has been difficult.
"We are not scared, we are just being careful. And my son Milo has been very brave," he said.
"It's quite surreal, but knowing is better than not knowing, because at least I can take these precautions. What makes me angry is that my son has been locked up for almost three weeks. That really gives me hatred."
Who is the sniper?
Belgian authorities have described Conings as a very dangerous man.
The man was already under surveillance, on the Belgian authorities' anti-terrorist list due to his far-right beliefs. When he disappeared from the battalion where he lived, he left a note stating that the virologist was his target.
"The supposed political elite and now also the virologists decide how you and I should live. They sow hatred and frustration. I cannot live with lies," the note reads.
In a time when bad news messengers can easily be blamed, Van Ranst sees his plight as inevitable.
"If you're on TV a few times a day for months, people get tired of you. That is inevitable, "he noted.
"There is a group of people who hate science and they hate scientists. Very often they are scared and insecure," he added.
In the days following Conings' disappearance, a support group for the ex-soldier was created on Facebook. Before Facebook shut it down, it had more than 50,000 members.
This group worries Van Ranst more than the assailant himself.
One night, the virologist even challenged one of Conings' support groups through Telegram, although he accepts that it was not the smartest decision. But that shows how furious he is with those groups.
"Those are real people, who think that he is a hero and that I deserve to die. They are people, who live in your neighborhood, who bet when and with how many bullets he is going to kill me," he said.
Now, the Belgian police are in the middle of a manhunt of proportions.
Hundreds of officers, helicopters and military trucks are tracking this former soldier, but so far there is no indication that he can be found anytime soon.
Even a national park near the Dutch border was fenced off as part of search maneuvers.
"Nothing to say"
The authorities have admitted that they do not know the whereabouts of Conings and that not a single trace of life has been obtained since that disappeared.
In addition, the government accepts, it could even be in another country.
In one of the notes found, it read that Conings was prepared to "fight the police to the death".
The authorities also point out that several errors have been made in the investigation and that, above all, the question needs to be answered as to how it is possible that a man who was under surveillance for possible "terrorist actions" had access to large-caliber weapons. .
This worries Van Ranst, who remains a "hostage" in a safe house.
"If you want to hide forever, you may succeed. There are many ways to disappear, especially if you leave your country," he said.
And when we ask him if he has a message for the man who is threatening him, his answer is blunt.
"I have nothing to say to him, why would I want to have a conversation with someone who hates me and wants to kill me?"
Remember that you can receive notifications from BBC News Mundo. Download the new version of our app and activate them so you don't miss out on our best content.

www.bbc.com
Eddie is an Australian news reporter with over 9 years in the industry and has published on Forbes and tech crunch.