Barcelona
Updated:
Keep

The bishopric of Solsona is very concerned because it believes that what happened with its bishop, Monsignor Novell, "It is not a case of celibacy but of infestation", that is to say of possession. The bishop, a great supporter of practicing exorcisms, would have suffered the reverse process in one of them, favored by the fact that his lover, Silvia Caballol, divorced, writes not only erotic but also satanic novels. In the bishopric, and in a large part of the Catalan church, it is considered that they are facing a "very serious" matter due to "the mixture of a tormented personality and these supernatural events." The clergymen consulted by ABC cite as an example of the devil's cult of the bishop's new girlfriend his novel «El infierno
in Gabriel's Lust ', with a theme unmistakably guessable from the title.
It results in the anguish of the bishopric who Xavier Novell, who so often practiced exorcisms, and defended their efficacy so much, do not want to submit to one now. These same sources suggest that "Pope Francis himself" could have asked him "up to two times to exorcise himself", and they suspect that if the bishop refuses "it is because he knows he is hiding something, and because of the effect of the evil one who already dominates him. , he wishes to continue hiding it ».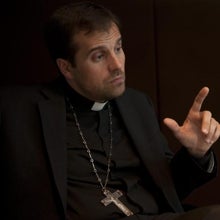 The exorcismsAccording to these clerics, they have a certain degree of danger if practiced in moments of weakness or doubt, when dark forces haunt your life. It is not ruled out, in his opinion, that in such circumstances "effects totally contrary to those desired, as we believe this is the case," occur.
According to some of his closest collaborators, "the personality problems of the bishop have gone 'in crescendo' in recent years because of their participation and promotion of gay conversion therapies in various parts of Spain. Novell, who according to these same sources had homosexual inclinations in the past, "underwent these therapies, was transformed, and then dedicated himself to promoting them."
The general feeling in the catalan church it is that the bishop is "unbalanced" and that "his mental health leaves much to be desired." The obsession with these anti-gay therapies, his weak mental health and the satanic connection could be the mixture of factors that explained his resignation.
Xavier Novell resigned on August 23 as bishop of Solsona. He announced that he was doing it for "personal reasons" without giving more details, until last week it was learned that such reasons were that he had in love of a divorced woman and writer of erotic novels. A more detailed investigation found "Satanism" in the life and work of Silvia Caballol, and a large majority of the Solsona bishopric, who know Novell and have seen how he behaved in recent days, have no doubt that the incidents have been caused by the diabolical incursion, favored by his unbalanced mental state.
In their willingness to help him, these clergymen will insist to their still bishop on the need for him to undergo exorcism, even if only preventively, but they do not yet know what support they will receive from the Holy See in this endeavor. One of them affirms: «you can not believe in God and nothing happens, because God always forgives. But with this from the devil, be careful, it is very serious ».
See them
comments

www.abc.es
George is Digismak's reported cum editor with 13 years of experience in Journalism