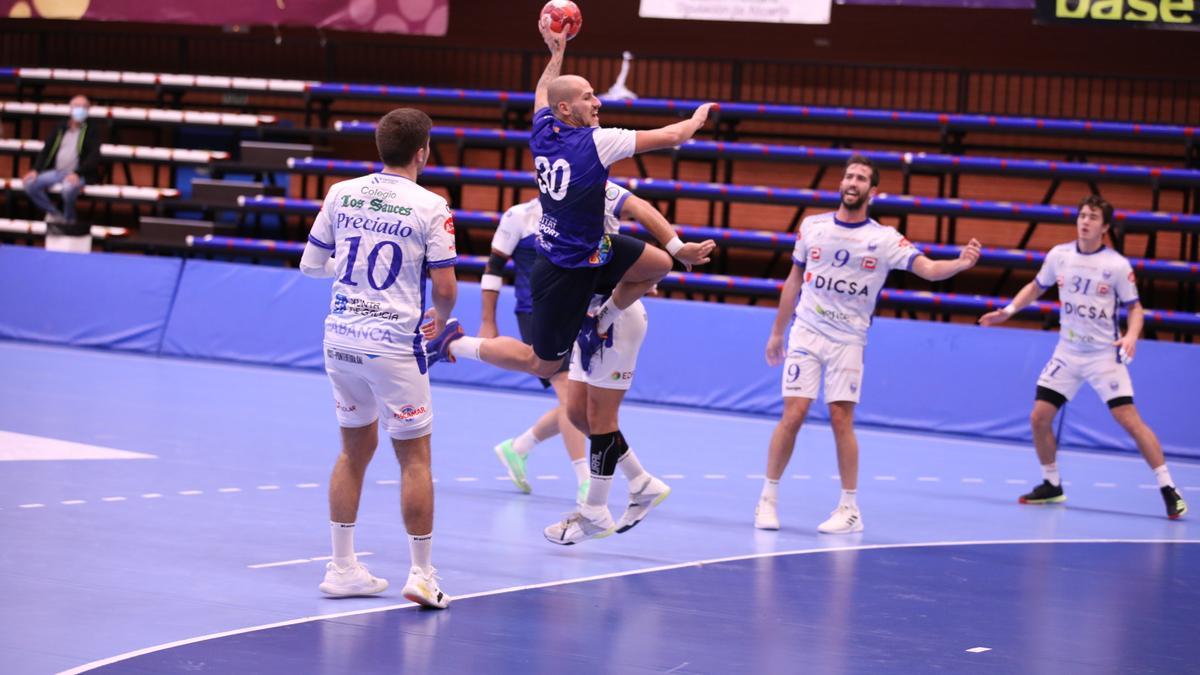 Benidorm Handball achieved this Saturday the most resounding victory of the season in an exercise of strength and efficiency before a Swan that is still in full crisis of results.
The Galician team could barely resist for a quarter of an hour the greater physical power of Benidorm, which also had in its goalkeeper, the Brazilian Leo Tercariol, an almost insurmountable wall for his rival.
The visiting team, in great need of points, surprised Benidorm at the start, who was behind on the scoreboard during the first ten minutes of the match. Swan found in Preciado and Chan his best men in attack and his goalkeeper, Pablo González, kept Benidormense pitchers at bay.
Little by little Benidorm was balancing the game thanks to the depth of its bench and Tercariol's saves. Galician offensive route closed, Fernando Latorre's team was finally able to deploy their game and fly to the counterattack, with Folqués and Lignieres as the most prominent men in the offensive field.
Benidorm took the lead on the scoreboard in the 17th minute (10-9) and from that moment he was unstoppable during the first period, which closed as a comfortable income in his favor of five goals (18-13) despite attempts by Jacobo Fernández, Cisne coach, for stopping the escape.
In the second period, Cisne tried to hold on to the game in the first minutes, in which he managed to reduce the difference to three goals, but again Benidorm found in Tercariol and Folqués, lethal to the counterattack, the weapons to knock down their rival.
The home team, increasingly comfortable, definitively broke the game in the middle of this period, when they increased the income to ten goals. From there, both teams lowered the piston and began to think about future battles.
Datasheet:
34 Handball Benidorm (18 + 16): Roberto Rodríguez; Oliver (1), Borja Méndez, Carlos Grau (1), Lignieres (6), Mario López (5, 2p) and Folqués (6) – starting seven- Porras (2), Rivero (2), Spiljak (1), Fleuchtmann (2), Lewis (2), Nolasco, Tercariol (ps), Iván Rodríguez (2) and Nikcevic (4, 2p).
25 Swan (13 + 12): Pablo González; Chan (7), Andrés (4), Preciado (6), Javi Vázquez (2), Leiras, and Dani Ramos (1) – starting seven- Picallo (1), Miguel Simón, Gayoso (1), Conde, Carlos Álvarez (1) and Pombo (2)
Referees: Peñaranda Ortega and Yagüe Moros (Aragonese School). They excluded Dani Ramos, Preciado and Miguel Simón (2), for el Cisne; and Carlos Grau and Oliver for Benidorm.
Scoreboard every five minutes: 3-4, 5-6, 7-9, 13-10, 15-11- 18-13-break- 20-16, 25-18, 28-19, 31-22, 31-23 and 34-25 .
Incidents: Meeting corresponding to the fourteenth day of the Sacyr League at the Palau d'Esports L'Illa de Benidorm behind closed doors.

www.informacion.es
Digsmak is a news publisher with over 12 years of reporting experiance; and have published in many industry leading publications and news sites.