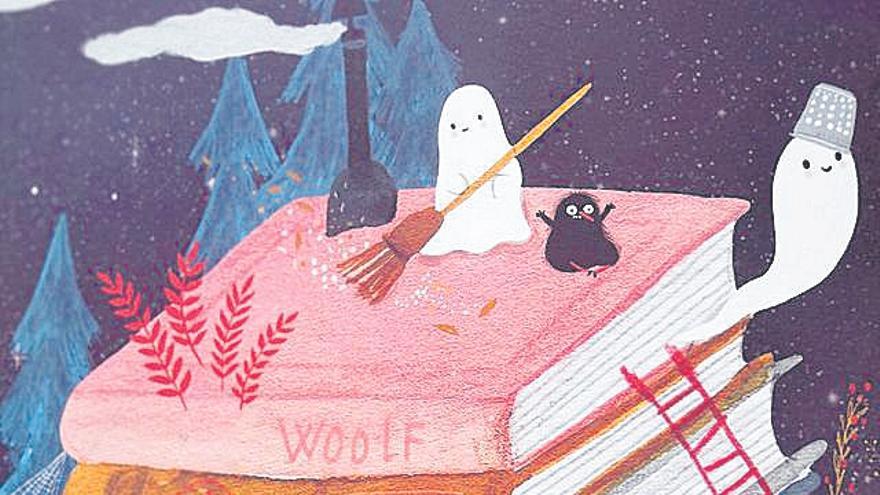 THE GHOSTS
Ghosts are strange beings. They live in castles. And in the books. They go out at night and dance on the damp graves of cemeteries.
All the Undertakers have ever seen them, or so they believe. They say their breathing is so mild that they can be confused with rain, wind or fog.
You have to be very careful to feel how the dried flower buds tremble.
SECOND TEXT
TO BE OR NOT TO BE
To be or not to be – thought a ghost – is the problem to be solved.
WALKING THROUGH THE STREET
Walking down the street I came across a ghost, and my spasm was great because a tooth fell out of me.
THE OPEN WINDOW
"Your cheeks are frozen," one ghost says to the other. You should stop watching for hours through the open window.
TEXT TERCER
THE SILENCE
Ghosts don't like noises. They hate alarms, sirens, truck exhaust pipes and buses.
What they like is the silence. In the silence they stretch, widen and lengthen like threads.
Ghosts look like words.
TEXT QUART
QUESTIONS
The ghosts
they are made of not being
or of invisible substances?
For each death:
there is a ghost
breathing
and love
They are always
the ghosts themselves
those who come and go
for this world?
And if so:
this means
which may be around here
the ghost of Canterville?
When a ghost
get sick:
it becomes
a soul in pain?
The sadness
of ghosts:
it falls like purple rain
about peoples?
The ghosts are mirrored
in the graves of cemeteries
like us
in the mirrors?
On summer nights:
the ghosts sing
hugged to the trees
com the cicadas?
What color are they
the ghosts
of those who die
to the war?
RAINING GHOSTS
Phantoms are raining
on the square.
They fall
like drops
between the branches,
as caresses
at the ventre rolled
of daisies.
Cau
the suffocation of their cries
on the gray sidewalk
checkered.
Excerpt from: The Book of Ghosts
Author: Nelvy Bustamante
Drawings: Lady Desidia
Editorial: Savanna books, 2018
We will work on reading comprehension: Of all that is said about ghosts, what things did you already know? What did you like most about what they say about ghosts? Do you know who "the ghost of Canterville" is?
From the story, we will talk in groups about what we think of ghosts. We will take the opportunity to tell the story of the ghost of Canterville.
Write a story or poem and send it by post, accompanied by a drawing, with your name, surname, course, school and telephone to Grup LEO section 4042 (03080 Alicante) or by email to [email protected] .They will be published on our BLOG.

www.informacion.es

Digsmak is a news publisher with over 12 years of reporting experiance; and have published in many industry leading publications and news sites.