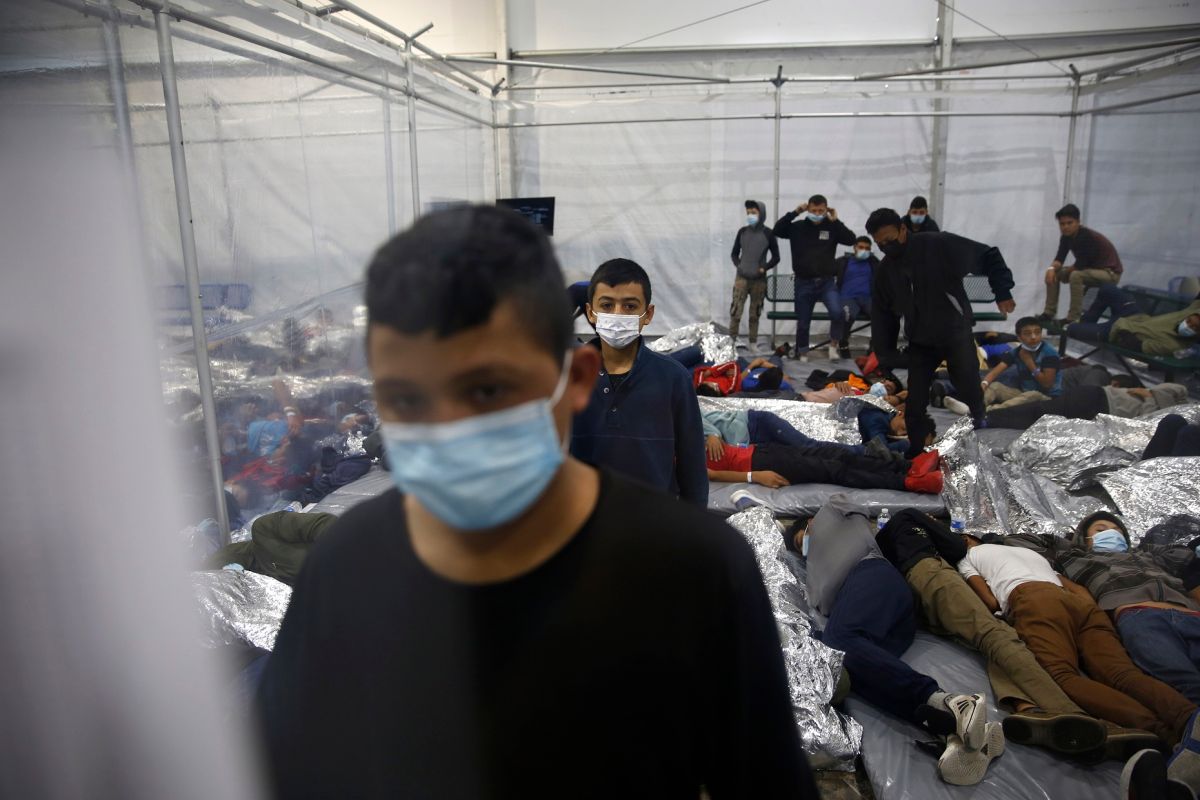 The Biden Administration recognizes an increase in the arrival of children at the border.
Foto:
Dario Lopez-Mills – Poo / Getty Images
The administration of President Joe Biden faces what it continues to call "an emergency" at the border with considerable increases in arrivals of adults and children alone.
This Thursday, the Department of Homeland Security (DHS) will release new figures on what is happening on the border with Mexico, but in a phone call, senior officials pointed out that there was a 100% increase in the arrival of children alone in March compared to February.
In addition, the arrival of people trying to enter the border irregularly increased to 71%, with 172,000 registrations by Customs and Border Protection (CBP) personnel.
Most of those people have been deported, said a federal official. 29% of those people had already been expelled at least once for illegally entering the United States.
It should be clarified that although the current government seeks to help the undocumented who live in the country, it has sent constant messages that it will not accept the irregular entry of more people, who will be immediately sent to their country.
"In March, 103,000 individuals were deported under Title 42, which represents 60% of the attempts to enter during the month," it was noted.
Officials argued that this increase and "emergency" at the border is related to the policies imposed by the government of President Donald Trump, because it "destroyed" the asylum request system, in addition to reducing funds to the Northern Triangle countries. in Central America, something that the current administration seeks to repair, a task in charge of Vice President Kamala Harris.
"The president has a plan … now we are addressing this challenge, but there is a long-term vision that will prevent the arrival of more immigrants and the vice president is leading that effort," he added.
Attention to minors
CBP officers reportedly found 18,890 children in March, a 100 percent increase from February.
That agency and the Department of Health and Human Services (HHS) are collaborating to remove these children "as soon as possible" from Border Patrol care centers, in order to begin their reunification process with their sponsors or parents, if at all. they are in the usa
Efforts have increased the sending of children to adequate HHS spaces, going from 276 to 507 of accommodated minors daily.
"As you know, we believe that care centers are not spaces for children," said an official. "We have worked with our partners at HHS and FEMA to improve conditions for children and send them to HHS as soon as possible."
Officials urged Congress to accelerate immigration reform that allows the Biden Administration to expand its actions on the border and Central America.
Without fear of deportation
The Government also reminds sponsors not to worry about being pursued by Immigration and Customs Enforcement (ICE) agents when requesting custody of a minor.
"We are making sure to send the message that HHS is not a law enforcement agency, so there are no immigration consequences for those who pick up the children," said one official.
On March 12, the Biden Administration terminated an agreement between HHS and ICE to obtain biometric information from people seeking to recover a child, as this data was used for subsequent deportation proceedings.
However, the Government indicated that people's backgrounds are still being checked, due to the safety of the children.
People with verifiable legal custody and parents already in the US have priority of care.
"We are speeding up the process for the legal guardians or parents of the children," it added.

eldiariony.com
Eddie is an Australian news reporter with over 9 years in the industry and has published on Forbes and tech crunch.