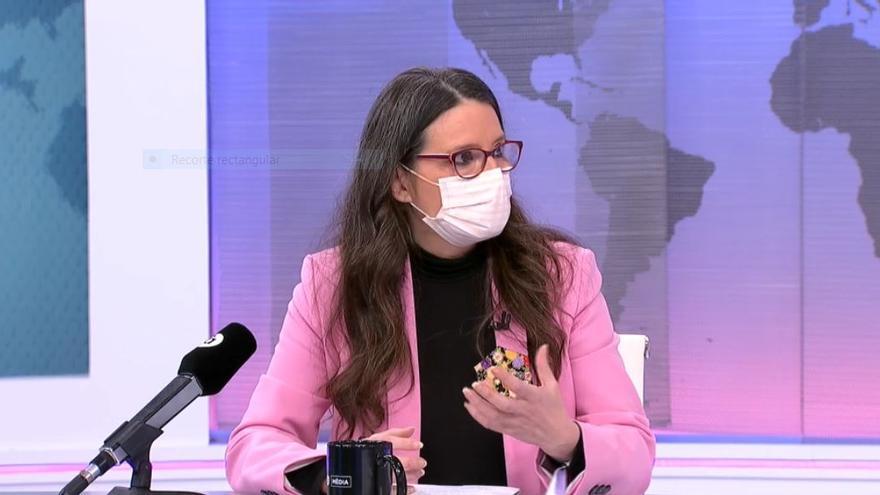 The Vice President of the Valencian Government and Minister of Equality and Inclusive Policies, Mónica Oltra, announced this Monday the launch of the process of creating a new Law of Equality between men and women in the Valencian Community, which will replace the one of 2003 , based on three axes: "redistribution of wealth, power and uses of time."
The future rule, which is expected to be approved by this legislature, does not want to remain a mere declaration of intent but rather seeks to have "consequences" in real life and "above all impact." In this sense, it is proposed to regulate that in order to access subsidies or public contracting, companies have a minimum number of women – equal tenant – in the boards of directors or management bodies or that have equality and conciliation plans.
It could also "favor" those companies that apply reduced working hours of 32 hours per week or 4 days a week, which the Ministry of Sustainable Economy is promoting. In addition, the future norm wants to promote egalitarian masculinities, co-responsibility and conciliation.
This is how Mónica Oltra has advanced it, in an interview in Àpunt and later in statements to the media after meeting by videoconference with representatives of the National Commission for the Rationalization of Spanish Hours (ARHOE), with the aim of listening to their proposals regarding the future Equality Law.
With this meeting, the preliminary phase of allegations of the future norm begins, but does it "without prior proposal" Because as explained by Oltra, they do not want to "condition" the different proposals that women's associations, feminist groups, entities or individuals can make and that from now on they have the opportunity to "say what they expect from this law."
From there, a draft will be prepared and work will be done on it, but "without apriorisms and without directing where these proposals should go," stressed the Minister of Equality and Inclusive Policies.
The rule wants to address the "pending issues" in terms of equality such as the wage gap or "breaking glass ceilings but looking at the bar floorsor, where many women get hooked, or in other words, what cannot be that when a glass ceiling is broken we do not think about the women who pick up the broken glass ", Oltra has warned.
In addition, it has indicated that it must be a law that takes into account the plurality of each case, since "it is not the same to be a white woman with a well-off economic position and higher education, than to be a migrant, racialized, and uneducated woman. The problems are not the same and feminism has to address the entire plurality of our society, "she claimed.
It is about looking for where the autonomic norm can influence. For example, the Valencian administration cannot regulate the prohibition of subcontracting but it can "say that those companies that outsource and subcontract to chambermaids who end up charging 2 euros per hour, cannot access public aid," he pointed out.
It is a "complex" law, Oltra has admitted, and although he has wanted to be cautious in terms of deadlines, he has pointed out that "it would be good as a goal in one year to have a preliminary draft approved."
Reduce working hours
For his part, the Regional Secretary for Employment, Enric Nomdedéu, has emphasized his proposal to reduce the working day 32 hours a week or four days a week in the hands of the unions and the employer, which is part of a triple bottom line economy: environmental, social and economic.
The pilot program, he explained, has an "ambitious goal." The companies that voluntarily decide to join will have to present an agreement with the union representatives and a project to modernize their production systems.
For its part, the Valencian administration will offer training and financial aid to companies that opt ​​for this formula over 2 or 3 years. In this way, Nomdedéu has underlined, he undertakes to pay the differential for the reduction in working hours, this is the 100% the first year, 50% the second year and 25% the third year to "accompany companies until it is demonstrated in practice what the theory says: that by working better we can work fewer hours".
Ley trans
On the other hand, regarding the controversy generated by the Trans Law promoted by the central government among some feminist groups, the Minister of Equality and Inclusive Policies has defended that the feminist movement and the movement for LGTBI rights "have always been allies ".
In his opinion, "it is not incompatible, in fact the regulations on the rights of transsexuals and women are complementary." In fact, "many trans people are women, who have experienced more discrimination, assaults, suffering and suicides." For Oltra, "it is part of feminism to guarantee rights of trans people "and it is" quite a complement ".

www.informacion.es
Eddie is an Australian news reporter with over 9 years in the industry and has published on Forbes and tech crunch.