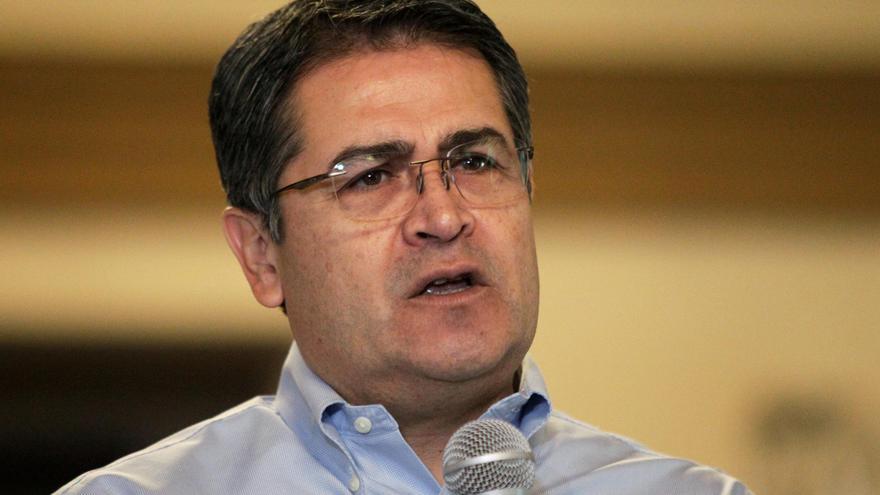 Juan Antonio "Tony" Hernández, brother of the president of Honduras, Juan Orlando Hernández, was sentenced this Tuesday to life imprisonment plus 30 years in prison for narcotics traffic in a Manhattan court, where it was pointed out that his criminal activities were sponsored by the country's own state and he was accused of having "asphyxiated" the Central American nation. "The trial (…) has uncovered many details of international drug trafficking. It corrupts all aspects of society and in this case, trafficking was state sponsored", said in his sentence the judge of the court of the southern district of New York, Kevin Castel.
In a view that lasted for more than an hour and a half, in which a pale Hernández could be seen with a serious face, Castel detailed the amount of cocaine that the president's brother is estimated to traffic between 2004 and 2015 to the United States, more than 185,000 kilos, which according to the judge translates into 1,500 million doses that would have had a market value of 138.5 million dollars.
During the reading of the sentence, the togado also underlined the fact that Hernández grew up in a wealthy family, that he had a law degree and that he was a congressman, and that therefore he was not pushed to traffic to try to get out of poverty, as is the case with other drug traffickers. "His family had legitimate businesses, including a hotel and a pharmacy where he could have made an honest living," Castel said. "He was an elected member of the Honduran Congress, and he could have used his considerable talent for good, but … he chose to go in a very different direction," added the judge, noting that Hernández had been "indifferent." the consequences of their actions and that this sentence should serve to dissuade other drug traffickers in the country from continuing their criminal activities.
Sentenced to pay 138 million dollars
The judge, who also imposed on the brother of the Honduran president the seizure of assets and properties worth $ 138.5 million, thus fully rejected Hernández's attempts to delay again the reading of the sentence, which occurs one year and five months after being found guilty by a court.
Seconds after entering the courtroom, Hernández was already informing his public defender, Peter Brill, that he was not "prepared" for the sentence, and during the minutes that the judge gave him to speak, the accused stressed that the Prosecutor's Office he had withheld information about the case that could benefit him, and he complained about the lack of cooperation from his own legal representative.
Castel, however, outright rejected his arguments, and ignored Brill's requests for "mercy", who insisted that even if he was given the minimum sentence of 40 years, Hernández would already be an "old, sick and broken" man when he left. from jail.
The alleged involvement of the Honduran president
The harshest words against Hernández came from the Prosecutor's Office, which made clear the connection that they are convinced he has the president of Honduras, Juan Orlando Hernández, with his brother's drug trafficking, when he mentioned him up to 18 times in a statement issued after the hearing.
In his intervention this Tuesday, the prosecutor Matthew Laroche also accused Tony Hernández of having "suffocated" Honduras with corruption and described him as "arrogant", "greedy" and an "especially bad" person who has not shown regret. "He is an especially bad person who, along with his brother, is at the center of years of government sponsored drug trafficking," he said. "He does not care how this has affected his country," added Laroche, who pointed out that drug trafficking has turned Honduras into "one of the most violent places in the world," and that "one in three Hondurans lives in poverty." .
Tony Hernández will appeal the sentence
During the hearing itself, Hernández's lawyer confirmed that he would file an appeal, and that the process to change his lawyer would also begin after the Honduran's obvious discontent. After the sentence, and while the bailiffs took away a Hernández who was never defeated, several people in the audience shouted at the sentence. "Justice for Honduras! Let's see if you tell your criminal brother to leave our country alone," said a few meters from the defendant Víctor Manuel Guevara, a Honduran resident in the neighboring state of New Jersey who attended the trial .
At the gates of the New York courts, fifty Hondurans celebrated the sentence of life imprisonment amid cheers and chants. "This was all that Hondurans expected, that the judge would give him jail for life because he has done a lot of damage in our country along with his brother and all his relatives," Guevara, surrounded by compatriots, explained to EFE. "I think it is a victorious day for Honduras. The Honduran people are very happy and very satisfied, it is one of the many victories to come," he predicted.

www.informacion.es
Eddie is an Australian news reporter with over 9 years in the industry and has published on Forbes and tech crunch.