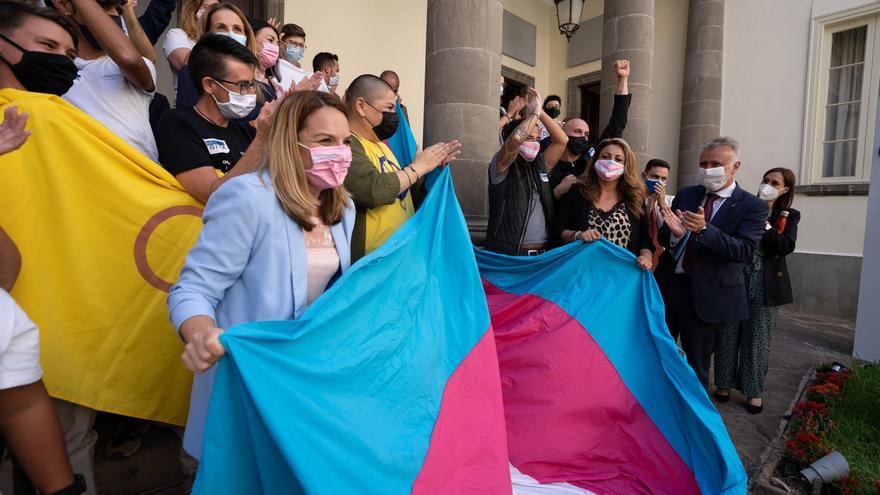 The Parliament of the Canary Islands unanimously approved this Wednesday the Law of social equality and non-discrimination based on gender identity, gender expression and sexual characteristics, which establishes the free self-determination of gender identity and expression.
To prove gender identity, it will be enough for the interested person to expressly state their identification as a woman, a man or a non-binary person, without the need for psychological or medical reports, as established by the new Canarian legislation, which establishes a regime of administrative sanctions for discrimination that can reach 45,000 euros in very serious cases of aggression or harassment.
This initiative was promoted as pproposed law by all parties in the Chamber (PSOE, CC-PNC, PP, Nueva Canarias, Sí Podemos, Agrupación Socialista Gomera and Ciudadanos) at the request of the collectives LGTBI + and although in the parliamentary process the Popular group had opted for abstention, it has finally joined the consensus.
The "noise at the national level" around the trans law "is due to the lack of political and social consensus", but that consensus "has been made in the Canary Islands, so we must congratulate ourselves for having been at the level of our society" said the deputy of the PP Luz Reverón when announcing her final support for the Law, a decision welcomed with applause by the rest of the Chamber.
The allusions to the transnational law were recurrent: Jesús Alexander Machín, from CC, asked the PSOE and PP not to continue frustrating that regulation in Congress and Vidina Espino, from Ciudadanos, called on PSOE and Podemos "to learn at the national level the great advance that occurs in the Canary Islands ".
There were also emotional speeches, including those by the President of Parliament, Gustavo Matos, who at the close of the debate highlighted the significance of this moment for parliamentary history. Canary Islands law protects the right of trans and intersex people to receive comprehensive and adequate care to their medical, psychological, legal, social, labor or cultural needs by the Autonomous Community.
In this way, in the Canary Islands "no person will be subject to any requirement" for tests, treatments or psychiatric or psychological studies "to make use of their right to gender identity or expression" or to "access services or documentation according to their felt gender identity or expression".
In the case of trans and intersex minors, they have the right to receive protection and care from the Autonomous Community to promote the integral development of their personality and to receive health, educational and social care according to their gender identity or expression.
Underage trans and intersex persons "They have the right to be heard and to express their opinion in view of their maturity and development at any age, always if they are over twelve years of age, and their consent must be obtained clearly and unequivocally if they are over sixteen years of age in relation to to any measure that is applied to them ".
The PSOE deputy Omar López González stressed that this Law is late because "does not give anything away", but it returns some rights that "as a society we have stolen from many people" indicated as different, but above all "they are people with dreams, humiliated, wounded, socially annulled people without rights who have demanded to be heard." Jesús Alexander Machín, from the Canarian Nationalist Group, stressed that "when people put ourselves above ideologies, everything is very easy.
Luz Reverón, PP deputy, said that with this law people "are legislating for a model of society, not for a group" and so that trans people "can be who they are without asking for permission," although he stressed that this rule does not addresses one of the main demands, such as registration in the Civil Registry, an exclusive competence of the State.
Nueva Canarias deputy Carmen Hernández stressed that the Canary Islands have always been a pioneer in civil rights and affirmed that the conquests of rights and freedoms "They only go against those who want to impose their vision on others." María del Río, representative of Sí Podemos Canarias, recognized the "immense work" of the groups to promote this rule, a consensus text that includes "the common", equal rights and full citizenship "after years of suffering, discrimination, exclusion and penalization.
ASG deputy Melodie Mendoza defined this Law as "the law of respect" and stressed that it is a "depathologizing" norm of gender identity. Citizen spokesperson Vidina Espino defended that Each person is free to define themselves and feel as they want and that is materialized in this Law, which is the result of the struggle and the work of the groups integrated in the LGTBI Coordinator, which allow progress in law and freedom. The Minister of Social Rights of the Government of the Canary Islands, Noemí Santana, intervened to highlight that this law "reference not only in Spain, but throughout Europe "and it is going to get many people to live better.

www.informacion.es
Eddie is an Australian news reporter with over 9 years in the industry and has published on Forbes and tech crunch.