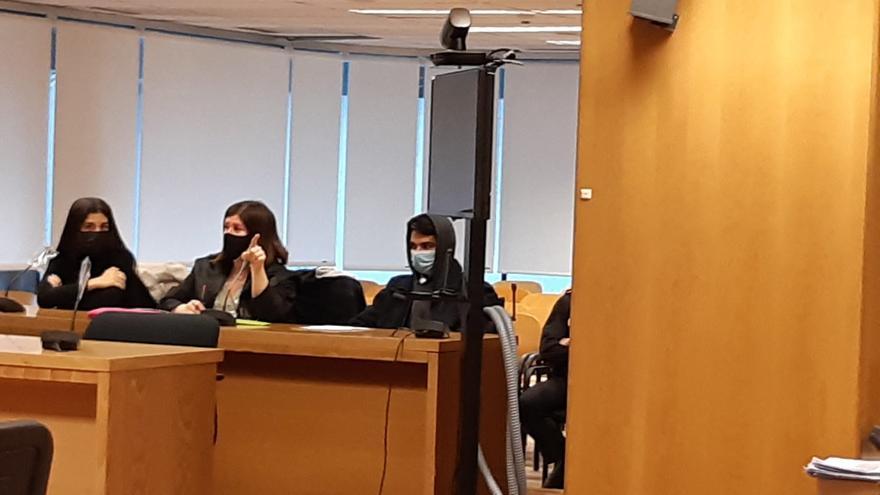 The brother of Alberto SG, known as the 'Sales Cannibal', has declared this Friday in the trial that the defendant did not take the daily medication that had been prescribed for the episodes of psychosis that he suffered and that led him to psychiatric admissions on several occasions.
His story is key to shedding light on the reasons that led the 28-year-old to end his mother's life when she was preparing breakfast for him. After committing the crime, he dismembered her with a handsaw and ate his remains for days until he was detained by the National Police.
The defendant faces a prosecutorial request for a sentence of fifteen years in prison for a crime of murder and five months for desecration of corpses.
The brother has narrated that the bad relationship between the accused and his mother was aggravated by the death of his father in 2008, which caused that your mother will go into depression and fell into the drink. Alberto used to reproach the woman for spending her widow's pension on alcohol.
The boy was a good student, but "smoked joints" and was drinking. I went to college and worked. With a scholarship, he went on Erasmus to Greece but drug use led to hallucinations. His brother came to his aid and he saw then how he had changed.
"I was kind of gone. I was living in an imaginary world saying paranoia", has recounted remembering what happened at the Spanish Embassy in Greece when his brother told him that they wanted to kill and kidnap them.
Already in Madrid, had several episodes of panaroias with psychiatric admissions. She was diagnosed with psychosis and prescribed a daily pill that she did not want to take.
The brother has pointed out that he never witnessed physical abuse of the accused towards his mother, who justified the marks he had by saying that he had fallen.
"He has a very temperamental character, more than violent he used to scream. There were insults and threats ", The witness has said, who has detailed that his mother used to not give importance to these threats and used to let him stay at home despite the fact that he had a restraining order.
At the session, a neighbor who was a friend of the mother and who had known Alberto since childhood appeared. According to his account, crossed paths with the boy after he had committed the crime and suspected nothing. "He looked good and handsome, he smiled at me. I never suspected anything", he pointed out. Upon leaving the courtroom, he said to the defendant," good luck. "
Asked for forgiveness
Another friend of the mother has related that the young man sent her a letter from prison in which he asked her forgiveness and asked her about her dog. "I'm going to regret it all my life", the boy wrote in the letter.
Alberto SG reported in his statement that he had regular discussions with his mother when he was a drug user and said that she heard voices telling her to kill her and dismember her.
In the trial, the expert evidence will be key to determine if the boy suffers from some type of mental disorder, which it could lessen the pain or totally exempt from criminal responsibility in the event that it implies a complete defense, as requested by his defense in the instruction.
The Penal Code contemplates that those people who suffer a severe mental illness or they suffer from a transitory mental disorder that prevents them from knowing the significance of their behavior or, even knowing it, prevents them from acting in accordance with that understanding, they are considered unimpeachable and they are exempted from criminal responsibility.
Facts to judge
The defendant, at the beginning of 2019, lived with his mother in a Madrid address, located in the Sales neighborhood. Without specifying a date, but in late January or early February, the defendant argued with his mother and, after a verbal confrontation, went towards her "holding her tightly by the neck, and with the purpose of ending her life, he he pressed hard with his hands until he managed to strangle her, causing her death by suffocation. "
Next, the accused, who has been deprived of liberty for these events since on February 23, 2019, He moved the body to the bedroom of the house and placed it on the bed "with the purpose of gradually making his body disappear."
To do this, he proceeded to dismember it using a carpenter's saw and two kitchen knives that he had in the same house. Once the body had been chopped up, the accused was feeding "on occasions" for about 15 days on the cadaveric remains., "keeping other remains in various plastic containers around the house and inside the refrigerator that was in the home, also throwing some of them into the garbage in plastic bags."

www.informacion.es
Eddie is an Australian news reporter with over 9 years in the industry and has published on Forbes and tech crunch.