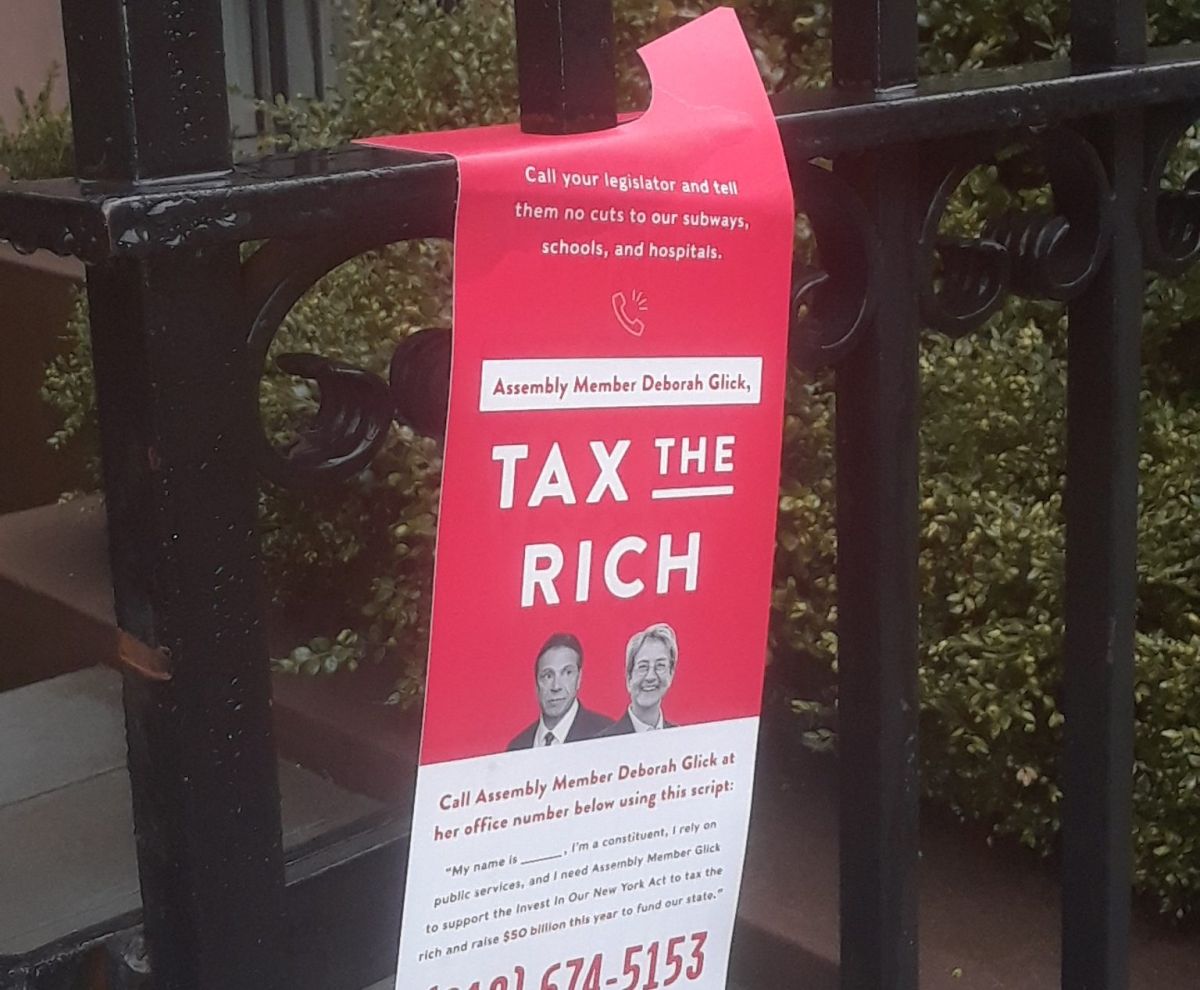 Crusade asking for "more taxes on the rich" in NY.
Photo: Andrés Correa Guatarasma / Courtesy
New York, the so-called "capital of the world" affected by a deterioration in the quality of life accentuated by the pandemic, has now taken a back seat to Beijing as the world's multi-million dollar mecca, according to the latest magazine list Forbes.
At the moment, the Chinese metropolis only has one more billionaire (100) than NYC (99), but experts warn that it will be worse, now that a new rise in state taxes is likely to push the richest people to emigrate, while NY loses leadership, federal funds and a seat in the National Congress.
The number of billionaires worldwide increased 32% up to 2,755 people. This means 660 more than a year ago, since many benefited from a rising stock market, highlighted New York Post.
In particular, and without being a surprise to many, Beijing saw a rebound of 33 billionaires during the global COVID catastrophe that started in China. But in NYC – perhaps the city most affected in the world by the pandemic in 2020 – the list also increased, although only with 7 more names.
While Beijing dwarfed New York's billionaires in numbers, their wealth lags far behind in net worth: the capitalist tycoons here accumulate $ 550 billion dollars compared to $ 490 billion in the capital of New York. "communist" China.
In particular, Former Mayor Michael Bloomberg was once again the richest person in town and the twentieth in the world, with $ 59 billion dollars. Zhang Yiming, TikTok Titan, With a fortune of $ 35.6 billion, he leads in Beijing and placed 39th in the world rankings.
"I personally know countless millionaires and billionaires who have left," said Ronn Torossian, founder and CEO of "5W Public Relations," who is also considering moving and relocating his 200 employees from Manhattan to Miami.
John Catsimatidis, a Manhattan grocery tycoon with a net worth of $ 3.3 billion, was of the same opinion, although there are rumors that the governor's office will be launched next year by the Republican party.
"New York is being destroyed. I was in Palm Beach (Florida) last weekend and met more millionaires and billionaires who have recently moved than those with hair on their heads. The key is that they stay in Florida enough days a year to avoid New York taxes. " And warned that "New York will keep going downhill, and our billionaires and the wealthiest will just get up and go, unless the city improves. "
"Billionaires can buy a new corporate jet and live in Florida, and easily fly back and forth between New York City and Miami with the money they can save by moving to lower tax states like Florida, "added Catsimatidis.
New taxes on businesses and "wealthy" residents of New York will likely trigger the worst exodus since the bankruptcy of the 1970s, warned in March a group of important employers and small business owners.

eldiariony.com
Eddie is an Australian news reporter with over 9 years in the industry and has published on Forbes and tech crunch.