Russia also wants to win in the cinematographic space race. A small team made up of a well-known Russian actress, a renowned filmmaker and a veteran cosmonaut are finalizing preparations to travel to the International Space Station (ISS) on October 5, where they will record The challenge, the first film shot in space. Six decades after the Soviet Yuri Gagarin became the first person to orbit the earth and thus surpass the United States in the middle of the Cold War, Moscow accelerates to anticipate the American project that Tom Cruise and director Doug Liman are still working on, in collaboration with NASA and Space X, the company of billionaire Elon Musk.
The film, which will tell the story of a surgeon who must travel to space to try to save the life of a sick astronaut who cannot return to Earth, comes preceded by careful timing and a painstaking advertising campaign. Roscosmos (the state space corporation), Channel One (the most watched in the country) and production company Yellow, Black and White announced the film last year, four months after the Holywood project. Shortly after, they revealed that the protagonist would be a woman and opened a casting to select her. She was looking for "a true superhero to go to the stars … at the same time as becoming a great international star."
The candidates, who did not require experience as an actress, had to be between 25 and 40 years old, be of Russian nationality, weigh between 50 and 70 kilos and have a chest circumference of up to 112 centimeters. In addition, they had to be able to run a kilometer in three and a half minutes, swim 800 meters freestyle in 20 minutes and launch from a 3-meter springboard "with impressive technique," the ad read. 3,000 women showed up. The final test for the 20 finalists who passed the various tests was, in addition to a new medical examination, reciting a text by Aleksandr Pushkin.
Finally, the one chosen to star in the film by the popular Klim Shipenko – director of several high-grossing films in Russia and whose name was also kept secret until the big announcement – has been Yulia Peresild, 36, who has headlined several series and films in Russia and who is credited with very good relations with the Kremlin orbit.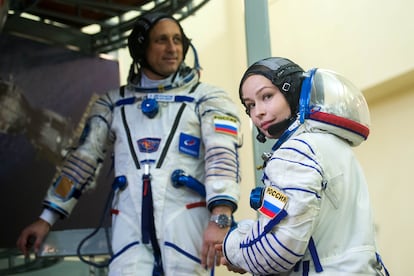 Peresild, Shipenko, 38, and cosmonaut Anton Shkaplerov, who in what will be his fourth mission will guide the Soyuz MS-19 spacecraft, in which they will go to the ISS, will travel together with a team of substitutes this Saturday to the cosmodrome from Baikonur (Kazakhstan). They will stay there for 12 days, the actress commented this Thursday at a press conference in Moscow. "It is too late to be afraid," he commented with a smile. In a country with a long tradition of cosmonautics and national pride and in which many children have dreamed of traveling to space, Peresild has confessed that it was never one of his wishes. Now she recognizes "excited." "It's wonderful, the possibilities are endless."
The actress, the filmmaker and Colonel Shkaplerov – along with their deputies – have undergone months of medical testing and rigorous "quasi-military" training, Peresild said. "We are creative people and during the preparation it was difficult to enter such a strict regime, where everything was extremely serious and you could hardly joke, although we still made jokes," said the actress. For Shipenko, who is 1.89 tall, the most difficult thing was training on the ship. "For those who want to be a space tourist, don't worry, it was soon promised to enlarge the chairs so that they were more comfortable for the tall ones," he joked. The filmmaker also faces the challenge of managing the camera (adapted to work in weightlessness), lighting and sound.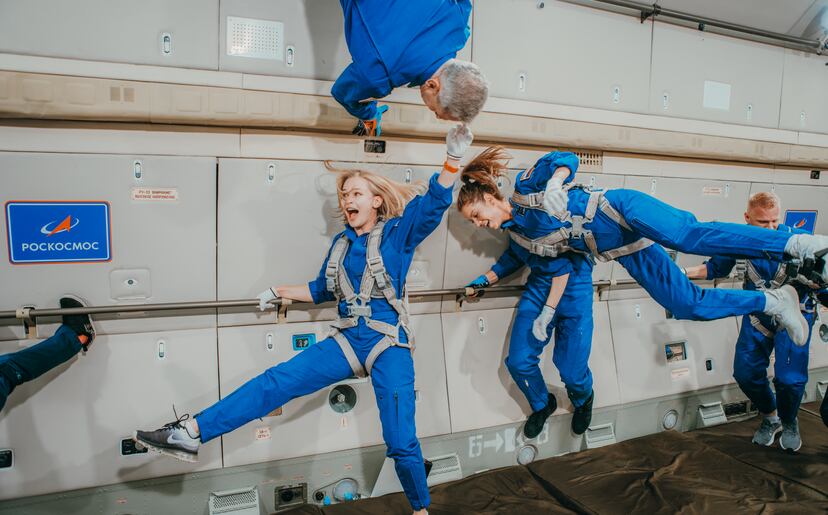 Now that you live again a boom of space tourism, Russia, which between 2001 and 2009 carried seven tourists on eight flights to the Russian Soyuz and the ISS, finds the production of The challenge another turn of the screw at a time when it is losing ground in technological advancement. Roscosmos assures that the film, whose budget has not been revealed, will not be financed with public money, but that Channel One will cover the expenses, although the state space corporation will take care of the training and its costs.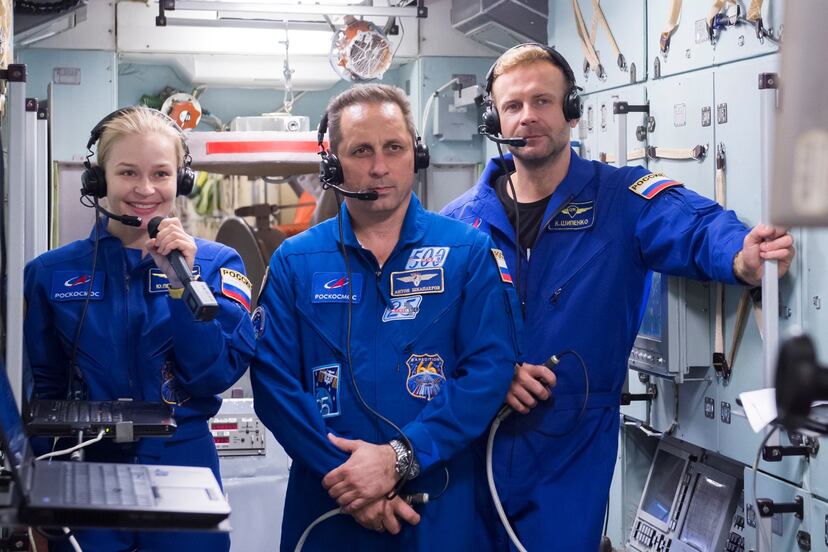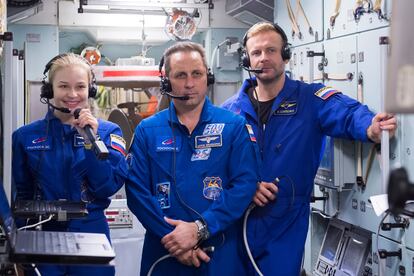 Nevertheless, The challenge It is not the first film that Russia is preparing to shoot in space. In 2000 it was announced The last tripby Yuri Kara, starring Vladimir Steklov. However, after two years of preparation – including almost a year of severe training for the actor – and with 12 days to go before the release, filming was suspended. The 'El Desafío' team will spend, if all goes according to plan, 12 days in space. The recovery process on the way back will be exactly the same, according to Russian law, explained by videoconference in an interview the cosmonaut Mikhail Kornienko, who has commanded two missions. "Unfortunately, post-trip rehabilitation is a difficult and unpleasant process, the body has to adapt again to Earth's gravity and it is painful," he says. "In addition, for a space flight not only physical characteristics and health are important, it is also important to have a strong psyche. It is difficult to be in an aggressive environment, in a closed space for a long time, "says the cosmonaut, who has been in space for a total of 516 days and has done two spacewalks.
For Kornienko, the film is somewhat far from the scientific projects in which he has participated: "It is a cultural issue. If they make a good film about the ISS, about space, not just a fiction, it would arouse even more interest about the cosmos of citizenship ".
You can follow MATTER on Facebook, Twitter e Instagram, or sign up here to receive our weekly newsletter.



elpais.com
Eddie is an Australian news reporter with over 9 years in the industry and has published on Forbes and tech crunch.