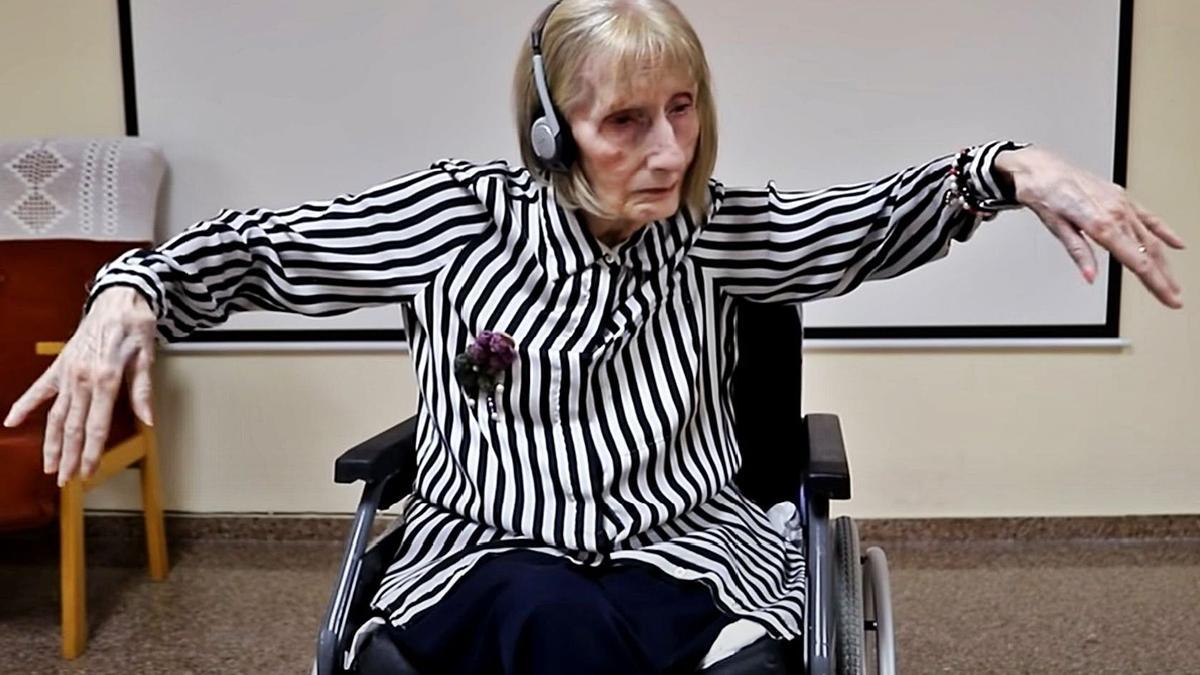 A whole life dedicated to ballet could not be forgotten at a stroke. The Asociation "Music to Wake Up" has once again demonstrated the power that music has on the human being, this time, with a video of Marta C. González, the one that was first dancer at the New York Ballet in the 60s, starring in an endearing and moving video that has gone viral in the social networks.
She was born in Madrid and moved to Cuba as a child with her family for work reasons of her father. She trained in the United States and Latin America and became the principal dancer of the New York Ballet. It was known as Marta Cinta, name of her academy in Madrid, and ended up settling in Alicante with her husband. After his death, and already sick of Alzheimer's, «They looked for a residence for him and he arrived here, Board of Trustees Casa Beneficencia de Muro », according to its director, Inmaculada Vilar.
In this Alicante town he lived his last seven years, until last March he passed away of natural form. But months before, he had the opportunity to demonstrate his talent to the workers of the senior center following the visit of Pepe Olmedo, the director and founder of «Música para Despertar», who played a musical piece that is part of "Swan Lake" by Tchaikovsky with which the artist began to dance.
"Marta loved ballet, and before the workshops with Olmedo we put music on it, but from that moment -the one that has gone viral on social networks- much more," explains the director of the nursing home. His illness did not allow him to remember many things, but the power of music is such that when "he listened to it he transformed, he recognized the songs, he remembered choreographies and he spoke a lot about ballet to us."
In the center of Alicante she is remembered "very flirtatious, always with painted nails and lips", and above all "very happy." The music gave him life, and although he was aware that he could only move his arms, he enjoyed dancing. And so it was until the last moment, says the person in charge.
«A dancer will always be a dancer. Excitement on the surface, listening, feeling and flying next to 'Swan Lake' ", says the association in the publication of the video. An example, as the director of the entity assures, of what in the training courses they develop with residents and relatives.
«We promote that use music therapeutically, based on psychology, in people with Alzheimer's and other dementias, "explains Olmedo, who invites family members to bring back to their relatives the songs that could accompany their lives.
«We met Marta, we learned about her story and we tried 'Music to Wake up' tools with her (…). In the video we can see how he reacts to one of the most important songs of his life. I was head down and, already when starting the first chords, connect with the work and get excited», Explains Pepe Olmedo.
In your case I had no familyBut the residence staff went out of their way to help her relive what was perhaps the most beautiful time of her life. But they not only managed to make her smile in her last years of life, they also accompanied her to the end. Marta, as Inmaculada Vilar fondly recalls, passed away last March, in full confinement, naturally with more than 90 years – she did not put her real age on her ID – because of her illness listening to what she liked the most musical pieces that she herself had performed on the best stages.



www.informacion.es

Digsmak is a news publisher with over 12 years of reporting experiance; and have published in many industry leading publications and news sites.