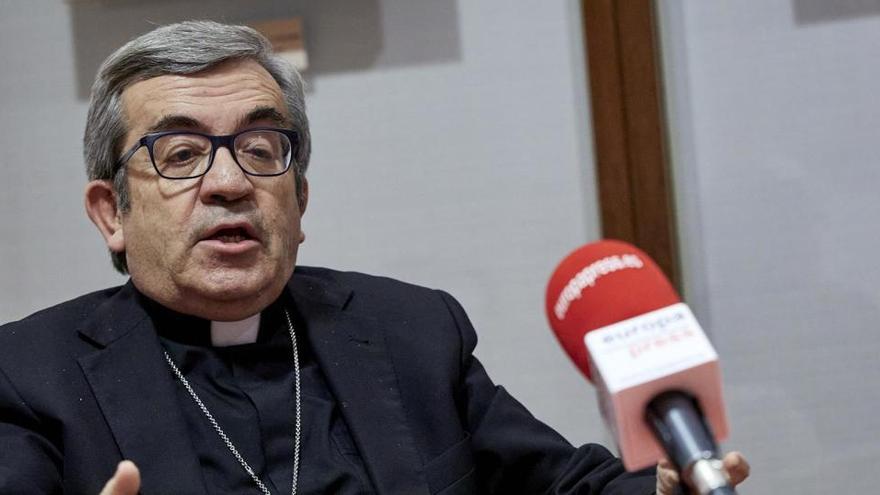 The Spanish bishops will encourage Spaniards to say "explicitly" in their living will "not to have the euthanasia" and they have shown their rejection of the law that regulates it because, in their opinion, euthanasia is "a homicide".
"We will encourage from the pastoral practice that the living will explicitly say that one does not want to be euthanized, that they want to receive palliative care and that they do not want therapeutic cruelty either", declared in an interview with Europa Press the Secretary General and spokesman for the Spanish Episcopal Conference (CEE), Luis Argüello.
Also, as specified, invite citizens to "conscientious objection", both for the sick and for health personnel, as the law provides for this possibility.
The also auxiliary bishop of Valladolid has said that the prelates have received this euthanasia law "with sadness" because it involves crossing "a red line" and "violating a basic conviction of Western civilization."
Likewise, the bishops have ugly that "many deputies" have celebrated their approval in the Plenary of Congress "as a milestone, almost a party, when they are dramatic realities", and they have reproached the Government "for defining itself as social", for not having developed other issues before such as "the dependency law, facilitating conciliation labor or palliative care ".
"Without solving any of these questions, it has considered a priority, as a hallmark of pride and having fulfilled a historic mission, to approve this way of solving the problems. We are in favor of the good death, but we think that the good death is never a provoked death, a homicide, in short, "Argüello stressed.
On whether they consider the law sufficiently guaranteeing, the bishop has specified that it is not a question of "being sufficient or insufficient" that the person has to ask for euthanasia up to four times. In his opinion, although "there is talk of freedom and autonomy", there is a risk that the person may decide to request it due to "pressure from the social, health or family system".
"Let's think about another current issue, the Interprofessional Minimum Wage, could a person say 'I work for less than SMI'? Could they say 'I want to be a slave to this other person'? We all say, by common sense, that there is issues of one's own dignity that are not subject only to self-determination, "he argued.
In any case, Argüello has recognized that in current societies "the awareness that euthanasia is" a compassionate act "has" been growing " and he has attributed it to "the influence in recent years in the way of presenting it through cinema, television and series". It also responds, in his opinion, to "a spiritual crisis in Western societies."
Therefore, the bishops call on Catholics present in the field of "health, political life" or associations to demonstrate against the law, "to make their opinion known."
"At a time of economic and labor crisis and in a pandemic situation with the number of deaths we have experienced, we must make our fellow citizens and public representatives in the Senate realize the seriousness of this step, to reverse it or make it less lethal ", he insisted.
The Church, he has said, could support "as citizens" some appeal of unconstitutionality against the law, although it has specified that this does not mean signing an appeal because in order to do so you must be legitimated to do so.
"If following democratic guidelines this law has been approved, the mechanisms that democracy itself offers us must be used, but it is a more fundamental matter, not only of procedures to legislate and annul what is legislated," he said.
La Lomloe, "a missed opportunity"
On the other hand, the bishops' spokesman has regretted that the Government has not responded to his proposal on include Religion in an area of ​​values.
Thus, asked if they feel ignored by the Government, Argüello has indicated that "the facts speak for themselves." "We have submitted a written proposal and have not received any formal reply", has underlined.
As indicated by the bishop, the proposal "was collected with interest" by the Ministry of Education so they hoped that "at least it would be answered", that they would at least tell them: "What you are presenting is viable or not viable" .
In any case, he has ensured that, from the Church they will continue working and "insisting" so that in the legislative development of the law and its application in the autonomous communities, the law "can improve as much as possible."
The bishops consider that the 'Celaá law' is "a missed opportunity" although it would not be "accurate" to say that it "scares" them, according to Argüello. What they would have preferred is that there had been "a dialogue of a high minimum common", also with the concerted school itself.
"The concerted school has always had the desire to serve and welcome the more students the betterThat is why public financing is important and that the school is free, because the contribution made to the concerted does not cover the expenses, if that which is recognized had been addressed, the possibilities of agreement would have been very high, "he said. .
Although, in his opinion, the objective of the Government was "to ensure that the law is approved as soon as possible", something that has also been reflected, as he has said, in the fact that "it has not wanted to approve any of the amendments presented in the Senate. "

www.informacion.es
Digsmak is a news publisher with over 12 years of reporting experiance; and have published in many industry leading publications and news sites.