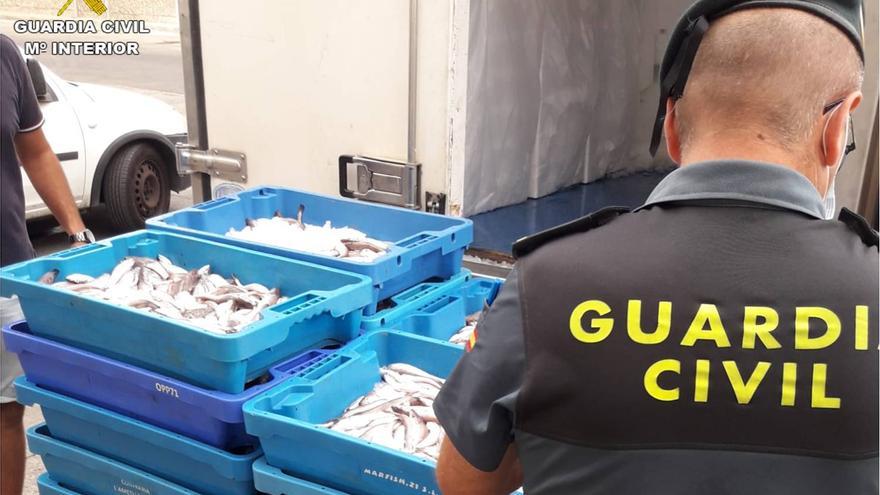 Last week, the Nature Protection Patrol (PACPRONA) of the Alicante Command carried out, as usual, several inspections in different fishing ports of the province, within the framework of the periodic and specific control that is carried out on the trade in fishery products, with the aim of guarantee quality to consumers of the merchandise, as well as those of protecting both the natural environment and the survival of the different species.
In an action carried out in Santa Pola, the agents located 220 kilograms of frozen seafood that lacked both traceability (necessary to know its legal origin), as well as the indication of the final date of optimal consumption, which can mean a serious risk, as it is not known if the deadline has been exceeded.
In two other inspections, one carried out in the port of Alicante, and another in that of Altea, the agents located both vehicles transporting immature hake, which had been captured and sold without having gone through the fish market. The merchandise was being transported hidden among other specimens that did meet the legal requirements for size and traceability. For the species Merluccius merluccius, the minimum statutory size is 20 centimeters. The whiting specimens intervened by the Civil Guard in these inspections (52 kilograms in the Alicante inspection and 200 kilograms in the Altea inspection) registered an average size of 16 centimeters. Fishing for immature specimens reduces the survival capacity of the species, as it is captured before reaching reproductive age.
The lack of labeling, observed in all cases, has repercussions on the impossibility of verifying that food products have passed health controls and, therefore, the information of such extremes to consumers.
As a result of the three actions, Seprona has intervened almost half a ton of fish products. The hake, after passing the appropriate controls, has been donated to charitable associations for consumption. In the case of shellfish, unable to verify its expiration date, has proceeded to its destruction.
Four natural persons and one legal person have been proposed as alleged perpetrators, as well as the skipper and owner of a fishing vessel that he was caught selling the merchandise to the inspected carriers in Altea. The infractions observed in the three inspections are classified as serious, which entails possible penalties for each of those involved of between 601 and 30,000 euros. The inspection records instructed by the agents have been made available to the Department of Agriculture, Rural Development, Climate Emergency and Ecological Transition and to the Department of Health and Public Health, competent to resolve administrative files.

www.informacion.es
Eddie is an Australian news reporter with over 9 years in the industry and has published on Forbes and tech crunch.