Puerto Sherry (Cádiz)
Updated:
Keep

On the occasion of the Presentation of the Classic Sailing Foundation of Spain (FVCE), on Thursday night, on the Terrace of the Hotel Puerto Sherry, important personalities from the nautical world, sailing lovers and renowned journalists from the sector were convened. An act with great convening power that took place in the open air, due to the COVID protocols, with spectacular views of the marina and the "Gipsy", one of the Foundation's classic boats, launched in 1927.
The event was presented by Maribel Vergara, director of the FVCE, thanking everyone present for their attendance and with great enthusiasm to be able to present for the first time before a very attentive public a project described by its members as an "exciting adventure" and gave the floor to the president of the Fundación Vela Clásica de España and Member of the RFEV Valle de la Riva.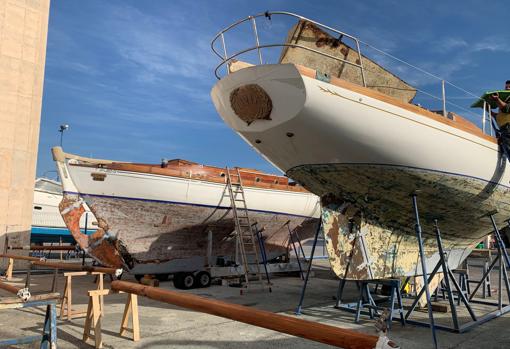 De la Riva highlighted the classic sailing recovery project with clear social, cultural, tourist and educational objectives. She made an emotional memory of those who are gone, especially her husband, Pedro Bores, the forerunner of this desire to rescue classic boats, among them the "Hispania" and the "Giraldilla".
Immediately afterwards, Ricardo Rubio, "Petete", vice president of the Fundación Vela Clásica de España and owner of the "Gipsy" took the floor. His enthusiasm when talking about the Foundation was palpable, likewise, so was his concern for the future of classic sailing: "It may happen that classic boats become an exclusively luxury sector, unattainable for many. The mission of the Foundation is that this does not happen. The classic boats have to continue being accessible for all the lovers of the navigation ".
After Petete, the event continued with the intervention of Paco Coro, president of the Andalusian Sailing Federation, who gave special importance to the promotion of riverside carpentry professions and ended up mentioning the important regional and national repercussions of the Puerto Sherry Classic Week. It was the mayor of El Puerto de Santa María, German Beardo, who closed the event by applauding this initiative and pointing out the benefits of Puerto Sherry's close relationship with the city, "From this moment I can affirm that the Classic Sailing Foundation of Spain will have the unconditional support of this City Council".
After the presentation, attendees were able to taste a glass of Gipsy Gin and Gipsy Blu (the first 17th Low-alcohol gin), a Spanish gin brand that was created with the aim of partially financing the Foundation through participations, among other sources of financing. The FVCE will be a benchmark for sailing in Spain, its mission as an institution is to free ship owners of Spanish classics from worries, spread the culture of sailing in general, contribute to the care of our seas and educate through schools and workshops. All for and to promote the classic candle and prevent its disappearance.
See them
comments

www.abc.es
George is Digismak's reported cum editor with 13 years of experience in Journalism