Madrid
Updated:
Keep

More than 200 journals in the biomedical area are simultaneously publishing a joint editorial on Monday in which world leaders are asked to adopt emergency measures to transform societies and limit climate change, restore biodiversity and protect health.
The editorial is published in 233 biomedical journals important from all over the world, such as «
The Lancet», «
The British Medical Journal», «East African Medical Journal», «
Chinese Science Bulletin», «
The New England Journal of Medicine», «
National Medical Journal of India»,
«Public Health Journal», etc.
In it, the editors ask governments to do everything possible to stay below a global rise in the planet's temperature of 1.5 ° C and to protect the environment in order to avoid a catastrophe for global health.
«And that can only be achieved if the governments of rich countries do much more to support the rest of the world.», They write.
Global warming is a threat to health. In addition to the problems derived directly from pollution, the
WHO alert that will cause infectious diseases such as malaria, cholera or dengue to spread to many more areas of the planet.
Likewise, extreme heat will cause cardiovascular diseases to increase and many more respiratory problems such as allergies or asthma appear, also due to air pollution in cities.
According to the WHO, the burden of people suffering from these ailments, which exceeds the 300 million, will increase considerably in the coming years if urgent measures are not taken.
"As healthcare professionals, we cannot stand by and see the destructive impact of climate change on our health, our societies and our planet. We are experiencing extreme heat, floods, droughts, forest fires, all made worse by our continued investment in fossil fuels that are warming the planet at an alarming rate, "warns David Barbe, president of the World Medical Association.
Because, as Eric J. Rubin, editor-in-chief of «
The New England Journal of Medicine», One of the editorial co-authors, the environment and health are inextricably intertwined. As medical and public health professionals we have an obligation not only to anticipate new healthcare needs, but also to be active participants in limiting the causes of the climate crisis.
The truth is that this is not the first time that the medical community has come together to demand urgent climate action.
In May 2020, 40 million health professionals signed a letter calling on governments to prioritize green investments in the context of a pandemic. Earlier this year, during the World Health Assembly held in Geneva, doctors concerned about the effects on public health of environmental degradation delivered a series of demands to the director general of the WHO, Tedros Adhanom Ghebreysus, demanding that health authorities make climate change and biodiversity loss their top priorities.
The editorial is published ahead of the UN General Assembly, one of the last international meetings to take place before the climate conference (COP26) that will take place in Glasgow, UK in November.
This is a crucial moment to urge all countries to come up with improved and ambitious climate plans to meet the goals of the Paris Agreement, they write.
For decades, health professionals and health journals have warned of the serious and growing health impacts of climate change.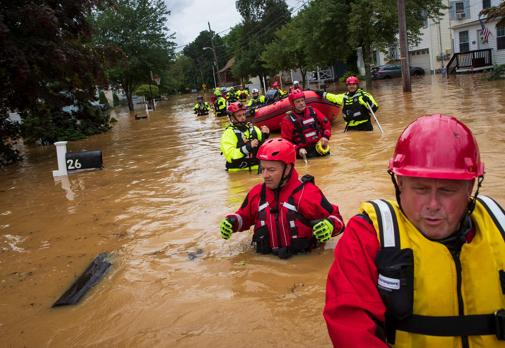 Heat-related mortality, the health effects of extreme weather events, and the widespread degradation of ecosystems essential to human health are just some of the consequences we are seeing to a greater extent due to climate.
Just remember, Elizabeth Rohrs asserts,
Editor-in-Chief of the 'Canadian Journal of Respiratory Therapy' that the highest temperature recorded in Canadian history was in June 2021 in British Columbia, "increasing the risk to respiratory health with poor air quality in 9 of the 13 provinces."
These consequences disproportionately affect the most vulnerable people, such as girls and boys, the elderly, ethnic minorities, the poorest communities and people with pre-existing diseases.
This shows it
Enver Hasanoğlu, from the International Pediatric Association. «The climate crisis is a child health crisis. Pediatricians are on the front line: supporting families displaced due to climate change, providing better health services and access to treatment for vector-borne diseases and heat stroke, providing greater access to vaccines and promoting better housing structures.
The editorial cautions that while recent goals to reduce emissions and conserve nature are welcome, they are not enough and must be combined with credible short-term and long-term plans.
It urges governments to intervene to transform societies and economies, for example by supporting the redesign of transportation systems, cities, food production and distribution, markets for financial investment, and health systems.
These investments will yield huge positive benefits, including creating high-quality jobs, reducing environmental pollution, increasing physical activity, and improving housing and nutrition.
Better air quality alone would generate health benefits that easily outweigh the global costs of reducing emissions.. These measures will also change the social and economic determinants of health, the poor condition of which may have left populations more vulnerable to the Covid-19 pandemic.
'The risks posed by climate change could dwarf those of any disease. The Covid-19 pandemic will end, but there is no vaccine against the climate crisis. The report of the
Intergovernmental Panel of Experts on Climate Change (IPCC) shows that, in terms of warming, every fraction of a degree more endangers our health and our future. Likewise, every measure taken to limit emissions and warming brings us closer to a healthier and safer future, "says Ghebreyesus.
Governments, the editorial adds, must seize this opportunity to propose ambitious climate goals for the sake of our health, people around the world and future generations.
And, as Lukoye Atwoli, editor-in-chief of
East África Medical Journal and one of the editorial co-authors, "although low- and middle-income countries have historically contributed less to climate change, they bear an inordinate burden of adverse effects, including health."
In this regard, Fiona Godlee, editor-in-chief of «
The BMJ»And one of the co-authors of the editorial, points out that health professionals have come together to warn that exceeding 1.5 ° C and allowing the continuous destruction of the environment will cause the next crisis, which will be much more deadly. Richer nations must act faster and do more to help countries already experiencing higher temperatures. 2021 has to be the year in which the world changes course, our health depends on it.
Because, concludes Raffaella Bosurgi, Executive Editor of «
PLOS Medicine», «A healthy society is based on a healthy environment».
See them
comments

www.abc.es
George is Digismak's reported cum editor with 13 years of experience in Journalism