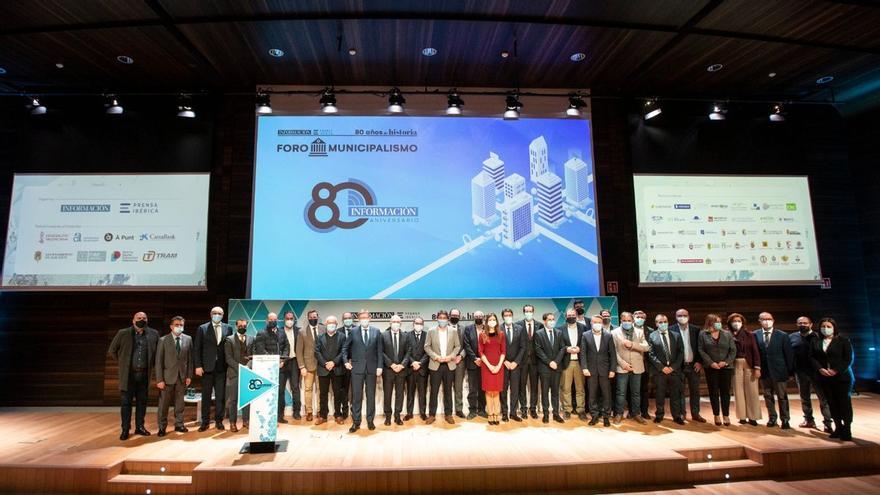 Arcadi Spain said yesterday, at the closing of the Municipalism Forum organized by INFORMATION on the occasion of its 80th anniversary at EUIPO, that the proximity of municipal power to the people is a vaccine against the deformation with which other echelons of politics see reality as they distance themselves from it. Mayors and councilors cannot close their eyes because reality is at their doorstep: it assaults them as soon as they set foot on the street. This principle of proximity realism is also inversely proportional to the size of the localities where they have been officiating. The verb is not badly chosen because in the municipalities, especially in the small ones, municipalism is a priesthood: vocation, faith and capacity for suffering. Arcadi Spain also said yesterday that all state administrations are of legal age. Unquestionably they are, but during the ten long hours that our marathon Forum lasted, it was clear many times that it is not true that the treatment given by the executive, legislative and autonomous powers to the municipal is inspired by that spirit of equality. Quite the contrary, town halls seem like the Cinderella story in our democracy. Some descriptions of this situation were stark. For example, when Luis Martínez, president of the Local Administrative Economic Court and professor at the University of Alicante, spoke about the recent capital gains tax case, how "the legislator" ignored the issue with carelessness and disdain for years, after the Constitutional would give successive touches in the form of sentences that were disarming one of the main sources of financing of the municipalities. Now that lazy and irresponsible disinterest must be paid by the municipalities in the face of the more than safe claims of individuals, fair on the other hand, to the point of coinciding with Rubén Alfaro, mayor of Elda and president of the Valencian Federation of Municipalities and Provinces, in need to create a fund to cover the hole that unfavorable sentences can create in the municipal coffers. Or like when Martinez remembered that the city councils were the ones that had done their homework in the times of the austerity imposed by Montoro, unlike the central or regional governments, and yet it prevented them from spending that money ("our money") in their neighbors, something that some mayors later recalled with a touch of bitterness.
The municipalities do not escape: they suffer everything and everything affects them in their own flesh. If there is a lack of water, they suffer with their farmers. If freight rates go up and raw materials are lacking, their industries suffer. If they are tourists, they suffer when they have to serve ten times their population. If a pandemic hits, they spend what they don't have. If you have to provide improper skills, the situation is reminiscent of that joke: you pay, which makes me laugh. Two mayors told me that the law prevents them from paying for ambulances: but you have to pay for them because the hospital is 30 kilometers from your town and you cannot allow your neighbors to die waiting. Therefore, it is surprising that our municipalities and their mayors still want to look to the future, and dream of Mr. Marshall from the "Next Generation", as in the Berlanga movie, no one knows if they will pass by … For now Everyone wants a campus, a smart city, two industrial estates, two museums and many cultural activities. And it is good that they ask and that they write their letter to the Three Wise Men, who are not the parents, but sometimes they seem to be University Rectors. They deserve that this second pending decentralization brings them everything they ask for. And that someone finally treat them, as Arcadi Spain said, as institutions of legal age that do not deserve to be in that kind of effective economic protection that they now suffer with their current financing.
And one more thing:
Highlights there were many yesterday at EUIPO. But without any doubt the will of the Port to link even more to the city center and link the docks with a risky floating restaurant, which would be reached by a shuttle governed by artificial intelligence, took the cake. He did not lag behind the meeting of the two former rectors of the UA, Andrés Pedreño and Manuel Palomar, They showed a common project of 1MillonBot and CENID to create "Artificial Geo Intelligence", a large database with all kinds of information digested by AI that can be consulted by a chatbot.
Here are some of our featured headlines from the Municipal Forum:
Until tomorrow.
To continue reading, become a subscriber.
Already a subscriber? Login here
And for those who want more, our other subscription options
Remember that with the entry into force of the European Regulation PSD2 a double validation process is required when making the transaction.
We recommend having your mobile handy. We are here to help you, 963 030 967.

www.informacion.es
Eddie is an Australian news reporter with over 9 years in the industry and has published on Forbes and tech crunch.